The love of my life is having surgery to remove a growth behind her thyroid today. Keep a good thought, if you will.
The Clinton Campaign To Press: You're Joining Us Next Week So Shut The Hell Up


A Clinton aide reportedly said they're hoping that the media will shut the hell up about the former secretary of state's lack of media access due to this development.
CBS News' Nancy Cordes noted the difference between Trump and Clinton. Trump has held at least 14 press conferences this year, while Clinton has yet to hold one. For the past couple of weeks, she's been too busy fundraising in Nantucket, Martha's Vineyard, Cape Cod, and California to talk with the press, though she did collect some $31 million for her campaign and the Democratic Party, according to Cordes.
Clinton Has Coughing Fit During Labor Day Event in Cleveland

Hillary Clinton was overcome by a massive coughing fit during a campaign event in Cleveland on Monday.
As she took the microphone and wished the crowd a Happy Labor Day, Clinton started hacking away, and for more than four minutes, her voice was almost completely strained.
After taking a sip of water, she joked she was allergic to thinking about her opponent Donald Trump. She took a few seconds to compose herself and patted her chest, but she still was almost unable to get out a clear word for the next few minutes.
"You just heard the next vice president, didn't you?" Clinton gasped about running mate Sen. Tim Kaine (D., Va.).
She also barely got out words of kindness for Rep. Marcia Fudge (D., Ohio), Sen. Sherrod Brown (D., Ohio), and other lawmakers and labor leaders.
Hillary Finally Gets Some Questions From Press On Plane…Interrupted By Her Coughing…UPDATE: Questions, Did She Actually Answer?

Fawning Press Asks Softball Questions of Hillary Clinton on New Campaign Plane
After expressing faux outrage that Democratic presidential nominee Hillary Clinton has not held a press conference for about nine months, Clinton's traveling campaign press corps on Monday threw nothing but softball questions at Clinton when she walked back and spoke to them for a minute-and-a-half on Hill Force One, her new Boeing 737 campaign plane. Clinton spent twenty-five seconds of her time with the press joshing with a Clinton press aide, leaving only one minute for time spent speaking directly with the press.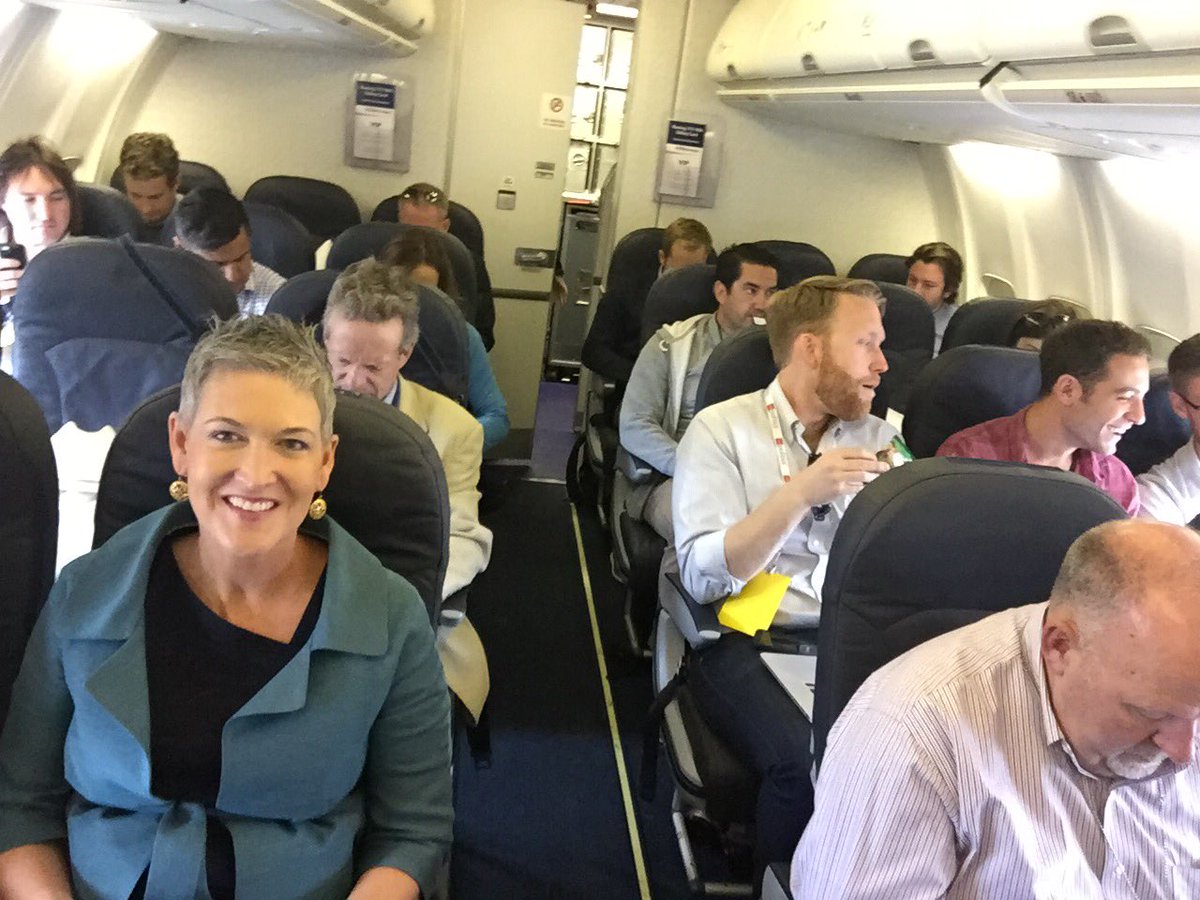 A smiling Clinton, holding a roll of papers in her left hand, says to the press, "Hey guys! Welcome to our big plane! (Press responds, "Hi!") It's so exciting!"
First question to Clinton, "What do you think?"
Clinton replies, "I think it's pretty cool, don't you?"
Clinton talks over the second question, "How does it feel to…" and leans over the reporter telling him, "You're supposed to say yes." (Laughter from reporters.)
Third question, "Are you glad to have all of us with you?"
Clinton, "I am so happy to have all of you with me!"
Fourth question, "Have you missed us?"
Clinton, "I've been just waiting for this moment. And I'm thrill…No, really and I'll come back and talk to you more formally but I wanted to welcome you onto the plane!"
Fifth question, "How was your Labor Day weekend?"
Clinton, "It was good! It was really good, yeah! We had a good time, the last moment of…(Clinton exaggerates a relaxing exhaling to demonstrate calm.)"
WITH THIS KIND OF SLAVISH DEVOTION, SHE'S A SURE BET TO COAST FOR THE NEXT 60 DAYS
Fox & Friends Rip Kaine for Not Coming on Show, Say He Was Afraid of Tough Questions

HILLARY APPEARED ON FOX NEWS SUNDAY ONCE… SHE WON'T MAKE THAT MISTAKE AGAIN IN THE NEXT 8 YEARS
"It's laughable that Tim Kaine said that Donald Trump … choked in not telling the Mexican president [about payment for the wall]," Kilmeade said. "Really? This is the Tim Kaine that … refuses to come on our show yesterday, because I guess he projected the questions would be too tough, and he's saying Donald Trump choked because when he first met the president of Mexico—and by the way, Donald Trump's not president yet. He didn't say, here's the invoice."
IT NEVER ENDS
Obamas Could Get $45 Million Payday from Book Deals: Report

THESE WORKS OF FICTION WILL BE GHOST WRITTEN, COUNT ON IT. THEY'RE TOO IGNORANT AND FAR TOO LAZY TO DO ANY WORK FOR THEMSELVES
The Obamas could be in for a $45 million payday from book deals after leaving the White House, the New York Times reports.
President Obama, already an accomplished author with a bestselling memoir "Dreams From My Father," could, together with his wife Michelle, land the biggest post-presidency book contracts in American history.
"His is going to be easily the most valuable presidential memoir ever," Raphael Sagalyn of the ICM/Sagalyn Literary Agency told the Times.
THIS EXCERPT WAS FROM The Hill,HENCE THE FAWNING REVIEWS