The entire Battle Royale lasted almost two hours last night.Chances are you didn't sit through the entire thing.That's understandable,I didn't either.The fact is I can barely stand to listen to that lying crone for more than a few seconds.Who won the debate is strictly a matter of opinion.Maybe Donald felt he had to be restrained,for fear of being labeled a bully.I would have sliced and diced both she and that miserable shill who was doing the enabling…errr….moderating this spectacle.See previous post for more on that feckless pile of dreck.
All the videos are less than 2 minutes because my pain tolerance isn't that high.Everyone with a computer has an opinion on last nights show,but like they say:opinions are like bungholes..everybody has one.
Not exactly Socrates,but it's all I got.
Clinton: Everyone Is Racist, Not Just Police

Hillary Clinton said "everyone" in the country is implicitly biased against African Americans during Monday night's presidential debate.
Moderator Lester Holt prompted the response when he asked Clinton if she thought the police were implicitly biased against blacks.
"Lester, I think implicit bias is a problem for everyone, not just police," she said.
HERE'S AN IDEA:HOW ABOUT DOING WHAT A POLICEMAN TELLS YOU TO DO,RATHER THAN RUN,FIGHT OR TRY TO KILL A COP.
SHE'S NOT ALL THAT POPULAR WITH THE HOMIES,SO THIS IS HER SUCKING UP.
http://freebeacon.com/politics/clinton-everyone-racist-not-just-police/
Hillary Clinton Says She's Very Concerned About Cyber Hacking


But increasingly we are seeing cyber attacks coming from states, organs of states, the most recent and troubling of these has been Russia. There's no doubt now Russia has used cyber attacks against all kinds of organizations in our country," Clinton said." I am deeply concerned about this'.
SO CONCERNED SHE ILLEGALLY USED A PRIVATE SERVER AND LEFT CLASSIFIED INFORMATION FOR EVERY THIRD-RATE CYBER-PUNK TO SEE.

http://townhall.com/tipsheet/katiepavlich/2016/09/26/hillary-clinton-says-shes-very-concerned-about-cyber-hacking-n2223878
Clinton throws the FIRST PUNCH – 2016 Presidential Debate – Donald Trump vs. Hillary Clinton

I'LL SAVE YOU THE TROUBLE:'TAX CUTS FOR THE RICH!TAX CUTS FOR THE RICH!'
DT: Emails deleted purposely – 2016 Presidential Debate – Donald Trump vs. Hillary Clinton

HC: You haven't paid federal income tax -2016 Presidential Debate – Donald Trump vs. Hillary Clinton

DONALD SAID:
DT: Not paying taxes makes me smart – 2016 Presidential Debate – Donald Trump vs. Hillary Clinton

'I EARNED MY MONEY,RATHER THAN GET IT FROM FOREIGNERS WANTING FAVORS'
DT: You've been doing this for 30YRS – 2016 Presidential Debate – Donald Trump vs. Hillary Clinton

DT: We have no leadership. Blames HC. – 2016 Presidential Debate – Donald Trump vs. Hillary Clinton

DT: Will release my taxes for HC emails 2016 Presidential Debate – Donald Trump vs. Hillary Clinton

YEAH,NOT GONNA HAPPEN
It's getting a little bit old! Trump mocks Hillary for recycling line saying he shouldn't be trusted with the nuclear codes if he can be baited by a tweet
'So a man who can be provoked by a tweet should not have his fingers anywhere near the nuclear codes as far as I think anyone with any sense about this should be concerned,' Clinton said, using a familiar applause line that she's deployed during various foreign policy speeches against her Republican rival.
Trump sniffed upon hearing it.
'That line is starting to get a little bit old, I must say,' he said.
'It's a good one though,' she shot back. 'It describes the problem.'


http://www.dailymail.co.uk/news/article-3809080/It-s-getting-little-bit-old-Trump-mocks-Hillary-recycling-line-saying-shouldn-t-trusted-nuclear-codes-baited-tweet.html#ixzz4LTRaStND
Media 'Ooohs,' Squeals With Delight After Clinton 'Burns' Trump Over His Microphone
Hillary Clinton's campaign press corps let out a collective, giddy "oooh" on Tuesday after the Democratic nominee threw out a zinger against Donald Trump for his complaints about his debate podium's microphone.
Anybody who complains about the microphone is not having a good night," she said.

http://freebeacon.com/politics/media-literally-squeals-delight-clinton-burns-trump-microphone/
Clinton Received Debate Questions Week Before Debate, According to Sources


'WHAT A SURPRISE'…SAID NO ONE,EVER.
Earlier last week an NBC intern was seen hand delivering a package to Clinton's campaign headquarters, according to sources. The package was not given to secretarial staff, as would normally happen, but the intern was instead ushered into the personal office of Clinton campaign manager Robert Mook. Members of the Clinton press corps from several media organizations were in attendance at the time, and a reporter from Fox News recognized the intern, but said he was initially confused because the NBC intern was dressed like a Fed Ex employee.
Clinton Runs from Reporters After Debate, Trump Speaks with CNN and Fox News
Immediately following the intense presidential debate between Donald Trump and Hillary Clinton Monday night, Clinton quickly exited the arena, dodging questions from major main stream media news outlets.
However, Trump spoke directly to Sean Hannity of Fox News and Dana Bash of CNN answering numerous questions in the post-debate madness
SHE'S NOT ABOUT TO ANSWER QUESTIONS IF SHE DOESN'T GET THEM WELL IN ADVANCE.

.@HillaryClinton leaves the debate venue with @billclinton. #KellyFile #debates #debates2016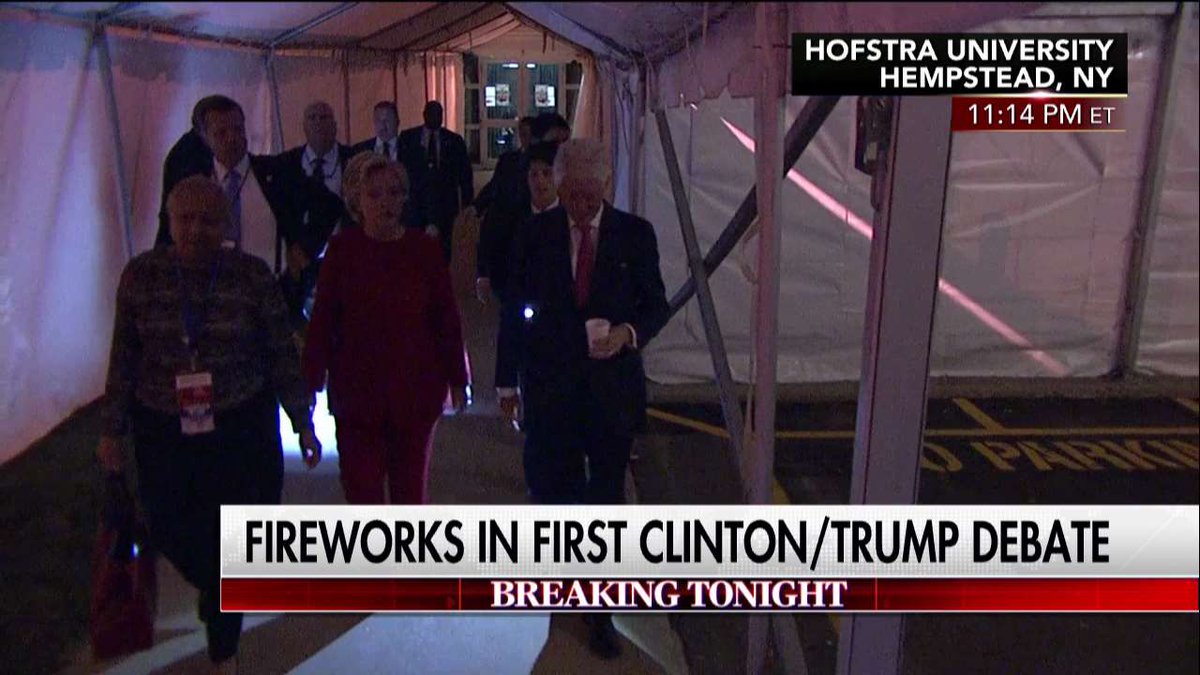 http://townhall.com/tipsheet/justinholcomb/2016/09/26/clinton-runs-from-reporters-after-debate-trump-speak-with-cnn-and-fox-news-n2223891/print
MSNBC Anchor Falsely Claims Trump Has Never Been on Stage With a Female Candidate
Remember Carly Fiorina?

MSNBC anchor Kate Snow falsely claimed in an interview Monday that Donald Trump has never appeared on a debate stage with a woman.
Snow was interviewing Steve Cortes, a Trump campaign surrogate, about the Republican nominee's debate night strategy when she made the statement
http://freebeacon.com/politics/msnbc-anchor-claims-trump-never-stage-female-candidate/
'Hillary, you're bought and paid for': Clinton's top super PAC founder offers Trump debate zinger


DAVID BROCK IS STILL A SLIMY PUNK
When it was Brock's turn to rattle off a zinger, he offered advice to both presidential nominees, telling Clinton to emphasize Trump's eyebrow-raising ties to Russia, and advising Trump to highlight Clinton's relationship with rich campaign donors.
"For Hillary, I'd say, 'A vote for you is a vote for the ISIS terrorists and Vladimir Putin,' and then open up both of those issues. Open up on investments from Russia. I think that would be effective," Brock said.
He added: "For Trump I'm going to give an objective answer. I think he should say, 'Hillary, you're bought and paid for. You even came to my wedding because I gave you money.'"
http://finance.yahoo.com/news/hillary-youre-bought-paid-clintons-192924780.html
Audience Breaks Rules, Cheers When Trump Mentions Deleted Hillary Emails


Holt asked Trump why he hasn't released his tax returns, to which Trump asked why Hillary Clinton's staff deleted 30,000 of her emails during her time in the State Department. As soon as he said the word "emails," the audience cheered and applauded. Holt then reminded the crowd they are supposed to hold their applause until the end of the debate.
"I made a mistake" and I take responsibility for using a private server, Clinton responded.
"That's for sure," Trump agreed.

http://townhall.com/tipsheet/cortneyobrien/2016/09/26/audience-cheers-when-trump-mentions-deleted-hillary-emails-n2223865
Omarosa Interviews Chris Hayes and Destroys Him

PUNK NEVER HAD A CHANCE
She told him to actually be a journalist.
"I challenge you to be a journalist tonight," she said.
Hayes asked her if Trump will explain why he changed his stance on the birther issue during the first presidential debate on Monday.
"You know I find that to be a very interesting place for you to start, when there are so many issues that Americans are faced, including the economy, jobs, education, and you want to start with the birther," she said. "The good thing is that he's put that to bed and ready to move on."
Hayes kept pushing the subject by telling her that Trump has spent five years going on about Obama's birth place.
Manigault pointed out that he did acknowledge Obama is an American citizen and he's going to move on from that and focus on issues.
Hayes was not going to take that answer.
http://freebeacon.com/politics/omarosa-interviews-chris-hayes-destroys/
Trump Camp Launches Ad Mocking Hillary Clinton for Asking Why She Isn't 50 Points Ahead


"Hillary Clinton is becoming more and more frustrated with how out of touch she is with the American people," Trump's senior communications advisor Jason Miller stated in a campaign press release announcing the web ad.

http://www.breitbart.com/2016-presidential-race/2016/09/26/trump-camp-launches-ad-mocking-hillary-clinton-for-asking-why-she-isnt-50-points-ahead/
Top climate skeptic to lead Trump's EPA transition team


Myron Ebell, director of energy and environment policy at the conservative think tank Competitive Enterprise Institute, is heading Trump's EPA transition preparation, E&E Daily reported Monday.
Ebell is an outspoken, longtime skeptic of the scientific consensus that human activity is dramatically changing the climate. He often refers to warnings about global warming as climate "alarmism" and is a vocal critic of President Obama's climate change regulations.
Ebell has argued that the Clean Power Plan is illegal and that the Paris climate change agreement is unconstitutional.
Trump also doubts that human activity causes climate change.
HOW ABOUT:
CUT OFF FEDERAL SUBSIDIES TO GREEN ENERGY COMPANIES(BIG DEM CONTRIBUTORS ALL)…THEY CANNOT SURVIVE ON THEIR OWN
ROLL BACK EPA REGULATIONS TO 1990…PUT COAL COMPANIES BACK TO WORK
ELIMINATE ETHANOL REQUIREMENTS FOR GASOLINE…EXPAND OIL EXPLORATION
ALLOW CARMAKERS TO BUILD CARS PEOPLE WANT TO BUY
http://thehill.com/policy/energy-environment/297755-top-climate-skeptic-to-lead-trumps-epa-transition
Parents And Widow Of Terance Crutcher Fight Over His Future Earnings …


WE GON' BE SOME RICH,FAT NIGRAS,Y'ALL!
WITH THESE PEOPLE IT'S ALL ABOUT THE MONEY….FREE MONEY….LOTS OF MONEY….ALWAYS
The parents of Terence Crutcher and the mother of three of his kids are fighting in court over who can file a wrongful death lawsuit on his behalf.
Joey and Leanna Crutcher, the parents of the unarmed black man killed by a white Tulsa, Okla., police officer, alleged in a court filings Monday that Frenchel Renae Johnson-Crutcher is unqualified to serve as special administrator of Crutcher's estate
http://www.nydailynews.com/news/crime/terence-crutcher-parents-widow-fight-estate-article-1.2807189
Armed Detroit Judge Robbed On Her Way To Church…


The man told the judge that he had a gun and asked the judge to hand over her purse. The judge complied, said Detroit Police Department spokeswoman Jennifer Moreno, and the man took the judge's purse containing a firearm, an undisclosed amount of cash and miscellaneous items and fled on foot.
ONLY IN DETROILET
http://www.detroitnews.com/story/news/local/detroit-city/2016/09/25/detroit-judge-robbed-walking-church/91089018/
Biden Bemoans Trump: "Think Of The Damage He's Already Done To America's Standing In The World"…
Biden's lack of self-awareness is painful to watch.