Yesterday was such a beautiful day. SD had some business in town so DW and I were charged with keeping Isabel and Olivia for most of the day. We took them to lunch, then to a park to burn off some of that excess energy. It was the warmest day so far this year, high in the upper 70's, blue sky and a nice southerly breeze. I didn't want the day to end because God signaled the annual renewal of life after a long cold spell.
After the children went home I fired up the Univac and what do I see? The government-supported blitzkreig had not only crushed Mike Pence in Indiana, but also Asa Hutchinson in Arkansas. All the republicans cut and ran from the phony charge of sexual discrimination and fell all over themselves to placate the UDSCMA (Union of Dick Smokers and Carpet Munchers of America). For only being 2-3% of the population they sure get a lot of special privileges.
Then an article caught my eye about the Gay Nazi Brigade coming down on a mom-and-pop pizzeria for saying they would serve gays, but not cater homosexual weddings. Excuse me? Who the hell serves PIZZA at a wedding reception? It didn't matter. It was all the excuse they needed to vent their wrath on a simple business couple.
They got so much hate directed at them, they were forced to close and perhaps never reopen. Ah, but never underestimate pissed-off Christians. Here's the timeline:
Indiana's 'Memories Pizza' FORCED TO SHUT DOWN Due to Threats After Gay Comments
A Walkerton, Indiana pizza shop told an Indiana news channel they would not provide pizzas at a gay wedding.
The O'Connor family said they were not discriminating against anyone – they just wouldn't cater at a gay wedding.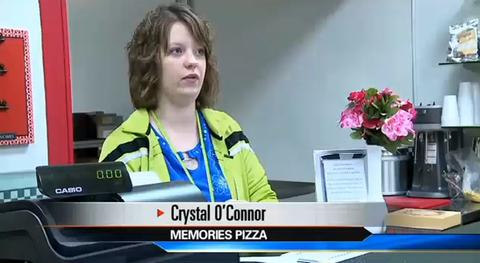 Kevin O'Connor tells TMZ he's had to temporarily close his business after he told a reporter he would refuse to cater a gay wedding under Indiana's new Religious Freedom Restoration Act.
ADDED by CtH:
O'Connor says he was immediately flooded by threatening phone calls, and social media postings.
A GoFundMe page was set up on Tuesday to help out the restaurant owners.
Already $23,000 has been raised online for the family.
http://www.thegatewaypundit.com/2015/04/indiana-pizzaria-forced-to-shut-down-due-to-threats-after-gay-comments/
*UPDATE* – Indiana Pizza Shop Gets Set Up By Local Reporter – Instantaneous National Moonbattery Ensues – *Update* Pizza Joint Forced To Close, GoFundMe In Action…..

You might have noticed an absolute apoplectic reaction to an article about an Indiana Pizza Shop, Memories Pizza, which is being sold as the "First business (restaurant) to publically deny service to same sex marriage".
Check out the screenshot from their story. Note the "HEADLINE", and note the "AUTHOR":


So curious people wanted to know how this story came about:


AND THAT'S HOW THINGS GET STARTED…..
The LEVEL 7 meltdown is a media driven moonbat narrative:
FOLLOWING ARE MORE THAN A DOZEN STORIES FULL OF IMAGINARY NARRATIVES. IT'S HOW THE MEDIA DESTROYS ANYBODY THEY WANT TO.
http://weaselzippers.us/219240-indiana-pizza-shops-christian-owners-say-they-would-decline-to-cater-at-a-gay-wedding-national-freakout-ensues/
ONE ANGRY, MAN-HATING BUTCH IS BEHIND THE WHOLE THING
ANGRY CHRISTIAN HATING LESBIAN: Coach Suspended After Threatening to Burn Down Christian Pizzeria


Posted on April 1, 2015
This teacher and coach has been suspended after threatening to burn down the Christian pizzeria in Indiana that said they wouldn't cater a gay wedding.
The head coach of an Indiana high school girl's golf team has been suspended after apparently threatening to burn down a Christian-owned pizzeria.
Jess Dooley, a coach at Concord High School of Elkhart, Indiana allegedly struck out at the owner of Memories Pizza in Walkerton, IN who made news on Tuesday by saying that she would not cater a wedding if a gay couple tried to hire her for the job, after the state passed its own Religious Freedom Restoration Act.
"We are a Christian establishment," pizza shop owner told the media.
On the heels of the news from the pizza shop, coach Dooley allegedly took to Twitter to say, "Who's going to Walkerton, IN to burn down #memoriespizza w me? Agree with #FreedomofReligion bill? "That's a lifestyle they CHOOSE" Ignorant."


Not long after the Tweet was posted, the entire Twitter account under Dooley's Twitter handle "@dooley_11″ was deleted.
By Wednesday, the school had reported that the coach was suspended pending an investigation of her comments.
http://www.breitbart.com/big-government/2015/04/01/high-school-coach-suspended-after-threatening-to-burn-down-christian-owned-pizzeria/
BEHOLD HIS MIGHTY HAND!!
UPDATE: $100k Raised for Pizza Shop Forced to Close by Liberal Bullies


http://www.truthrevolt.org/news/update-100k-raised-pizza-shop-forced-close-liberal-bullies
IT GETS BETTER
April 02, 2015, 12:43 pm
Supporters raise $140K for Indiana pizzeria
http://thehill.com/sites/default/files/styles/article_full/public/blogs/pizza.jpg?itok=Yw_NEsVr
The Daily Caller reported that Lawrence Billy Jones III launched the funding drive over Memories Pizza's stance on the Religious Freedom Restoration Act. Jones is an investigative reporter for Dana Loesch, a conservative radio host for The Blaze.
All donations, he said, would transfer to a bank account selected by restaurant owners Kevin and Crystal O'Connor once the cash call ended.
http://thehill.com/blogs/blog-briefing-room/news/237734-supporters-raise-140k-for-indiana-pizzeria