Dirty Cop Mueller Gunning For Trump – Seeks to Question POTUS About General Flynn and Comey
New Strzok-Page text messages are shaking Mueller's witch hunt to the core, however; the Special Counsel continues to proceed with his witch hunt against President Trump.
The 4 page FISA memo is set to be released soon so Robert Mueller is moving as fast as he can to interview President Trump. He is gunning for the president.

Robert Mueller previously grilled James Comey and Attorney General Jeff Sessions according to a New York Times report.
Now he wants Trump. The ultimate goal of the Russia witch hunt is to remove a duly elected president.
http://www.thegatewaypundit.com/2018/01/dirty-cop-mueller-gunning-trump-seeks-question-potus-general-flynn-comey/
The president thinks he has nothing to fear because he's done nothing wrong. That is of little import to liberals. Mueller is sharpening his knives and licking his chops over the prospect of Trump saying anything he can attack him with.
Recall when Scooter Libby was convicted of not remembering something the same way another witness did. One of the jurors carped that they were disappointed they only got Libby when it was Cheney's blood they wanted. If Trump goes through with this, Mueller will charge him with something.
DEMOCRATS ARE DETERMINED TO TAKE BACK POWER…BY ANY MEANS NECESSARY
New California Policy Opens Door To Illegal Immigrant Voting
California this spring will begin automatically registering adults who obtain or renew a driver's license to vote, including potentially large numbers of noncitizens and immigrants illegally living in the state.
"You're setting the state up for a disaster. They don't seem to have a process in place to verify that people are who they say they are. It's a free-for-all, a process that can be manipulated," said Catherine Engelbrecht, founder of True the Vote, a national organization that unsuccessfully pressed Gov. Jerry Brown to veto the law allowing automatic voter registration.
http://www.foxnews.com/us/2018/01/23/new-california-policy-opens-door-to-illegal-immigrant-voting.html
Swing State Florida Could Add More Than One Million Felons To Voting Rolls

ADD THAT TO THE HALF MILLION HAITIANS WHO FLED HERE
If passed, the ballot measure could have a significant impact on election outcomes in the state.
President Donald Trump beat Hillary Clinton in Florida by 112,911 votes in the 2016 election. That's less than one tenth of the number of felons who would rejoin voting rolls if the measure passes. Just under 1.5 million Floridians were barred from voting in the 2016 election due to felony convictions, according to The Sentencing Project.
http://dailycaller.com/2018/01/23/florida-felons-voting-rights-election/
Bad news for GOP: Pennsylvania Supreme Court tosses state's congressional maps
It is difficult to exaggerate how damaging this ruling is to the GOP chances of holding the House.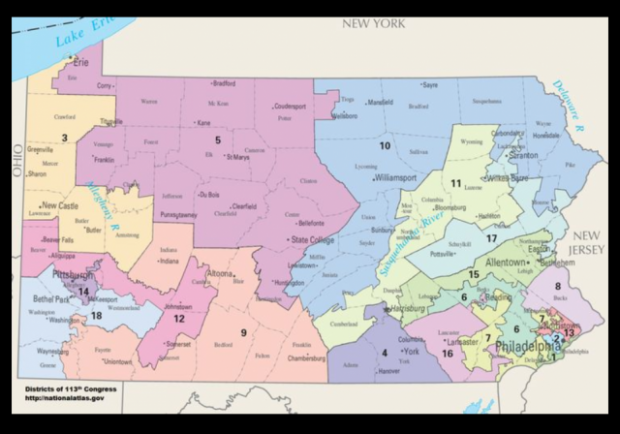 The GOP may have just lost as many as four seats in the House—certainly at least one.
Yesterday, the Supreme Court of Pennsylvania ruled, by a vote of 5–2, that the state's congressional districts amounted to an unconstitutional partisan gerrymander.
And here's an even greater shock— the PA Supreme Court just so happens to have five Democrats and two Republicans
It is difficult to exaggerate how damaging this ruling is to the GOP.
Democrats need to win a net of 23 seats to take back the House. This decision may hand them 3 or 4 right off the bat.
But here is what happened in Pennsylvania: in 2015 Democrats won three supreme court vacancies in a clean sweep, ending the Republican majority. Democratic organizations, like the League of Women Voters that spearheaded the lawsuit in this case, realized they could exploit the results to circumvent the legislature and get a new map, all while never setting foot in a federal courthouse.
https://legalinsurrection.com/2018/01/bad-news-for-gop-pennsylvania-supreme-court-tosses-states-congressional-maps/
N.Y. Democrats unveil ad campaign to 'replace and repeal' federal tax law

ALBANY — The state Democratic Party — controlled by Gov. Cuomo — unveiled a "replace and repeal" ad campaign tied to the federal tax act.
Cuomo previously announced a campaign that would target at least six New York congressional Republicans as part of an effort to help flip the House to the Democrats in the November elections.
Again accusing Republicans in Washington of "having declared war on New York," Cuomo, as part of the upcoming state budget talks, wants to find a way to revamp New York's tax code to limit the impact of the federal law.
http://www.nydailynews.com/news/politics/n-y-dems-unveil-effort-replace-repeal-federal-tax-law-article-1.3772537?utm_content=buffer7d80b&utm_medium=social&utm_source=twitter.com&utm_campaign=NYDailyNewsTw
California To Business Owners: Half Of Your Savings From Trump's Tax Bill Belongs To Us

The Democratic Party thinks your money is their money (typical) and the state legislature in California is making that explicitly clear. They're pushing for business to fork over half of their tax savings to the state because this is what you get when Democrats are in charge.
As a constitutional amendment, the bill would require approval from two-thirds of the Legislature to pass, a difficult hurdle now that Democrats have lost their supermajority. If passed and signed by Gov. Jerry Brown, it would then go to voters for final approval.
Yeah, this would be a sure thing, but a few state Democratic representatives in Sacramento have been accused of gross sexual misconduct, which has led to chaos within the state party. This fiasco has cost the party their supermajority—at least for the beginning of 2018. How dare businesses get tax relief: the motto of a California Democrat.
https://townhall.com/tipsheet/mattvespa/2018/01/23/california-to-business-owners-half-of-your-savings-from-trumps-tax-bill-belongs-n2438540
Democrats just got rolled. They can blame Barack Obama.

During his 2008 campaign, Obama promised in a conversation with Univision anchor Jorge Ramos to make passing immigration reform one of his first legislative priorities, and even set a timetable. "I cannot guarantee that it is going to be in the first 100 days," he said. "But what I can guarantee is that we will have in the first year an immigration bill that I strongly support and that I'm promoting. And I want to move that forward as quickly as possible."
If he had wanted to act, he could have. Obama's party controlled the House, and Democrats had a 60-vote filibuster-proof Senate majority. If Obama really wanted to pass either the Dream Act or comprehensive immigration reform, Republicans were powerless to stop him. But he didn't do it.
https://www.washingtonpost.com/opinions/democrats-just-got-rolled-they-can-blame-barack-obama/2018/01/22/60c8be48-ffaa-11e7-8acf-ad2991367d9d_story.html?utm_term=.90d4ff8b0c93
Evidence suggests a massive scandal is brewing at the FBI

DEMOCRATS DON'T PROSECUTE DEMOCRATS
As one former federal prosecutor put it, "It doesn't get worse than that." That prosecutor, Joseph ­diGenova, believes Trump was correct when he claimed Obama aides wiretapped his phones at Trump Tower.
These and other elements combine to make a toxic brew that smells to high heaven, but most Americans don't know much about it. Mainstream media coverage has been sparse and dismissive and there's a blackout from the same Democrats obsessed with Russia, Russia, Russia.
https://nypost.com/2018/01/23/evidence-suggests-a-massive-scandal-is-brewing-at-the-fbi/?utm_campaign=partnerfeed&utm_medium=syndicated&utm_source=flipboard