We begin 2018 with a different approach to disseminating the mindless drivel you've come to expect from your intrepid reporter. They will generally be long, usually rambling, and at some point you will realize you wasted minutes of your life you'll never get back.
President Trump's 1st Year in Office an ECONOMIC MIRACLE: All Time Stock Market Highs – Most Jobs in History – Highest GDP Ever
President Trump's first year in office resulted in the greatest year in stock market history! The Dow ended up nearly 5,000 points for the year which was the highest increase in the Dow's more than 100 year history. The Dow reached all-time new highs a record 71 times in 2017, breaking the record for the most all-time highs in a calendar year set in 1995.
At the final bell for the year the Dow closed near its highest closing amount ever at 24,719. Since last year's election the Dow is up 35%!
http://www.thegatewaypundit.com/2017/12/president-trump-1st-year-office-economic-miracle-time-stock-market-highs-jobs-history-highest-gdp-ever/
Finally: Signs of a real economic recovery for the US

US GDP, for example, is now on pace to grow at an annual rate of about 3 percent for the first three full quarters of President Trump's term. Compare that to the less than 2 percent average annual growth under President Barack Obama.
Indeed, not a single year saw 3 percent growth or more under Obama, the only president in modern history with such a sorry record. Things may finally be turning around.
https://nypost.com/2017/12/30/finally-signs-of-a-real-economic-recovery-for-the-us/
Al Sharpton: Trump Is A Symbol Of 'Northern Bigotry'
DIDN'T KNOW BIGOTRY HAD REGIONS.
[CtH: Plus, you know, lowest Black and Hispanic unemployment rates in recorded history.  Methinks "people of color" could use more of this alleged "bigotry."]
Trump wishes a Happy New Year to his supporters, haters, enemies and fake news

President Trump wished Americans a Happy New Year from his Mar-a-Lago luxury resort in south Florida on Sunday, saying that his New Years wishes extended to not just his supporters but also his "enemies" and the "fake news" media.
"As our Country rapidly grows stronger and smarter, I want to wish all of my friends, supporters, enemies, haters, and even the very dishonest Fake News Media, a Happy and Healthy New Year. 2018 will be a great year for America!" Trump tweeted.
http://www.msn.com/en-us/news/politics/trump-wishes-a-happy-new-year-to-his-supporters-haters-enemies-and-fake-news/ar-BBHB20a?li=BBnb7Kz&ocid=UE12DHP
Trump pulls brakes on $13B Obama-backed rail-tunnel plan

An Obama-era plan to have the federal government finance half of a $13 billion rail tunnel project ran into a red light Friday from the Trump administration.
The original Obama-era plan called for costs to be split among New York state, New Jersey and the federal government.
But in a letter Friday, the Trump administration notified New York and New Jersey that the Obama-era deal was now "non-existent" because the states recently requested that their portions be covered by loans from the federal government — meaning Washington would supply all of the initial funding for what the Trump White House is calling "a local project."
http://www.foxnews.com/politics/2017/12/31/trump-pulls-brakes-on-13b-obama-backed-rail-tunnel-plan.html
Trump dumps entire White House HIV/AIDS council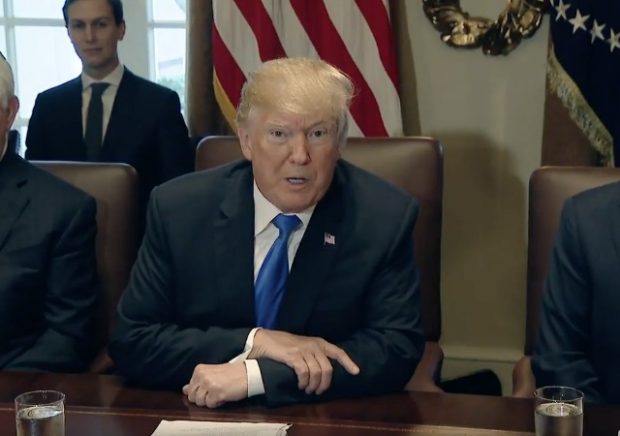 Months after a half-dozen members resigned in protest of the Trump administration's position on health policies, the White House dismissed the rest through a form letter.
The notice "thanked me for my past service and said that my appointment was terminated, effective immediately," said Patrick Sullivan, an epidemiologist at Emory University who works on HIV testing programs. He was appointed to a four-year term in May 2016.
https://legalinsurrection.com/2017/12/trump-dumps-entire-white-house-hiv-aids-council/
Judge Upholds Controversial Bill Requiring Taxpayers to Fund Abortions in Illinois
The bill forces Illinois state residents to fund abortions of Medicaid recipients and state employee health insurance beneficiaries and sets no expense ceiling nor a limit on the number of abortions that Medicaid will cover.
Rauner said that the state should fund abortions because wealthy women should not have reproductive options not shared by poor women
According to Illinois House Republican Floor Leader, Peter Breen, the new law will oblige taxpayers to foot the bill for "an expected 20,000 to 30,000" abortions per year.
http://www.breitbart.com/big-government/2017/12/29/judge-upholds-controversial-bill-requiring-taxpayers-to-fund-abortions-in-illinois/
Clinton Donors David Brock, Susie Tompkins Buell Spent $700,000 to Find Trump Accusers

Left-wing political operatives and Hillary Clinton backers David Brock and Susie Tompkins Buell bankrolled $700,000 allegedly to find people who would accuse then-candidate Donald Trump of sexual misconduct before Election Day 2016
http://www.breitbart.com/big-government/2017/12/31/clinton-donors-david-brock-susie-tompkins-buell-spent-700000-find-trump-accusers/
Sanctuary State Signs Pop Up on California Highways for the New Year: "Felons, Illegals and MS13 Welcome!"
OFFICIAL SANCTUARY STATE, Felons, Illegals and MS13 Welcome! Democrats Need The Votes!
The highway signs are apparently commemorating California's new Sanctuary State status.  NOTE: It is unclear who originated this action.
http://www.thegatewaypundit.com/2018/01/photos-sanctuary-state-signs-pop-california-highways-new-year-felons-illegals-ms13-welcome/
CNN Reporter Holds Joints, Lights Bong for Pot Smoker on Live New Year's Eve Broadcast
CNN reporter Randi Kaye, sporting large marijuana leaf styled earrings, lit a bong for a pot smoker during a live report from Denver broadcast on CNN's New Year's Eve show Sunday night that was hosted from Times Square by Anderson Cooper and Andy Cohen. Kaye was also seen several times holding lit joints on air.
Really @cnn , this is where your morals have landed in 2018? Old ladies and gas mask bongs?
http://thegatewaypundit.com/2018/01/video-cnn-reporter-holds-joints-lights-bong-pot-smoker-live-new-years-eve-broadcast/
BELIEVE IT OR NOT, IT GOT EVEN WORSE.
"I found love," Lemon told Baldwin before breaking into an impromptu ditty as the pair once again rang in the New Year in the Big Easy.
http://people.com/tv/don-lemon-kisses-boyfriend-new-years-cnn/
CNN's Brooke Baldwin Makes Joke About Having Bigger 'Balls' Than Don Lemon
CNN's Brooke Baldwin made a joke about her balls being bigger than Don Lemon's Sunday during CNN's coverage of New Year's Eve.  Baldwin said during CNN's News Years' Eve coverage, "By the way, my balls are bigger than your balls."
http://dailycaller.com/2018/01/01/cnns-brooke-baldwin-makes-joke-about-having-bigger-balls-than-don-lemon-video/
Former Israeli Ambassador To The US: Obama Rejected Iran Green Revolution For Nuclear Deal
US President Barack Obama chose not to support the 2009 Iranian Green Protest Movement, because he hoped to reach a deal with Iran on its nuclear weapons that he signed six years later, then-ambassador to the US and current Deputy Minister Michael Oren (Kulanu) said Monday.
Obama's failure to help Iranian protesters has been criticized since then by Israeli officials, led by Jewish Agency chairman and former Soviet dissident Natan Sharansky, who has called it the biggest failure to help human rights in modern history
http://www.jpost.com/Middle-East/Michael-Oren-Obama-rejected-Iran-Green-Revolution-for-nuclear-deal-522585
Ex-Obama State Dept. Spox: We Didn't Support Iran Protesters in 2009 Because They Asked Us Not To
More from the woman who claimed "job opportunities" were the key to defeating ISIS.
Substitute host Dana Perino didn't hesitate to put Harf on the hot seat, comparing Obama's lack of support for Iranian protesters in 2009 with President Trump and VP Pence's support for the protesters in Iran today.
Exemplifying Obama's losing, "leading from behind," approach to foreign policy, Harf said:
"The reason we didn't [support the protesters] was that it was our judgment—and we were hearing from Iranians protesting on the streets that your support will not help us."
http://finkelblogger.com/2017/12/31/ex-obama-state-dept-spox-we-didnt-support-iran-protesters-in-2009-because-they-asked-us-not-to/
Former Obama Advisers Tell Trump to 'Be Quiet' on Iran Protests

HE WAS WILLING TO LET INNOCENT PEOPLE DIE TO SAVE HIS PRECIOUS IRAN DEAL.
Former National Security Advisor Susan Rice tweeted a New York Times op-ed by former Obama aide Philip Gordon, "How Can Trump Help Iran's Protesters? Be Quiet." The author argues that supporting the protests, and taking steps to end the Iran nuclear deal, will only help the regime to delegitimize its internal opponents.
http://www.breitbart.com/big-government/2018/01/01/former-obama-advisers-tell-trump-quiet-iran-protests/
Iran blocking social media to 'maintain public safety'
"Iranian authorities are blocking access to Telegram for the majority of Iranians after our public refusal to shut down … peacefully protesting channels," Telegram CEO Pavel Durov wrote on Twitter.
Tehran claimed that social media censorship was necessary to maintain public safety.
"With a decision by the Supreme National Security Council, activities of Telegram and Instagram are temporarily limited," according to a statement on Iranian state TV.
https://nypost.com/2017/12/31/iran-blocking-social-media-to-maintain-public-safety-officials/
White House: Iranian protesters 'deserve to be heard'

"We support the right of the Iranian people to express themselves peacefully. Their voices deserve to be heard," White House press secretary Sarah Huckabee Sanders said in a statement.
http://thehill.com/homenews/administration/366961-white-house-voices-support-of-iranian-protests
"Exodus in Progress?": Mystery Aircraft Leave Iran With "No Callsign, Origin, or Destination" As Protests Rage
Last night, a large number of aircraft were spotted leaving Iran with "no callsign, origin, or destination." Strategic Sentinel, a DC-based firm that provides "nonpartisan international relations and national security analysis," raised the prospect that the live flight radar data may suggest an "exodus," is in progress.
http://www.thegatewaypundit.com/2017/12/exodus-progress-mystery-aircrafts-leave-iran-no-callsign-origin-destination-protests-rage/
A.F. Branco's 2017 Legal Insurrection Cartoons
WE CONCLUDE THIS MARATHON OF MERRIMENT WITH THE CARTOON SECTION.