It is a well-known fact that Democrats will do anything to get what they want — lie, cheat, break laws, commit perjury. The ends justifying the means is the only thing that motivates them — retaining power and control to impose their will on a deeply divided country.
Obama, Lynch, Mueller, Comey, Rosenstein, the whole sordid bunch, are spokes in a massive wheel. At the hub is Hillary Rodham Clinton. They were willing to stop at nothing to make her president while simultaneously destroying Donald Trump.
The FISA memo confirms what we already knew. It is important that the truth come out, if only for posterity. When you hear predictions that indictments are coming or people are going to jail, it's all for the benefit of the half of the country that believes in the rule of law. My prediction is that none of these major players will ever be indicted, much less tried. It is not possible to find an impartial jury in Washington D.C. that would convict any of them.
New Jersey Senator Robert Menendez went on trial for corruption and bribe taking in connection with his major donor, Dr. Solomon Melgen, who had already been convicted of 96 counts of bribery and Medicaid fraud. Of the 56 count indictment against Menendez the jury hung on every one of them. You only need one or two ringers to hang any jury and this snake pit is crawling with them.
The democrats also have a secret weapon against being held to any serious consequences: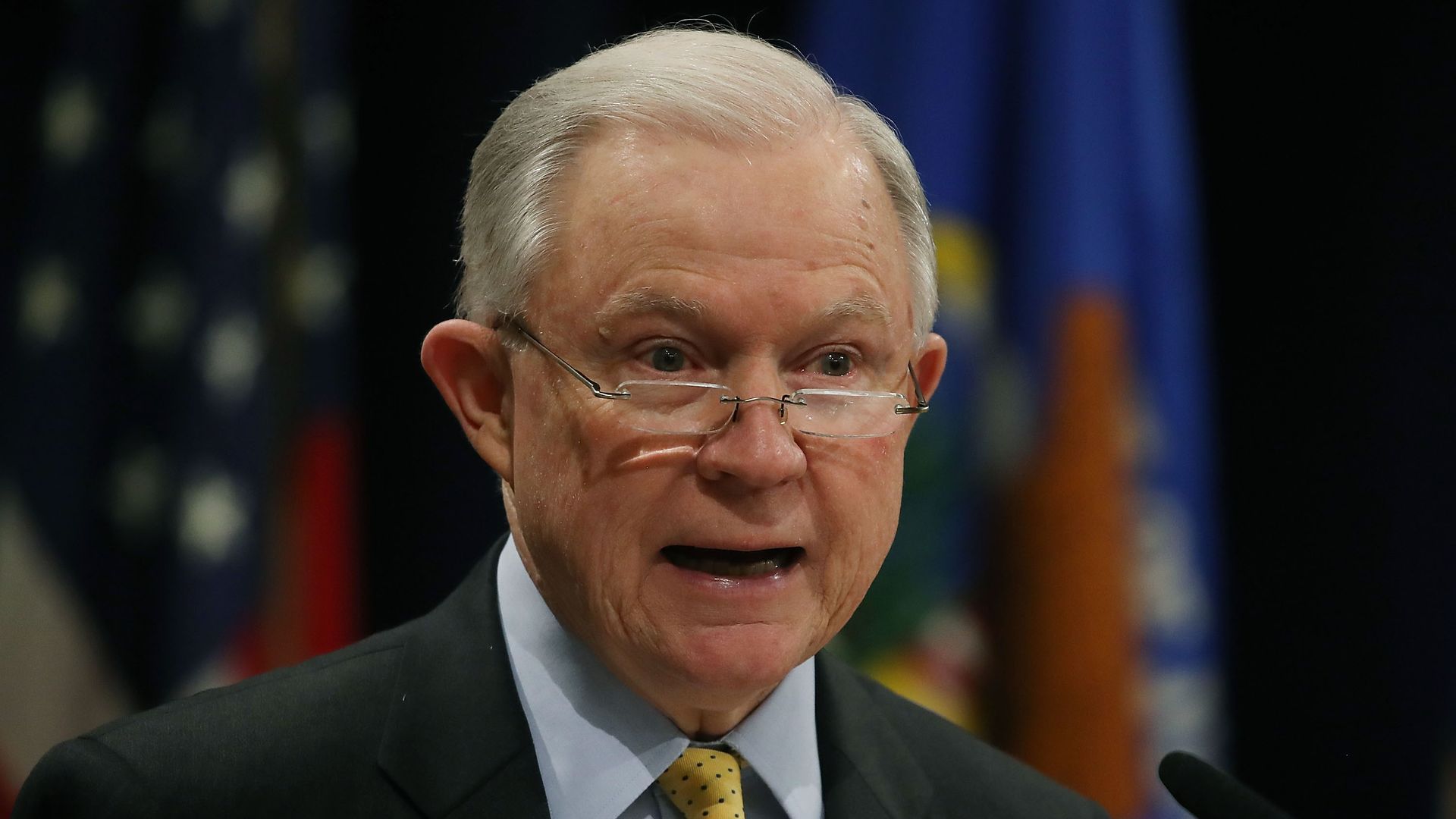 The Attorney General refuses to do his job and Trump will not remove him. He has stood quietly on the sidelines while the Democrats commit felonies with impunity. It would not be a surprise if they are blackmailing him the way many (including me) think they are doing with Chief Justice John Roberts, who ruled Obamacare constitutional on grounds that were never argued. He just made them up.
Jeff Sessions on Nunes memo: "No department is perfect"

Attorney General Jeff Sessions issued a statement Friday following the release of the controversial Nunes memo alleging FISA abuse by the FBI and Department of Justice.
"I have great confidence in the men and women of this Department. But no Department is perfect."
https://www.axios.com/jeff-sessions-on-nunes-memo-no-department-is-perfect–f4d3c702-2d01-4329-83e0-8135fd1e0e1f.html
The Memo Reveals the Coup against America
The memo has been released, now it's time to release everything.

The memo isn't treasonous. It reveals a treasonous effort by the Democrats to use our intelligence agencies to rig an election and overturn the will of the voters.
https://www.frontpagemag.com/fpm/269211/memo-reveals-coup-against-america-daniel-greenfield
Memo Revelation: Dossier Author Admitted He Was 'Desperate' that Trump 'Not Get Elected'

"In September 2016, Steele admitted to [former FBI official Bruce] Ohr his feelings against then-candidate Trump, when Steele said he "was desperate that Donald Trump not get elected and was passionate about him not being president," the memo states. "This clear evidence of Steele's bias was recorded by Ohr at the time and subsequently in official FBI files—but not reflected in any of the Page FISA applications."
https://townhall.com/tipsheet/leahbarkoukis/2018/02/02/memo-revelation-dossier-author-admitted-he-was-desperate-for-trump-not-to-get-elected-n2443741
Memo confirms Obama's corruption
Barack Obama not only went down in history as the worst president, but he has now shoved aside Nixon as the most sneaky and corrupt.

The Obama Scandal is the abuse of power by a president and his operatives to undermine the election — and then to sabotage the regime change.
The release of the memo confirms the former. We have known about the latter for a long time.
"Federal employees worried that President Donald Trump will gut their agencies are creating new email addresses, signing up for encrypted messaging apps and looking for other, protected ways to push back against the new administration's agenda," Politico reported.
http://donsurber.blogspot.com/2018/02/memo-confirms-obamas-corruption.html
Obama Admin's First Request to Spy on Trump Campaign Was Rejected by FISA Court — So They Added the Fake Dossier Knowing It Was Lie

We now know that the FISA requests to spy on Carter Page were based on the discredited and bogus fake Trump dossier created by Fusion GPS and that the dossier's origin was not reported to the court.
We also know that all of these requests were signed off on by the Obama Administration's Attorney General Loretta Lynch and that the first request to spy on Trump was denied by the FISA Court.
http://www.thegatewaypundit.com/2018/02/obama-admins-first-request-spy-trump-campaign-rejected-fisa-court-added-fake-dossier-knowing-lie/
Alan Dershowitz reacts to the FISA memo release

House Memo Released; Reveals Discredited Dossier Paid for by Hillary used by FBI to get FISA Warrant to Spy on Trump Campaign

The damning Memo also includes the fact that Deputy FBI Director Andrew McCabe testified under oath to the House Intelligence Committee that without the use of the Dossier, the FBI would not have sought a FISA Warrant. So it was key.
So, if you step back from this Memo, it reveals that the Top Leaders of Law Enforcement in the United States used discredited political dirt from the Democrat Candidate for President to get a FISA Court under false pretenses to allow them to spy on her Republican Presidential Opponent during a Presidential Election. Their goal was to prevent Trump from being elected, and then became to bring down his Presidency.
You can argue all the nit-picky things you want about the Memo. But this central reality cries out for Justice.
http://freedomslighthouse.net/2018/02/02/house-memo-released-reveals-discredited-dossier-paid-for-by-hillary-used-by-fbi-to-get-fisa-warrant-to-spy-on-trump-campaign-read-the-memo-2218/
Why Did the Democrats Lie So Baldly about the Memo?

Adam Schiff, Dianne Feinstein, Nancy Pelosi, among seemingly dozens of Democrats, not to mention half the mainstream media, had been warning us for days that the release of the memo authored by Republican members of the House Intelligence Committee would place our national security at grave risk. "Sources and methods" would be revealed.
Now that we have seen the memo, it's clear that was an absolutely bald-faced lie of the most obvious sort. Nothing in it impacts national security in the slightest. There's no mention whatsoever of any "sources and methods."
https://pjmedia.com/rogerlsimon/democrats-lie-baldly-memo/
Seven takeaways from the House memo detailing FBI's surveillance abuses
Republicans released a long-awaited memo Friday detailing government surveillance abuses, showing that the FBI would not have obtained a surveillance warrant for the Trump campaign without using information from a dubious partisan dossier.
Here are seven take aways:
⦁ The FBI relied heavily on Democratic Party dossier to obtain three surveillance warrants before the Foreign Intelligence Surveillance Court. The FBI did not tell the court the information came from a Democratic Party-financed opposition research. FBI knew source.
https://www.washingtontimes.com/news/2018/feb/2/six-takeaways-from-the-house-memo-detailing-fbis-s/
TRUMP WILL NOT FIRE MUELLER… HE BELIEVES HE WILL BE FAIR
Report: Mueller may indict Trump just to make a point

Rep. Ken Buck, who is a former federal prosecutor, tells Politico an indictment of Trump "would create a constitutional crisis." Trump is within his rights as president to fire the FBI Director. So an indictment for obstruction based on the firing would amount to Mueller's assessment that Trump fired Director Comey for the wrong reasons, something Rep. Buck says would be "unique in the history of the country." Of course, we've seen courts interpreting Trump's executive orders on immigration in a similar way, i.e. not arguing the president lacks authority but that his prior statements prove his motives were unconstitutional.
https://hotair.com/archives/2018/02/02/report-mueller-may-indict-trump-just-make-point/
IN CASE YOU WERE WONDERING HOW THE DEMOCRATS PLAN TO REGAIN THE MAJORITY SO THEY CAN IMPEACH TRUMP…
Florida's Lifetime Ban On Voting By Felons Is Unconstitutional, Federal Judge Rules

A federal judge ruled Thursday that Florida's lifetime ban on restoring voting rights for felons violates the U.S. Constitution.
U.S. District Judge Mark Walker said Florida's vote restoration process unfairly relies on the personal support of Gov. Rick Scott for citizens to regain "this fundamental right."
http://www.miamiherald.com/news/politics-government/state-politics/article197932309.html
Memo Says Spy Warrant Would Not Have Been Sought Without Dossier
The memo also says that FBI Deputy Director Andrew McCabe told congressional investigators that the FISA warrant against Page would not have been granted without reliance on the dossier.
The campaign and DNC's law firm, Perkins Coie, hired opposition research firm Fusion GPS in May 2016 to investigate Donald Trump. Fusion in turn hired former British spy Christopher Steele to look into Trump's dealings in Russi
http://dailycaller.com/2018/02/02/fisa-memo-released-spy-warrant-trump-dossier/
On The Same Day Trump Releases the Nunes Memo, A Federal Judge Keeps The Comey Memos Secret
On the same day the House Permanent Select Committee on Intelligence released the Nunes memo showing the FBI relied on the salacious and unverified Trump dossier to obtain a surveillance warrant on Carter Page, a federal judge ruled to withhold the Comey memos. The memos, authored by former FBI Director James Comey, are about his nine private conversations with President-elect and President Trump.
U.S. District Judge James Boasberg, who ruled in favor of the FBI's request to keep the Comey memos secret, also sits on the Foreign Intelligence Surveillance Court. The FISA court is the same court that approved the surveillance on Trump associates.
http://dailycaller.com/2018/02/02/comey-memo-lawsuit/
NeverTrump Rallies to Defend Deep State, Dismiss Memo

Fusion GPS's initial research on Donald Trump was funded, via the Washington Free Beacon, by billionaire Paul Singer, "a major funder of the #neverTrump campaign."
So it is perhaps no surprise that the members of NeverTrump defended the dossier and attacked Friday's memo.
MSNBC's Rick Wilson, who markets himself as a "GOP Media Guy" on his Twitter profile, derided supporters of President Donald Trump as "mouthbreathers" while dismissing the memo's revelations as unimportant.
http://www.breitbart.com/big-government/2018/02/02/nevertrump-rallies-to-defend-deep-state-dismiss-memo/