Dictator-Sympathizing QB Colin Kaepernick Finishes Game With More Sacks Than Passing Yards
On a snowy, windy day at Chicago's Soldier Field, the America-hating racist punk Colin Kaepernik had a real bad, no-good, totally icky day thanks to the Bears Defense, led by nose tackle Eddie Goldman,(6'4′ and 325#) and defensive end Akiem Hicks (6'7″ and 340#) who knocked him on his ass 5 times.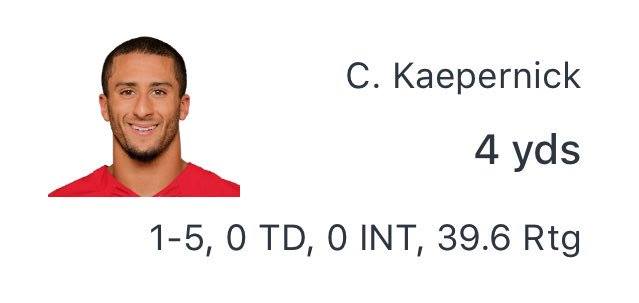 Big Labor threw tons of cash at Democrats, but workers voted red

Big Labor pumped $530 million of workers' dues into mostly Democratic Party groups and liberal causes over a four-year period — with dismal results, according to a new analysis.
A total of $260.4 million went to 45 different party or Democratic leaning groups, including the Bill, Hillary and Chelsea Clinton Foundation, Democratic Attorneys General Association, the Working Families Party, the Center for American Progress and Planned Parenthood.
More than $21.5 million went to left-leaning civil rights groups including Al Sharpton's National Action Network, Jesse Jackson's Rainbow PUSH Coalition, National Council of La Raza and the NAACP.
Pelosi: Dems don't want 'new direction'

House minority leader Nancy Pelosi downplayed problems with the Democratic Party, saying that the party's values "unify us."
"I don't think that people want a new direction," Pelosi said on CBS' "Face the Nation" on Sunday. "Our values are supporting working families. What we want is a better connection of our message to working families."



Keith Ellison: Perfect for the DNC
His Muslim Brotherhood ties and venomous anti-Israel stance make him the living embodiment of today's Democratic Party.

THEY.JUST.DON'T.GET.IT.
Hosting the event at his Virginia home was Esam Omeish, a former leader of the Muslim American Society (MAS). (Ellison has ties to MAS also: in 2008, he accepted $13,350 from MAS to go on a pilgrimage to Mecca. The Muslim American Society is a Muslim Brotherhood organization
Buh-Bye! Harry Reid Giving Farewell Address Thursday

MAY HIS DEMISE BE SLOW AND PAINFUL…HE DESERVES IT.
I'M SURE McCONNELL WILL BE SORRY TO SEE HIS OLD PAL GO.
Outgoing Senate minority leader Harry Reid will give his final speech Thursday morning in the Senate chamber. Majority leader Mitch McConnell and Republican Sen. Deal Heller (Reid's fellow senator from Nevada) will also be giving speeches in his honor. In the evening, there will be a reception in the Kennedy Caucus Room at the Russell Senate Office Building. The occasion will be a star-studded event of Democrats including Hillary Clinton, Nancy Pelosi, Joe Biden, and Charles Schumer.
The Hunt for Hil – SNL

Trump Could Appoint Someone Totally Unexpected To Head EPA

Pick me… I'm available.
First, roll EPA standards back to 1990.
Open new areas for energy exploration,including ANWAR.
Cut off subsidies to solar and windmill businesses.Either they make it on their own or they don't.
Approve the XL pipeline.
Do away with cafe standards, special fuel blends, and for Heaven's sake, get rid of ethanol.
While media reports indicate the president-elect has narrowed the field down to two candidates, a new name is on the lips of some on Trump's transition team: Dr. Donald van der Vaart.
Van der Vaart is a PhD chemical engineer who currently heads the North Carolina Department of Environmental Quality. If appointed and approved by Congress, Van der Vaart would be the first PhD scientist to head EPA. He also holds a law degree.
Dick Cheney To CNN Reporter: Trump Took Us To Point Where We Don't Need You Guys Anymore

Vice President Dick Cheney landed a major zinger on a CNN reporter this weekend. He was at an event with Obama's former Defense Secretary Leon Panetta. They were talking with CNN reporter Barbara Starr about national security and foreign policy.
Cheney had a few really funny lines but the one about the press was hysterical.
think one of the reasons people get so concerned about the tweets is it is sort of a way around the press. He doesn't have to rely upon, uh, rely upon — this is the modern era, modern technology. He's at the point where we don't need you guys anymore.
Obama Jokes With The Eagles At Kennedy Center Honors Reception

Clinging to the tattered remains of his pathetic legacy, Ol' Barry had to insert himself into the Kennedy Center Honors reception last night to hobknob with Al Pacino, James Taylor, and the surviving members of The Eagles, who sold more albums in the 20th century than anybody. The best of The Eagles (c'mon,you know you had it) went platinum 37 times over. Singer/drummer Don Henly, bassist Timothy B. Schmitt, and guitarist Joe Walsh attended last night. Fellow Detroit native Bob Seger paid tribute to the late Glenn Frey, who died suddenly earlier this year.