This may turn out to be a rather lengthy rant. It's happened before.
A billionaire former reality show host and political neophyte sent shock waves all over the world when he defeated the most corrupt, greedy, ruthless congenital liar ever to run for the presidency. I doubted his chances of even winning the nomination, but came to realize that he was the only man who could stop the pre-ordained coronation of the Beast of Benghazi. He's done pretty well, especially with his nomination to SCOTUS of Neil Grouch. He totally played the Democrats on DACA, which expired yesterday, and his tax cuts have kick-started the economy.
Maybe we've taken too much for granted, controlling all three branches of government. Not enough of us realize the white-hot rage and anger of the Left after seeing their dream of a totalitarian power vaporized. They have not taken it well. With help from people like George Soros, Tom Steyer, Bill Gates, and Warren Buffet, they have mobilized voter turnout to flip 38 straight state House and Senate seats. The media has committed every atrocity possible against the president. The Democrats count on a raging electorate with the promise of impeaching Trump the day they get the majority, which they think is a foregone conclusion.
After a good start, Trump is reverting to the way he was in the past. He's always been in favor of trade tariffs, this time on steel and aluminum imports. W tried it, but after 13 months and more than 200,000 jobs lost, he had to rescind them. Trump's tax cuts have spurred the economy and brought a lot of revenue that was parked offshore back home. Who knows how many will stay here and how many more will be forced to relocate.
He's also opted for the Democrat plan for gun control, taking the guns first and passing laws later. He totally rejected Steve Scalise, the congressman who was almost killed, who offered an amendment for national reciprocity for CCW carriers.
I've been meaning to comment on this for some time:
It would be almost unthinkable that police officers in Parkland would be ordered to stand down and "surround" the school until the cries of the dead and dying stopped. But this is how communism operates. Those 17 innocents were sacrificed to make a demonic push for gun confiscation. This may have been unthinkable at one time, but we've seen the Americans left to die by Obama and Clinton so as not to have to answer questions before a presidential election. Obama also ignored the pleas of the Gulf Coast governors for permission to try to stop the BP oil spill from making landfall. He waited until it came ashore, destroying thousands of small businesses and putting tens of thousands of people out of work, just so he could use it as an excuse to put a moratorium on oil exploration. What did he care? Most of them didn't vote for him anyway.
If we don't wake up we're going to find ourselves staring as something akin to a toddler with a machine gun as the Democrats, when they get the power, will stop at nothing to stop everything we've managed to accomplish to this point.
Broward County Deputies Told to Form Perimeter Around School Instead of Confronting Shooter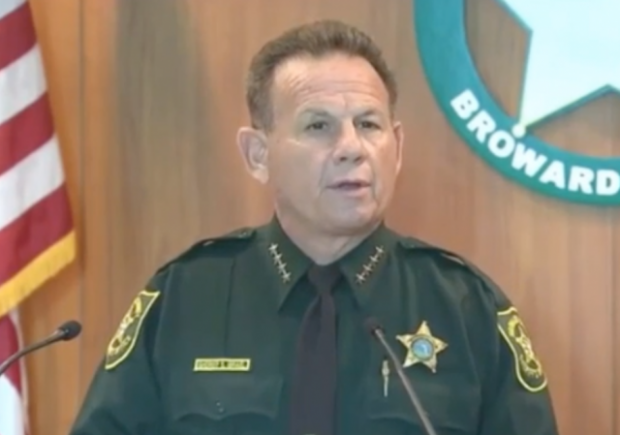 MAY THE GHOSTS OF THOSE BUTCHERED HAUNT THIS ASSHOLE FOR THE REST OF HIS LIFE.
The order came from Capt. Jan Jordan.
Broward County Sheriff Scott Israel had said publicly that active-shooter training instructs officers to immediately confront the shooter or shooters. Forming a perimeter is secondary.
The documents show the shooting lasted approximately 6 minutes and was likely over by the time officers arrived on the scene. In a press conference revealing (now former) school deputy Scot Peterson stayed outside rather than confronting the shooter, Sheriff Israel said Peterson should have "went in. Addressed the killer. Killed the killer."
Despite it all, Sheriff Israel refuses to resign.
For what good it will do, the Florida House opened an investigation, subpoenaing Broward County Schools and law enforcement.
https://legalinsurrection.com/2018/03/broward-county-deputies-told-to-form-perimeter-around-school-instead-of-confronting-shooter/

Organizers plan for 500,000 attendees at 'March For Our Lives' gun-control march in Washington

The application filed this week with the National Park Service indicates the "March for Our Lives" will be March 24, although a location hasn't been determined. The rally, organized by survivors of last week's school massacre in Parkland, Fla., will have "sister marches" in other major cities, organizers said.
The event will include "student speakers, musical performers, guest speakers and video tributes," according to the permit application, with 14 Jumbotrons and 2,000 chairs.
https://www.msn.com/en-us/news/us/organizers-plan-for-500000-attendees-at-'march-for-our-lives'-gun-control-march-in-washington/ar-BBJtg5k?ocid=spartanntp
The kids are pawns, Democrats use Parkland students to get out the vote

In case you are on the fence about coming to the realization that the kids in Parkland, Florida are being used as stooges to push the anti-gun agenda of the left, there is proof in the form of social media. Here we have a tweet from conservative writer Mark Hemingway showing a student has signed off on a letter via Democrats.org: calling on like-minded people to support the I Will Vote initiative. Oh yeah, and change gun laws.
https://hotair.com/archives/2018/03/03/kids-pawns-democrats-use-parkland-students-get-vote/
PTA organizes 'gun safety' walkouts, hides from parents far-left radicals tied to events
The California State Parent Teacher Association (PTA) is urging its members to "call out" federal legislators in support of gun control on March 14, coinciding with the "#Enough" school walkout being organized by the anti-Trump Women's March organization.

A
ccording to the Women's March website, students, teachers, and school administrators will walk out of school for 17 minutes beginning at 10:00am on the 14th.
Women's March is headed by pro-Palestinian activist Linda Sarsour, an associate of convicted terrorist Rasmieh Yousef Odeh who has blamed the "Jewish media" for her unpopularity

 http://www.bizpacreview.com/2018/03/03/pta-organizes-gun-safety-walkouts-hides-parents-far-left-radicals-tied-events-609143#
Women's March co-founder defends herself against charge of ignoring anti-Semitism with anti-Semitism

In the audience at last weekend's conference was Tamika Mallory, one of the leaders of the Women's March, who got a special shout-out from Farrakhan and who regularly posts laudatory pictures of him on her Instagram account — as does Carmen Perez, another leader of the March. Linda Sarsour, another March organizer, spoke and participated at a Nation of Islam event in 2015. Her most notable response to his incendiary remarks this year was a glowing post on Perez's Facebook page to praise Farrakhan's youthful demeanor.
https://hotair.com/archives/2018/03/02/womens-march-co-founder-defends-charge-anti-semitism-anti-semitism/
Gun-Control Group Pledges $2.5M for Marches to End School Shootings

The truth is, these anti-gun groups have been behind the scenes organizing all this from day one. Just yesterday, it was reported that Everytown for Gun Safety, Giffords advocacy group, Move On, Planned Parenthood, and the Women's March LA were backing the March for our Lives Rallies that will take place around the country on March 24th.
http://www.hapblog.com/2018/03/gun-control-group-pledges-25m-for.html
Dems want this spokesperson? Teen brags he hung up on Trump WH while classmate drops the F-bomb on TV
Stoneman Douglas high school student/activist David Hogg appeared on HBO's "Real Time with Bill Maher" to stress that the gun control agenda he's been pushing is not about politics.
He then bragged that he hung up on the White House… before his classmate dropped an "F-bomb" on national television, directed at "all generations before us."

As Maher explained that President Trump is an anomaly, a "virus from outer space," the high school student interjected: "I mean this sincerely, I really do. To all of the generations before us, we sincerely accept your apology. We appreciate that you are willing to let us rebuild the world that you f*cked up."
http://www.bizpacreview.com/2018/03/03/dems-want-spokesperson-teen-brags-hung-trump-wh-classmate-drops-f-bomb-tv-609055#
Mother of Exploited Shooting Survivor Turns Out to Be A CNN VIP & Anti-Trump Activist
The mother of a teenager who survived the Marjory Stoneman Douglas High School shooting appears to have high level connections at CNN

One photo shows her children sitting at an anchor's desk.
Boldrick is the mother of David Hogg, who has gained internet fame for his activism in the days since the shooting.
Hogg and his merry band of anti-gun crusaders have been paraded around by nearly every cable news network in America.
Apparently, activism runs in the family. A series of Facebook posts show that Boldrick is an avowed Democrat and anti-Trumper.

https://bigleaguepolitics.com/mother-exploited-shooting-survivor-turns-cnn-vip-anti-trump-activist/
THIS IS SUPPOSED TO BE HOGG'S SENIOR PICTURE FROM REDONDO SHORES HIGH IN 2015. HE IS ALLEGEDLY A CRISIS ACTOR, SHOWING UP TO GRAB PUBLICITY. MY QUESTION IS: IF HE WAS NOT ACTUALLY A STUDENT, WHY ARE ALL THE STUDENTS AND TEACHERS NOT SAYING ANYTHING?

OBAMA: I DID MORE FOR GUN SALES THAN ANYBODY IN HISTORY
DAVID HOGG: HERE, HOLD MY BEER

To conquer a nation, first disarm its citizens. — Adolph Hitler, 1933

There's no evidence Hitler ever said these words, but it does reflect his opinion that disarming occupied nations was imperative to maintaining control of them.

http://blog.skepticallibertarian.com/2013/03/19/fake-quote-files-adolf-hitler-on-gun-registration-conquest-and-disarmament/