Category Archives:
Bill de Blasio
Wall Street Whistleblower: Clinton Foundation is the 'Largest Charitable Fraud in American History'
Former investment banker and self-styled Wall Street whistleblower Charles Ortel is one of the foremost experts on Clinton Foundation corruption. According to Ortel, "examination of available facts demonstrates the Clinton Foundation and its network of false-front charity "initiatives" and affiliates remains the largest set of unprosecuted charitable frauds in American history."

The FBI has asked retired Australian policeman-turned investigative journalist, Michael Smith, to provide information he has gathered detailing multiple allegations of the Clinton Foundation receiving tens of millions of mishandled taxpayer funds, according to LifeZette.
One report after another from various media outlets have shown strange coincidences involving the Clinton Foundation.
The Clinton Foundation would receive huge donations from donor X only to have donor X magically get favorable decisions by Hillary Clinton's State Department around the same time.
http://thegatewaypundit.com/2018/01/wall-street-whistleblower-clinton-foundation-largest-charitable-fraud-american-history/


Judge acquits Sen. Menendez on some charges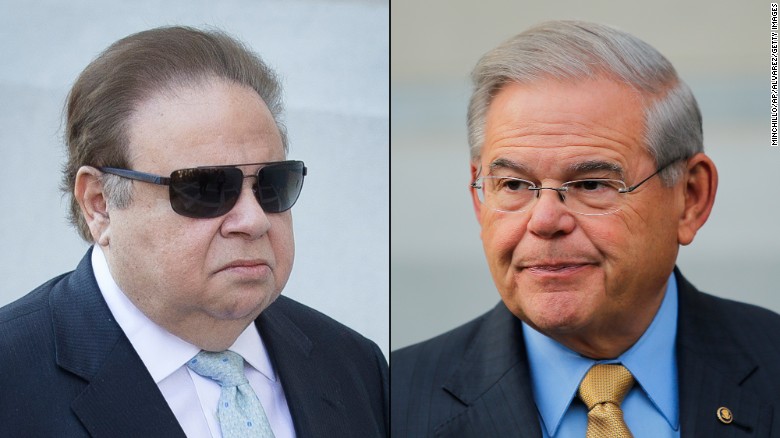 A federal judge has acquitted New Jersey Sen. Bob Menendez and his friend Salomon Melgen of several charges, according to a new order filed Wednesday.
The order from Judge William Walls comes days after the Justice Department announced that it would retry its case against Menendez. The original trial, which took place in the fall of 2017, ended after the jury failed to reach a unanimous verdict on any of the 18 counts in the case.
THIS IS WHY I STATE WITH CONFIDENCE THAT NO IMPORTANT DEMOCRAT WILL EVER SEE ANY PRISON TIME BECAUSE THE JUDICIAL SYSTEM HAS BEEN SO HOPELESSLY CORRUPTED.
[CtH: Thankfully, GOD's justice is perfect!]
Walls wrote in a 50-page opinion that while political contributions can be the subject of a bribery case, the prosecution in this case did not demonstrate an explicit "quid pro quo" agreement between Menendez and Melgen in relation to Melgen's contributions.
https://www.cnn.com/2018/01/24/politics/menendez-acquitted/index.html
Sessions DOJ Moves To Protect Deep State AGAIN, Warns Against Releasing FISA Memo Without FBI Review
The Sessions Justice Department is calling on House Intelligence Chairman Devin Nunes (R-CA) to allow the FBI to review the "shocking," FISA abuse memo to ensure its release will not harm national security.

SESSIONS IS STILL PROTECTING HIS FRIENDS
While on the face on it, the Justice Department's request is both logical and prudent. However, once in possession of the memo, which is likely to expose the role of top level FBI and Justice Department officials in using the Steele dossier to obtain FISA spy warrants, what do you think bureau officials will do? Wage a fierce PR campaign against it and the Republican lawmakers who demand the memo to be released.
http://www.thegatewaypundit.com/2018/01/wow-sessions-doj-moves-protect-deep-state-warns-releasing-fisa-memo-without-fbi-review/
James Woods Says What We Are All Thinking About Jeff Sessions and 'Missing' FBI Text Messages
It is obvious to anyone paying attention that Jeff Sessions has no control over the Justice Department.  Jeff Sessions has pretty much surrendered the DOJ to Deputy AG Rod Rosenstein.
Rosenstein thanked Sessions for the exchange of power by appointing Special Counsel Robert Mueller to carry out a coup d'etat.
AG Sessions has the ability to unrecuse himself and end this Mueller witch hunt once and for all but he continues to sit on the sidelines as Americans watch Mueller take scalps.
http://thegatewaypundit.com/2018/01/james-woods-says-thinking-jeff-sessions-missing-fbi-text-messages/
Steve Schmidt Dismisses Reports of Corruption in FBI as a 'Smear Campaign'
There's the main reason MSNBC has this Trump-hating phony Republican on. To say stuff like this to the delight of host Chris Matthews.  Unbelievably, Schmidt's deranged rants kept host Chris Matthews from seizing the mantle as the nuttiest person on Tuesday's show.
http://www.hapblog.com/2018/01/steve-schmidt-dismisses-reports-of.html
John Kerry Tells Palestinian Official in London – "Trump Will Not Remain in Office Long"
John Kerry met with a top Palestinian official in London recently.  Kerry told the Fatah leader to stay strong because Trump will not be in office long.  Kerry also hinted that he may run for office again.


During the conversation, according to the report, Kerry asked Agha to convey a message to Abbas and ask him to "hold on and be strong." Tell him, he told Agha, "that he should stay strong in his spirit and play for time, that he will not break and will not yield to President Trump's demands." According to Kerry, Trump will not remain in office for a long time. It was reported that within a year there was a good chance that Trump would not be in the White House.
http://www.thegatewaypundit.com/2018/01/john-kerry-meets-palestinian-fatah-leader-london-says-trump-will-not-remain-office-long/
John Kerry tells Mahmoud Abbas ally that he might run for president in 2020 as he urges Palestinians to 'play for time' and 'not give in to Trump'
Former secretary of state told a close confidant of Mahmoud Abbas that he's considering another run for the White House.  Urged Palestinians to 'play for time' while Trump is president and said he could broker a separate peace deal with Israel.  Lebanese academic who met with Kerry in London relayed the conversation back to the Palestinian Authority, and an Israeli newspaper reported it.  Kerry, 74, was the Democratic presidential nominee in 2004 but lost to George W. Bush.
[CtH: Funny thing how nearly all the Democrats talking about running are old, rich, white guys.]

http://www.dailymail.co.uk/news/article-5308005/John-Kerry-says-run-president-2020.html#ixzz55DHLPA9Q
Sessions Threatens Sanctuary Cities With Subpoenas
The Justice Department warns it may subpoena documents explaining illegal alien-shielding policies.

TOUGH GUY…GO AFTER CITIES WHERE YOU CAN'T DO ANYTHING AND TRY TO ENFORCE FEDERAL MARIJUANA LAWS IN STATES THAT HAVE MADE IT LEGAL. BUT DON'T PROSECUTE YOUR FRIENDS. NOPE, NOPE, NOPE.
"I continue to urge all jurisdictions under review to reconsider policies that place the safety of their communities and their residents at risk," Attorney General Jeff Sessions said in a statement.
"Protecting criminal aliens from federal immigration authorities defies common sense and undermines the rule of law. We have seen too many examples of the threat to public safety represented by jurisdictions that actively thwart the federal government's immigration enforcement—enough is enough."
THEY JUST WANT THE VOTES. PERIOD.
https://www.frontpagemag.com/fpm/269127/sessions-threatens-sanctuary-cities-subpoenas-matthew-vadum
Cuomo wants to let Dreamers go to college for free

Cuomo tucked a provision in his $168 billion budget plan that would amend state education law to make the undocumented students eligible for the Excelsior Scholarship program, which covers tuition costs for students from families with incomes of up to $125,000.
On Tuesday, he said the state would continue providing Medicaid to Dreamers regardless of any federal changes to the Deferred Action Childhood Arrival Program, or DACA.
MEANWHILE AMERICAN KIDS PAY FULL PRICE
https://nypost.com/2018/01/24/cuomo-wants-to-let-dreamers-go-to-college-for-free/amp/
Mayors boycott White House meeting after administration threatens sanctuary cities
The leaders of New York, Chicago and New Orleans were among the Democrats who snubbed the Tuesday afternoon event after the Justice Department sent a threatening directive to their cites and 20 other cities and counties over their sanctuary policies regarding immigrants.
New Orleans Mayor Mitch Landrieu, president of the mayors conference, also said the Justice Department's attack on so-called sanctuary cities moved him to boycott the White House meeting.

"I cannot in good conscience as president of the Unites States Conference of Mayors go to a meeting under false pretenses," he said.
The list of invitees made public by the White House did not include Chicago Mayor Rahm Emanuel, whose city is also one that the Trump administration has challenged over sanctuary policies. His office said he was invited and opted not to attend.
[CtH: Are they all going to hold their breath and kick their heels on the pavement until mean Donald gives them what they want?]
LANDRIEU IS THE BROTHER OF MARY "LOUISIANA PURCHASE" LANDRIEU AND PART OF THE MOST CORRUPT FAMILY IN LOUISIANA.
http://www.latimes.com/politics/la-na-pol-essential-washington-updates-mayors-boycott-white-house-meeting-after-1516819159-htmlstory.html
De Blasio abruptly cancels White House meeting with Trump
"I came down here ready to have a serious meeting and what I got was a publicity stunt from Trump," Hizzoner told reporters in Washington D.C.
"He said, 'Come over to my house but I'm going to take your wallet while you're there.' It was a slap in the face to our cities and our people."
https://nypost.com/2018/01/24/de-blasio-abruptly-cancels-white-house-meeting-with-trump/
Trump lashes out at mayors boycotting White House event

The mayors who choose to boycott this event have put the needs of criminal, illegal immigrants over law-abiding America," Trump told a group of mayors who attended the event. "So let me tell you, the vast majority of people showed up."
The president spoke after the Justice Department threatened to legally compel almost two-dozen cities to show that they are cooperating with federal immigration laws.
[CtH: Remember when Obama sneered at Bush for refusing to meet with certain foreign leaders?]
http://www.msn.com/en-us/news/politics/trump-lashes-out-at-mayors-boycotting-white-house-event/ar-AAv7Ysj?li=BBnb4R7&ocid=UE12DHP
New Missouri Rising Digital Ad Likens McCaskill to Clinton, Calls Her 'Too Liberal for Missouri'
HER LAST TERM WAS AN ABSOLUTE GIFT AFTER TODD AKIN SAID RAPE VICTIMS SHOULD RELAX AND ENJOY IT. SHE MUST HAVE BLOWN OATMEAL OUT OF HER NOSE, SINCE UP TO THAT POINT SHE WAS AS GOOD AS GONE. SHE'S BECOME EVEN RICHER SINCE THEN.
Pelosi Tries to Extend $137,000 Tax Break for Two of Her Multi-Million-Dollar Homes
Congress's wealthiest woman plays the tax game too: Pelosi rushed to pre-pay property taxes after decrying GOP tax overhaul as middle-class tax hike and corporate giveaway

Largely thanks to her husband Paul, a real-estate and venture-capital investor, Pelosi is the wealthiest woman in Congress with a net worth of more than $100 million and the seventh wealthiest member overall, according to the Center for Responsive Politics.
In fact, assets and cash disclosed in her 2016 financial-disclosure statement places Pelosi in the top one-tenth of the 1 percent of Americans.
Pelosi's annual property tax bill alone on three luxury homes last year—$137,000—is more than twice the 2016 U.S. median household income of $59,039, which the U.S. Census reported last fall.
http://freebeacon.com/politics/pelosi-tries-extend-tax-break-two-multi-million-dollar-homes/

I CAN'T FIGURE OUT HOW ROCKFORD GOT ON THIS LIST…WE'RE AN HOUR NORTHWEST OF CHICAGO. MAYBE THEY COMMUTE.
Comments Off on And in the Rest of the News
Filed under Andrew Cuomo, Bill Clinton, Bill de Blasio, Chris Matthews, FBI, Government Corruption, Hillary Clinton, Immigration, Jeff Sessions, John Kerry, Nancy Pelosi, Robert Menendez, Taxes