It's just unimaginable how much more hell he can and will raise before he makes his exit. He has never tired of inflicting pain on the American people.
Hollywood Moonbats Give Obama Emotional Farewell In Video

THIS IS JUST PATHETIC
The video features figures including Leonardo DiCaprio, Tom Hanks, Jerry Seinfeld and Ellen DeGeneres, all sharing some of their favorite moments with the president.
"I never cried before, from an election result," singer John Legend says in the video.
Obama: Republicans Should Have Told Me About Their Better Healthcare Ideas in 2009


"IF YOU DON'T LIKE WHAT I'M DOING GO WIN AN ELECTION" — BARACK OBAMA
"But Eric," Conway continued, "we did try to help in 2009. We were rebuffed and won everything not nailed to the ground in 2010 because ObamaCare was the first major entitlement passed in this country without a single vote from one of the two political parties. It passed without a single Republican vote. His party owns it."

Freddie Gray case: Judge allows malicious prosecution lawsuit against Mosby to proceed

A federal judge has ruled that a defamation and malicious prosecution lawsuit filed against Baltimore City State's Attorney Marilyn Mosby can go forward.
The lawsuit was filed by five of the six Baltimore Police officers charged in 2015 with the death of Freddie Gray.
The judge ruled that the suit against Mosby and Baltimore City Assistant Sheriff Samuel Cogen can proceed, said Michael Glass, an attorney for Sgt Alicia White and Officer William Porter.
Van driver Officer Caesar Goodson was the only officer who didn't file a lawsuit.
Trump wins applause for his 'refreshing' celebrity-free inauguration

TRUMP DOESN'T NEED THE SWOONING A-LISTERS TO FEEL VALIDATED. HE OWES THEM NOTHING.
"I'd like to see the inaugural completely celebrity-free. Wouldn't that be refreshing? No endless parade of Kardashians or housewives, real or imagined. No supposedly funny parodies by Alec Baldwin. No endless yadda-yadda from Stephen Colbert. No words of wisdom from Barbra Streisand. Just a few patriotic tunes from a Marine Corps band and a man swearing on, yes, a Bible," writes Mr. Simon in a recent op-ed for the news site.
"It won't happen entirely, this celebrity-free zone — but it could be close and we should be thankful," he adds.
Mass Shootings Under Obama Surge to 246.7% of His Predecessor Bush

Despite his unconstitutional use of executive orders to push gun control, the number of Public Mass Shootings has significantly increased during his Barack Obama's Presidency as the report below shows. Since President Barack Obama took office in January of 2009, he has taken every opportunity to politicize Public Mass Shootings. Often times he has used highly inflammatory rhetoric in order to advance new gun control legislation
'Meet the Press' Panel Jokes About What Hillary Clinton Should Do Next

Host Chuck Todd asked the panel if New York City needs Clinton as its mayor. New York Times columnist David Brooks mentioned that there are other options for the former Democratic presidential nominee.
"I just want her to have fun," Brooks said. "You know, she could [do] "Celebrity Apprentice." Apparently that's not working out. Redskins coach, Paul Simon roadie, there's a lot of good jobs she could have."
Santelli Calls Out Andrea Mitchell: 'On Election Night, I Never Saw You So Unhappy'
On Meet the Press, reacting to reports that the Russians were happy on Election Night because Trump won, Santelli said to Andrea Mitchell: "On Election Night, I never saw you so unhappy. You pick sides. Everybody picks sides." An indignant Mitchell, protecting her [illusory] reputation for objectivity, shot back: "That's not true, Rick. That's just not true." Sure, Andrea.

Israeli PM: Jerusalem truck attacker may be ISIS supporter
The driver who plowed a truck into a group of soldiers in Jerusalem, killing four people and injuring at least 10, may have been an ISIS sympathizer, according to Israeli Prime Minister Benjamin Netanyahu.
Three of the four killed were females. Israel Defense Forces (IDF) said three of the slain were cadets and one was an officer.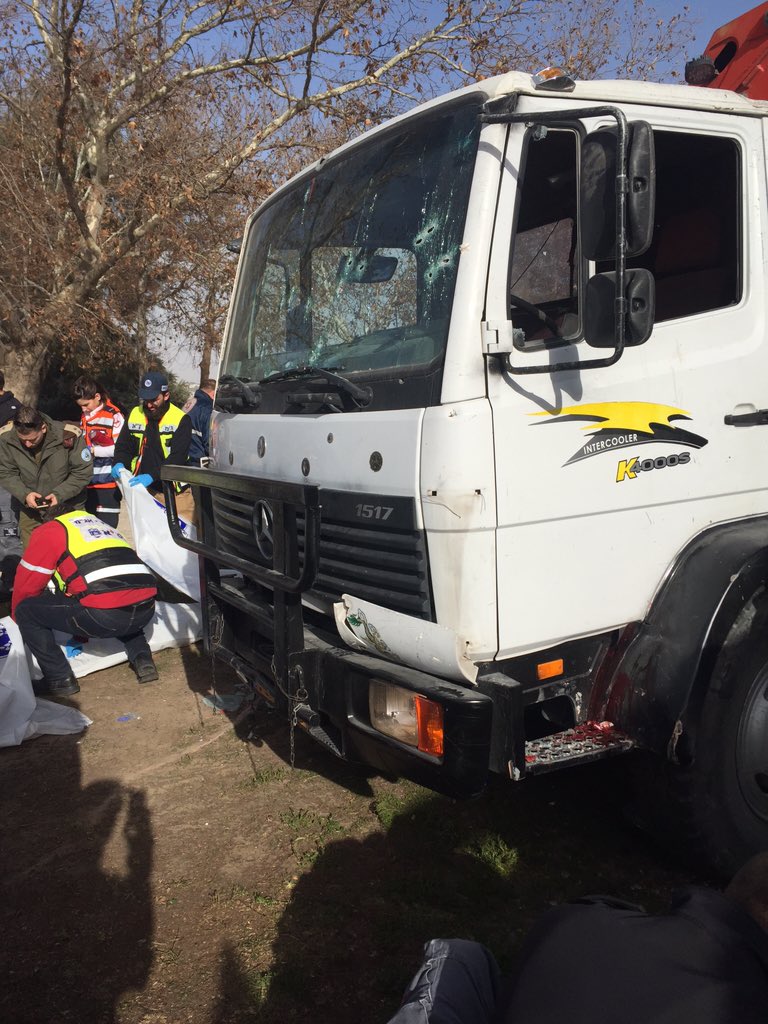 HOPEFULLY THEY CAN START EXTERMINATING THESE ANIMALS
Lego Movie "Everything is Awesome" PARODY Everything is Racist ~ Rucka Rucka Ali

Sharpton Promises 'Season of Civil Disobedience' in Response to Sessions Nomination

Sharpton recalled spending 90 days in jail for protesting on U.S. Navy land against military exercises on the island of Vieques in 2001 when George W. Bush was president, adding that civil disobedience usually works because it changes policy.
YOU WON'T CHANGE SQUAT THIS TIME, AL. DON'T BE SURPRISED IF IRS AGENTS PAY YOU A VISIT ABOUT SOME $4 MILLION YOU OWE IN BACK TAXES.