Click on the title to see all the goodies Pete posted in the comments section.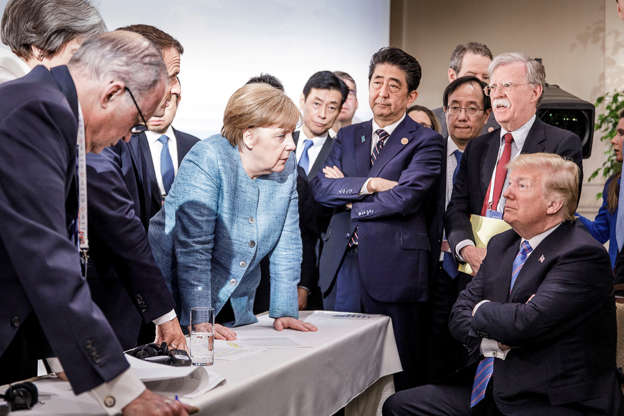 Merkel, Macron, May, and Trudeau had plotted to bully Trump at the G7. They still haven't figured out this ain't Obama they're messing with. He made a living in one of the bloodiest cutthroat businesses in the world. Deal on his terms or pound sand. He doesn't care.
Trump: America Will No Longer Be the 'Piggy Bank that Everyone is Robbing'
Flanked by Economic Adviser Larry Kudlow and National Security Adviser John Bolton, Trump said the ultimate goal of U.S. trade policy was the elimination of tariffs and subsidies. But short of that, he also pledged the U.S. would raise its own trade barriers to combat unfair trade practices around the world.
"We're like the piggy bank that everybody's robbing and that ends," Trump said.
HE EVEN GOT A CHANCE TO PIMP SLAP A CNN TROLL.

President Trump: Who are you with, out of curiosity?
CNN reporter: CNN.
President Trump: I figured, fake news CNN. The worst. But, I had no idea you're with CNN. After the question I was just curious who you're with. You're with CNN.
NOW THE PRESIDENT IS OFF TO DEAL WITH NORTH KOREA. NICE TO HAVE A LEADER WHO ACTUALLY WORKS FOR THE GOOD OF THE COUNTRY.