Just kidding. Had to come up with something relative to the first of May.
Israeli Prime Minister Benjamin Netanyahu announced yesterday that the IDF had loads of evidence that (gasp) Iran lied about stopping their nuclear program with that joke the Democrats called the "Iran deal". The Ayatollah, along with every other leader in the world, knew what the leftists and the slobbering press refused to see or accept. That Barry was an imbecilic phony who got by his entire life having things done for him because an African polygamist got a liberal white tramp to open her legs. For eight years all he had to show was his hostile takeover of the nation's health system. With time running out he needed something to show as a "legacy". The deal he struck was simple: Give the lying terrorist regime everything they wanted for them to sign a worthless piece of paper so he could do his Neville Chamberlain act.
Keep in mind they snatched some innocent Americans and Barky sent them a pallet of cold taxpayer cash in an unmarked aircraft to an unknown airfield. You don't think they used it to continue their nuclear ambitions, do you?
The presstitutes will never, ever admit what kind of mortal danger this Halfrican bastard put us and the entire world in by bowing to every tinpot dictator on the planet.
Netanyahu says Iran 'brazenly lying' after signing nuclear deal, moved documents to a secret location
Speaking during a nationally televised address, Israel's prime minister said the material is filled with incriminating evidence showing the Iranian program, called "Project Amad," was to develop a weapon.
Netanyahu briefed President Trump about the intelligence on Saturday and Secretary of State Mike Pompeo on Sunday. European counterparts were made aware Monday prior to the speech, officials said.

"In a few days' time, President Trump… will make a decision on what to do with the nuclear deal," he said. "I'm sure he'll do the right thing, the right thing for the United States, the right thing for Israel, the right thing for the peace of the world."
http://www.foxnews.com/world/2018/04/30/netanyahu-set-to-reveal-dramatic-intelligence-about-iran-nuke-deal-report-says.html
Obama Bros. Speechless After Netanyahu Exposes Iran Deal Lies

The vaunted "echo chamber" that President Barack Obama's aide Ben Rhodes created to sell the Iran deal was quiet on Monday, in the aftermath of Israeli Prime Minister Benjamin Netanyahu's revelations of new intelligence proving that Iran had lied to the world about its nuclear weapons program.
Supporters of the Iran deal were silent.
Former Secretary of State John Kerry, who said in 2015 that the U.S. had "absolute knowledge" about Iran's past military uses of nuclear research, had nothing to say on his Twitter feed.
Former UN Ambassador Samantha Power, who urged Congress not to reject the Iran deal in 2015, was active on Twitter, but said nothing about the new revelations about Iran.
Former National Security Council spokesman Tommy Vietor — one of the co-founders of the "Obama bros." podcast, Pod Save America, found time to call Trump an "idiot" on Twitter, but said nothing about the Iran news.
http://www.breitbart.com/jerusalem/2018/04/30/obama-bros-speechless-netanyahu-exposes-iran-deal-lies/
THE MEDIA WHORES DIDN'T WANT TO HEAR IT
MSNBC Cuts Away Early From Netanyahu Presentation on Iran Nuclear Program

"I think we ought to stay in. All the evidence so far from the IAEA is that Iran is complying with this deal," Burns said. "It makes sense to the United States to stay in. Our national interests would be advanced by that."
MSNBC went to commercial after Burns spoke and aired a segment on progressive primary wars in 2018 when it returned. Meanwhile, Netanyahu was still speaking
http://freebeacon.com/national-security/msnbc-cuts-away-early-netanyahu-presentation-iran-nuclear-program/
Iran Threatens To Withdraw From Nuclear Deal

Iranian deputy foreign minister Abbas Araghchi appeared to signal Monday the country's imminent withdrawal from the nuclear deal negotiated by the Obama administration in 2015.
"The Iran nuclear deal is no longer sustainable for Iran in its present form, without regard to a US exit," Araghchi stated Monday, according to the Iranian Students News Agency.
The deputy foreign minister's comments came just before Israeli Prime Minister Benjamin Netanyahu gave a speech claiming that Iran had been in violation of the nuclear deal.
http://dailycaller.com/2018/04/30/iran-deputy-foreign-minister-withdraw-nuclear-deal/
EU Stands By Iran Deal Despite Mounting Intel
Merkel, Macron seek to tweak the deal ahead of Trump's May 12 deadline.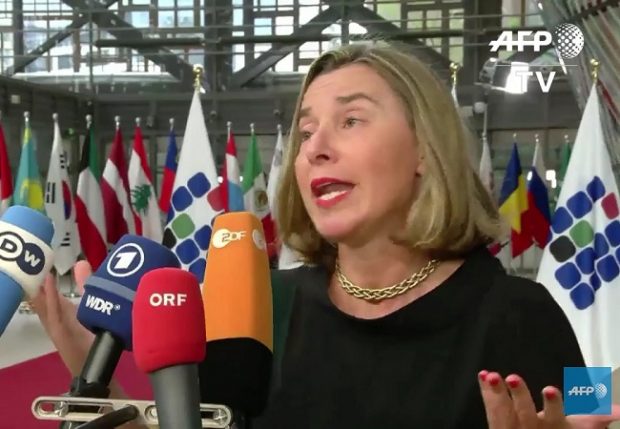 THE EUROPEAN YEARNING FOR SUICIDE CONTINUES
The European Union has come to the defense of the Tehran regime and the 2015 nuclear deal after Israeli Prime Minister Benjamin Netanyahu on Monday revealed a cache of Iranian nuclear plans on a secret weapons program, almost three years after the signing of the deal.
https://legalinsurrection.com/2018/05/eu-stands-by-iran-deal-despite-mounting-intel/
Did Iran play Obama or did Obama play us?
JAN AT PATRIOT RETORT BREAKS DOWN BARRY'S BULLSHIT
And it got me thinking of his July 15, 2015 weekly address aptly titled, "A Comprehensive, Long-Term Deal with Iran."
At the time, as was my practice, I parsed this weekly address.
And by "parsed," I mean, I wrote out for you the subtext of what Obama was really thinking.
So I went back and reread my parsed version. And I gotta say, he sure as hell didn't play me.
Instead of just giving you the link, I am reposting it in its entirety.
To be sure, I'm not only one who wasn't fooled. But it is pretty mind-boggling how close my subtext text really was to the truth.
For those of you not familiar with my parsing of Obama's BS weekly addresses, the actual address is in regular type, the Dianny-added subtext is in italics.
http://patriotretort.com/did-iran-play-obama-or-did-obama-play-us/


Condoleezza Rice: Not 'End of the World' If Trump Leaves Iran Nuclear Deal

Netanyahu on Iran Nuclear Deal: 'If You Want Peace, Oppose This Deal'

Trump: Netanyahu's News Conference Proves It Could Be 'Right' to Pull Out of Iran Deal