Two events occurred last night. One was a positive, upbeat, enthusiastic rally in Michigan led by President Trump. The other was a gathering of bottom feeding, miserable smut mongers with no compassion for anyone who doesn't belong to their clique. The dichotomy was stark.
THIS IS FROM THE AP; TAKE IT FOR WHAT IT'S WORTH
Trump takes aim at familiar targets at Michigan rally

Trump has been urging voters to support Republicans for Congress as a way of advancing his agenda. In his rally in Washington Township, he repeatedly pointed to Sen. Debbie Stabenow of Michigan as one of the Democrats who needed to be voted out.
After saying Stabenow was standing in the way of protecting U.S. borders and had voted against tax cuts, Trump said: "And you people just keep putting her back again and again and again. It's your fault."
http://www.msn.com/en-us/news/politics/trump-takes-aim-at-familiar-targets-at-michigan-rally/ar-AAwt5tc?ocid=UE12DHP
Trump seems to tout rally as alternate programming to correspondents' dinner

President Trump urged Twitter followers to watch live coverage of his planned Michigan rally Saturday night, seemingly suggesting his rally as alternative programming to tonight's White House Correspondents Association Dinner.
In a tweet, the president noted that his rally in Michigan, which is slated to be about job creation and business growth, would be "live on T.V."
http://www.msn.com/en-us/news/politics/trump-seems-to-tout-rally-as-alternate-programming-to-correspondents%e2%80%99-dinner/ar-AAwsB5p?ocid=UE12DHP
xxxxxxxxxxxxxxxxxxxxxxxxxxxx


xxxxxxxxxxxxxxxxxxxxxxx
THE PRESIDENT SPOKE FOR ALMOST 1 1/2 HOURS. THESE BITES ARE ALL UNDER 3 MINUTES. I VALUE YOUR TIME HERE.
Trump supporters chant 'Nobel' for Korea talks at Michigan rally

Watch Trump slam media while skipping Correspondents' Dinner

Trump Talks Border Wall, Kanye, Korea and Trade

Trump tells supporters to "fight like hell" in midterms

Corey Lewandowski Fires Up the Crowd at Trump Rally in Michigan
For the second year in a row President Trump held a rally with American workers on the night of the White House Correspondents' Ball.
Trump held a rally in Ypsilanti, Michigan tonight.
During his speech President Trump had former campaign manager Corey Lewandowski come up on stage and say a few words.
http://www.thegatewaypundit.com/2018/04/corey-lewandowski-fires-up-the-crowd-at-trump-rally-in-michigan-video/
IT GOT REALLY UGLY REALLY FAST AT THE WCHD. A FOUL-MOUTHED, HATEFUL, UNFUNNY BITCH FROM "COMEDY CENTRAL" PISSED OFF JUST ABOUT EVERYBODY.
THERE IS VIDEO OF THIS FILTHY SLUT SPEWING HER CRAP, BUT I WOULDN'T POLLUTE THIS SITE WITH THAT KIND OF CONTAMINATION.
Screeching Moonbat Michelle Wolf's Jokes Fall Flat, Or Offend, At DC Dinner

Comedian Michelle Wolf performed at Saturday night's White House Correspondents' Dinner in Washington — but not all members of the audience stayed for the entire act.
Apparently offended by many of the comedian's jabs at President Donald Trump and members of his administration, many attendees sat in silence, or simply got up and walked out, Politico reported.
"President Trump isn't here, if you haven't noticed," Wolf, 32, a writer for Comedy Central's "The Daily Show with Trevor Noah," told the gathering. "I would drag him here myself, but it turns out the president of the United States is the one p— you're not allowed to grab."
http://www.foxnews.com/politics/2018/04/29/comedian-michelle-wolfs-jokes-fall-flat-or-offend-at-dc-dinner.html
WHCD 'Comedian' Cracks Gruesome Abortion Joke — Liberal Reporters Laugh in Delight
The WHCD comedian came with an agenda this year to hurl vile insults at President Trump and his administration.
http://www.thegatewaypundit.com/2018/04/gross-whcd-comedian-cracks-gruesome-abortion-joke-liberal-reporters-laugh-in-delight-video/
Nasty Comedienne at WHCD Blasted After She Trashes Sarah Huckabee Sanders With Vile, Disgusting Insults
Sanders was seated near the center of the dais at the dinner, mere feet away from Wolf. Sanders remained stoic as the comedian savaged her.
Michelle Wolf mocked Sanders as Aunt Lydia in the Handmaiden's Tale, a bull-dyke gym teacher and attacked Sanders over her 'smoky eye' look. Wolf concluded with the racist, sexist attack in which she called Sanders a traitor to 'white women' and asked what the equivalent is for an "Uncle Tom': "Aunt Coulter," she said.
http://thegatewaypundit.com/2018/04/nasty-comedienne-at-whcd-blasted-after-she-trashes-sarah-huckabee-sanders-with-vile-disgusting-insults-video/
AP Reporter Rips White House Correspondents' Dinner as Sean Spicer Calls Out WHCA Board Members for 'Disgrace'
South Carolina based Associated Press reporter Meg Kinnard ripped the White House Correspondent's Association Dinner Saturday night for making it harder for reporters in red states to work and be trusted there. The dinner featured vile personal attacks by comedienne Michelle Wolf on senior White House officials Press Secretary Sarah Huckabee Sanders and Counselor to the President Kellyanne Conway.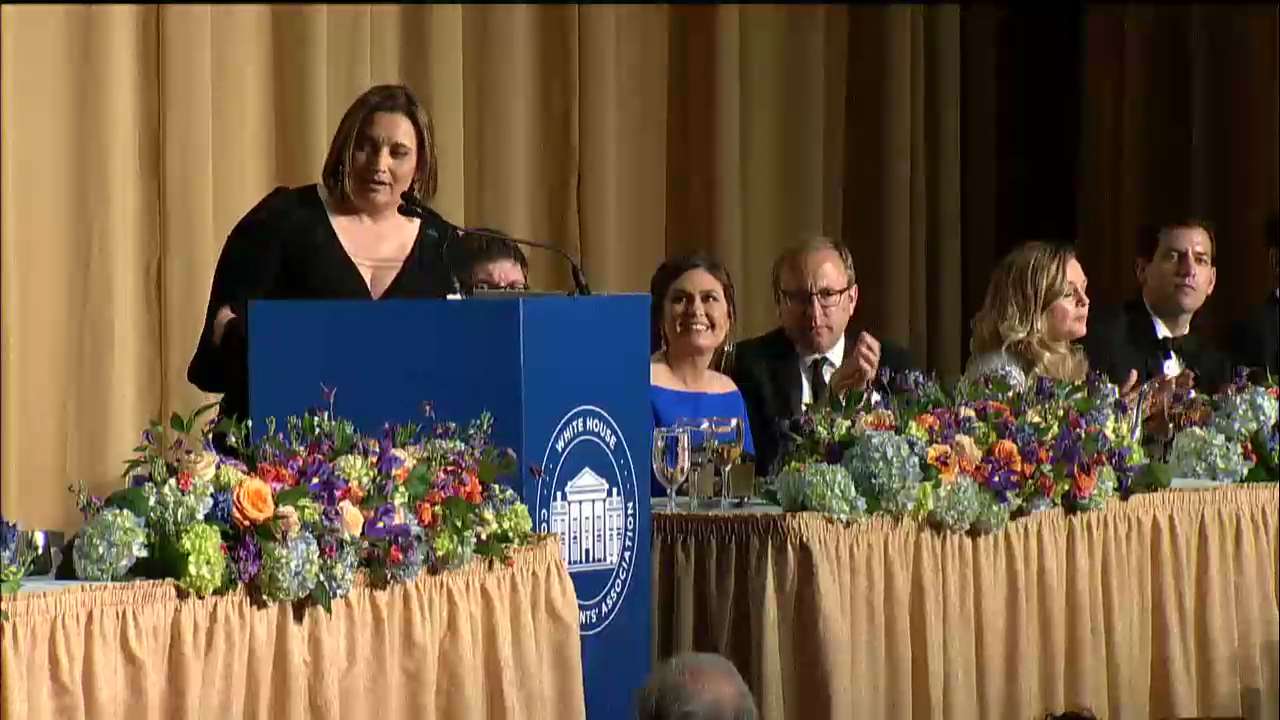 http://www.thegatewaypundit.com/2018/04/ap-reporter-rips-white-house-correspondents-dinner-as-sean-spicer-calls-out-whca-board-members-for-disgrace/
WHCD Comedian Michelle Wolf: Trump a 'Pussy;' Wants to See Jake Tapper Orgasm, Porn and Abortion Jokes Fly

Wolf, the after-dinner entertainment for the White House press corps and their guests, was surprisingly racy for the venue and seemed more at home on HBO than C-SPAN. After one crass joke drew groans in the Washington Hilton ballroom, she laughed and said, "Yeah, shoulda done more research before you got me to do this."
http://www.breitbart.com/big-hollywood/2018/04/29/whcd-comedian-michelle-wolf-trump-pussy-wants-see-jake-tapper-orgasm-porn-abortion-jokes/
Trump: White House Correspondents Dinner Was a 'Big, Boring Bust'

Trump skipped the dinner again this year and instead held a campaign-style rally in Michigan, touting his economic record and the current peace process with North Korea. White House Press Secretary Sarah Huckabee Sanders was one of the few people from the Trump administration to attend the dinner.
A writer for "The Daily Show With Trevor Noah," Michelle Wolf, was this year's comedian at the dinner, and her performance got a mixed reception. Some reporters thought Wolf's jokes didn't help with the perception that they are liberal and out of touch with most of America. Others thought her attacks on Sanders were too personal and harsh.
http://freebeacon.com/culture/trump-white-house-correspondents-dinner-big-boring-bust/
xxxxxxxxxxxxxxxxxxxxxxxxxxx