Unless you just returned from a trip to the Himalayas, you know that the Philadelphia Eagles defeated the New England Patriots in Super bowl LII last night. It was the first Super Bowl ever for the Eagles. The city known as "The City of Brotherly Love" once threw snowballs at Santa Claus. After they won the National Conference title two weeks ago the city covered the lamp posts with Crisco, hoping to keep the revelers from climbing them. Didn't work, so they tried hydraulic oil this weekend. It didn't make any difference.
There's such a thing as pride in your favorite sports team. Using it as an excuse to burn and smash just because you want to is another.
Super Bowl 2018: EXPLOSION heard as RIOTING Philadelphia fans clash with police after win
Eagles fans are rioting around the city amid reports left-wing group Antifa has infiltrated celebrations and an explosion has been heard. The scenes follow the team securing a historic victory over the New England Patriots in Super Bowl 2018.
Despite efforts by the authorities to stop fans climbing street lamps in the build-up to the game by covering them with gear oil, there are multiple reports of injuries and falls.
Estimates provided by a police drone place the number of people on the streets at "around 100,000", with large numbers gathering in Broad Street in the centre of the city, which has a population of 1.5million.

https://www.express.co.uk/news/world/914505/Super-Bowl-2018-Philadelphia-Eagles-fans-riot-city-police-pictures
Fires, mayhem, insane trust falls in Philly after Super Bowl win
"F–k that grease," the fans chanted as the daredevils climbed. Many of them were seen chugging beers as they got to the top. At one point the fans got so out of control, they pulled down a light pole.
The streets of the city were also filled with Eagles fans chanting "F–k Tom Brady" in reference to the Patriots quarterback — and "Big d–k Nick" in honor of Philly QB Nick Foles.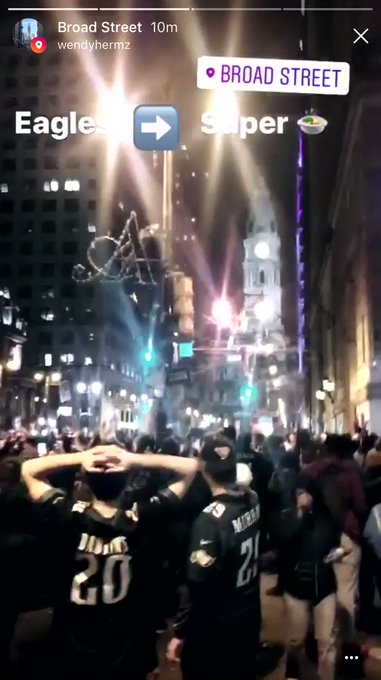 https://nypost.com/2018/02/04/fires-mayhem-insane-trust-falls-in-philly-after-super-bowl-win/
Eagles players plan on skipping White House visit

I DOUBT THE PRESIDENT CARES
"No, I'm not going to the White House," Long said on the "Pardon My Take" podcast for Barstool Sports. "Are you kidding me?"
Smith also said he won't attend, shooting back at Trump's criticism of players who took a knee during the playing of the national anthem last season as disrespecting the flag.
"They call it the anthem protest," he said. "We're not protesting the anthem. It's a protest during the anthem. I understand why people are mad, or may be offended when someone takes a knee."
https://nypost.com/2018/02/05/eagles-players-plan-on-skipping-white-house-visit/
Many people watch the game just for the commercials. At $4.5 million for a 30 second spot they cram in as many as they can. I spent the evening sitting with my wife watching television (thank goodness for cable.) If you want to see any of last night's commercials, here is a playlist:
https://www.msn.com/en-us/sports/superbowl?ocid=UE12DHP
Waters Caught Steering $1.2 Billion to Obama Flunkies

According to Judicial Watch, the longtime liberal lawmaker has introduced a bill that moves over a billion dollars to "Obamacare navigators," who conveniently happen to almost always be leftist organizations.
"A fraud-infested Obamacare 'outreach' program will get an astounding $1.2 billion from American taxpayers if legislation introduced by a veteran congresswoman becomes law," the watchdog group explained.
"The 14-term congresswoman, investigated by the House Ethics Committee for steering federal funds to her husband's failing Massachusetts bank, crafted the law because the Trump administration slashed Obamacare outreach funding by more than 90%."
Her proposed bill is officially called the "ACA OUTREACH Act," and would direct $300 million annually for the next four years from Health and Human Services to "navigators," who are supposed to help "minority and underserved" people understand the health insurance process.
https://conservativetribune.com/waters-direct-billions-to-libs/?lipi=urn%3Ali%3Apage%3Ad_flagship3_feed%3BvIDegVOFT3Oxo5iEgD%2FPKw%3D%3D
Jimmy Kimmel: 'Almost Every Talk Show Host Is Liberal' Because 'It Requires a Certain Level of Intelligence'

Jimmy Kimmel made an appearance over the weekend with former Barack Obama speech writer, Jon Favreau, on a panel discussion for Favreau's podcast "Pod Save America." As reported by IJR, Favreau's wife tweeted out that Jimmy Kimmel said, "It just so happens that almost every talk show host is a liberal and that's because it requires a level of intelligence."
THIS IS A SAMPLE OF HIS INTELLIGENCE:
'GUESS WHAT'S IN MY PANTS'

https://townhall.com/tipsheet/timothymeads/2018/02/04/jimmy-kimmel-every-talk-show-host-is-liberal-because-it-requires-a-certain-level-of-intelligence-n2444256
Jimmy Kimmel wrecks car in head-on collision accident
On Thursday, Kimmel crashed his BMW into another car near the Chateau Marmont Hotel in West Hollywood, Calif. The talk show host reportedly made a wrong left turn onto the Sunset Strip despite the "right turn only" sign.

http://www.foxnews.com/entertainment/2018/02/02/jimmy-kimmel-wrecks-car-in-head-on-collision-accident.html


Obama's Civil Rights Warriors Distraught as DOJ Shutters Project That Funded Open-Borders Groups

The Department of Justice (DOJ) has "quietly" put an end to most work at the Office for Access to Justice (ATJ), one of the lesser initiatives of the Eric Holder era, according to a Thursday New York Times report
In 2014, however, ATJ also provided $1.8 million to left-wing open-borders groups like the Massachusetts Immigrant and Refugee Advocacy Coalition, the George Soros-funded Equal Justice Works, and the New York Immigration Coalition to provide lawyers for so-called "unaccompanied children" who surged across the southern border that year in their immigration hearings. This week, even the notoriously liberal U.S. Court of Appeals for the Ninth Circuit rejected the idea that the Constitution requires the government to pay for lawyers for these child aliens.
http://www.breitbart.com/big-government/2018/02/02/report-obama-civil-rights-warriors-distraught-as-doj-shutters-eric-holders-project-that-funded-open-borders-groups/
Dem Rep Disbursed $153K to Sister's Law Firm From Campaign Funds in 2017

THEY'RE THIEVES…EVERY LAST ONE OF THEM
The money Clay paid to the firm accounted for more than 80 percent of committee's expenditures last year, which has now sent $950,000 to Clay's sister since 2002.
Clay Jr. began paying family members from his campaign's coffers almost immediately after entering Congress in 2001. Michelle Clay, his sister, has been the biggest beneficiary of the payments.
Michelle Clay is the owner of the Law Office of Michelle C. Clay LLC, a firm located just outside of Washington, D.C. The law office's address appears to be a residential home in Silver Spring, Maryland. Little information is available online about the firm, which does not have a website.
http://freebeacon.com/politics/dem-rep-disbursed-153k-sisters-law-firm-campaign-funds-2017/
VA shoots down feminist request to change its 60-year-old motto, a quote from Abraham Lincoln

The Department of Veteran Affairs shot down a request to make its motto gender-neutral, according to a Friday report.
The Iraq and Afghanistan Veterans of America demanded the department changed what it called an outdated and sexist motto, reported Stars and Stripes. The VA's nearly 60-year motto is "to care for him who shall have borne the battle and for his widow, and his orphan," an excerpt from former President Abraham Lincoln's second inaugural address
The VA responded to the November request to change its motto by saying the current motto accurately reflects "the heart of our noble mission." But the Iraq and Afghanistan Veterans of America was none too pleased with the refusal.
"They're missing the point that women don't feel comfortable at the VA," said Allison Jaslow, executive director of the group. "We want to be respected and appreciated as much as male veterans are, and the motto is symbolic of overall challenges."
http://www.bizpacreview.com/2018/02/04/va-shoots-feminist-request-change-motto-silly-nonsense-597797
Clinton: I Get Overwhelmed By The News A Dozen Times Per Day

Hillary Clinton said she gets overwhelmed a "dozen times a day" during a speech Monday at Georgetown University that took implicit shots at the Trump administration
Clinton drew applause as she said no one should be allowed to push others into living in an "alternative reality," a seeming dig at her 2016 election opponent, President Donald Trump.
http://freebeacon.com/politics/clinton-i-get-overwhelmed-by-the-news-a-dozen-times-per-day/