The Democrats treated George W. Bush shabbily for eight years because they never got over his refusing to let Al Gore steal the 2000 election. Their souls are empty, so they lash out at anything that doesn't comport with whatever beliefs they have. But there has never been the volume of visceral rage against a single human being that they display against Donald Trump. Their behavior last night was nothing short of reprehensible. They refused to stand for any reason, including for our troops.
FIRST THE GOOD:
President Trump Delivers First State of Union Address

Trump Channels Reagan In Call To Make America Great Again
"Freedom stands tall over one more monument: this one. This Capitol, this living monument to the American people. A people whose heroes live not only in the past, but all around us — defending hope, pride, and the American way."
The president ended his speech with calls for bipartisanship saying, "I call upon all of us to set aside our differences, to seek out common ground, and to summon the unity we need to deliver for the people we were elected to serve."
http://dailycaller.com/2018/01/30/new-american-moment-trump-sotu/
Poll: 75% Approve of Trump's State of the Union Address
An "instant" poll of viewers who watched President Donald Trump's State of the Union address on Tuesday night found that 75% approved of the speech, while only 25% disapproved — a 50-point margin in the president's favor.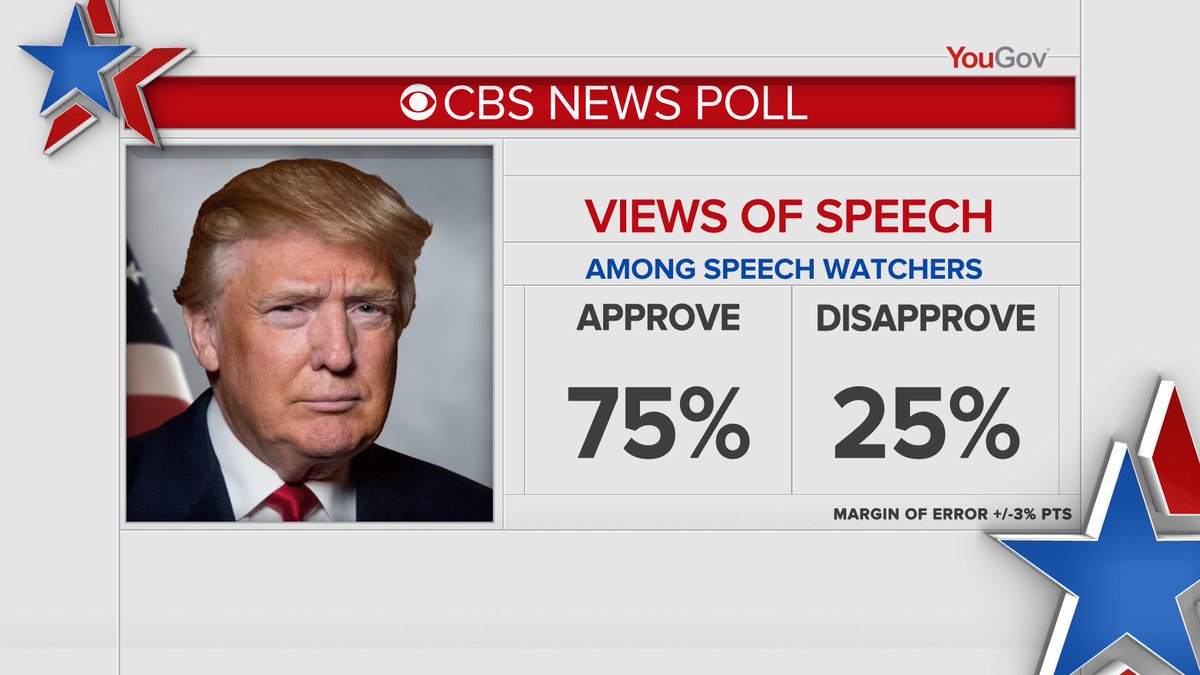 http://www.breitbart.com/big-government/2018/01/30/poll-75-approve-trumps-state-union-address/
The Shabby, Sophomoric Behavior of Democrats at the SOTU
It is difficult to imagine a more galling demonstration of incivility than the Democrats in the room for Trump's SOTU speech. They scowled, frowned, and sat on their hands throughout the speech. They could hardly be bothered to acknowledge the heroes in the audience when they were introduced. While the Dems brought illegal immigrants, Trump invited actual paragons of American character and the families of victims of illegal immigrant crimes, as well as a victim of North Korea. It was embarrassing, like watching the anti-Semites in the UN stomp out of the room when Benjamin Netanyahu speaks. How is it any different? Our Democrats behave exactly like the most racist, intolerant people on the planet, and in their own Capitol.
http://www.americanthinker.com/articles/2018/01/the_shabby_sophomoric_behavior_of_democrats_at_the_sotu.html#ixzz55mrtMwZr
New Liberal SOTU Rule: Don't Call President Trump's Speech Presidential
A New York University journalism professor, a New York Times columnist, and others preemptively attacked any pundits who may praise President Donald Trump's State of the Union address as presidential.
NYU professor Jay Rosen mocked the tendency to call Trump's speeches "presidential," and called out the Washington Post for a story indicating the speech could help reset his presidency.
https://townhall.com/tipsheet/mattvespa/2018/01/30/new-liberal-sotu-rule-dont-call-president-trumps-speech-presidential-n2441956
Black Caucus Sits on Butts, Refuses to Applaud Record Low Black Unemployment Rates at SOTU
THESE GANGSTERS COULDN'T CARE LESS ABOUT BLACK UNEMPLOYMENT. KEEP 'EM POOR, IGNORANT, AND DOING AS YOU COMMAND THEM WITH BLIND LOYALTY.
Why Didn't Democrats Stand – Or Even Clap – For This SOTU Line?
It's typical for lawmakers to resist clapping during the president's annual State of the Union address when he mentions policies they oppose. But, when the president touches on issues that are clearly bipartisan, both sides of the aisle usually acknowledge it with at least a golf clap. For instance, supporting our military, investing in infrastructure, combating the opioid crisis, and a budding economy can typically be considered bipartisan issues.
https://townhall.com/tipsheet/cortneyobrien/2018/01/30/why-didnt-democrats-standor-even-clapfor-this-sotu-line-n2442077
CNN Cuomo on SOTU: "I've Never Seen Nancy Pelosi's Face Look Like That"
When even Chris Cuomo mocks your moue . . .
On CNN this morning, commenting on Nancy Pelosi's sour expression during President Trump's State of the Union speech, Cuomo said:
"I've never seen Nancy Pelosi's face look like that."
Rep. Luis Gutierrez walks out of Trump's State of the Union as progressives write off bipartisanship permanently

Historically, progressives have championed a permanent solution for the so-called "Dreamers," immigrants brought to this country illegally as children. But they are already balking at any amnesty deal.
Generally, progressives are willing to negotiate at least at the margins of a Republican agenda. But they see anything less than a complete and total scorched-earth strategy as unacceptable.
Shortly after exiting the chamber, Gutierrez summarized his position. "I was hoping to get through my life without having to witness an outwardly, explicitly racist American President," he wrote in a statement. "My luck ran out."
With that, Gutierrez managed to do something normally quite impossible. By writing off compromise completely, barely a week after the government shutdown, the progressive has made Trump look like the good-faith, honest adult in the room
http://www.washingtonexaminer.com/rep-luis-gutierrez-walks-out-of-trumps-state-of-the-union-as-progressives-write-off-bipartisanship-permanently/article/2647638
Things Democrats Won't Applaud
Brzezinski Questions Clapping for 'Great Dictator' Trump at State of the Union
Here Are The Most Memorable Reactions To President Donald Trump's State Of The Union Address | CNBC
MSNBC Outraged at Trump Telling Story of Otto Warmbier's Death: 'He Wants a War With North Korea'
MSNBC's Joy Reid Complains About Trump Invoking Church, Family, Military in SOTU Address

MSNBC host Joy Reid took to Twitter after the State of the Union address on Tuesday to attack President Donald Trump for invoking institutions such as family and the military in his speech.
Reid cited Trump's themes of church, family, police, military, and the national anthem as "tropes of 1950s-era nationalism" that were intended to invoke nostalgia in his supporters.
http://freebeacon.com/politics/joy-reid-complains-trump-invoking-church-family-military-sotu/
WaPo Changes SOTU Headline After Liberals Freak Out That It's Too Positive For Trump
The Washington Post changed its front page headline for President Donald Trump's first State of the Union address Tuesday evening after liberals erupted in anger.
The paper tweeted roughly one hour before Trump's speech a picture of the Wednesday edition, featuring a front page headline that read, "A call for bipartisanship."
Readers responded with vitriol, calling out the newspaper for printing a headline it "will regret tomorrow," along with a host of other negative comments.
http://dailycaller.com/2018/01/31/wapo-changes-trumps-sotu-headline-after-liberals-freak-out/?utm_source=site-share