OK, here's the rest of the story, as the late Paul Harvey would say.
Illinois high schools are completely changing how they teach kids because test scores are that bad


MISS ISABEL JUST TURNED 14 AND IS IN 8TH GRADE AT THE CATHOLIC SCHOOL SHE AND HER SISTER HAVE BEEN ATTENDING THEIR WHOLE LIVES. NEXT YEAR SHE HAS TO GO TO DeKALB HIGH SCHOOL, A HOTBED OF DRUGS, VIOLENCE, AND TEEN PREGNANCY. MY BIGGEST FEAR, ESPECIALLY SINCE SHE IS WELL DEVELOPED FOR HER AGE, IS THAT A BUNCH OF LITTLE SAVAGES WILL TRY TO CHALK HER UP AS ONE OF THEIR 'BABY MAMA' CONQUESTS. SHE'S MUCH TOO SMART FOR THAT, BUT SOMETIMES BEING SMART IS NOT ENOUGH. THAT'S WHEN GRANDPA GOES TO JAIL FOR ENDING SOME LITTLE STUD.
[CtH: Our super smart, uber talented nephew is going from his Catholic high school to Harvard next fall.  I have been giving him faith-building books and DVDs and praying often that he'll keep his values intact.]
Teachers in certain school districts will also not evaluate students with traditional testing methods but will rely more heavily upon presentations, projects and activities that students complete outside of the classroom. The students in the program will not receive GPA rankings.
Patrick Hardy, the principal for Illinois' Proviso East district, said the program isn't a perfect solution to fix the poor results Illinois' school districts have regularly produced, but that there's nothing to lose by trying something new. "We had a school on the brink of failure," he said.
http://www.bizpacreview.com/2018/01/17/illinois-high-schools-completely-changing-teach-kids-test-scores-bad-589632
Feinstein warns people will die if the government shuts down

THIS IS FROM CNN, SO TAKE IT WITH A TRUCKLOAD OF SALT
[CtH: Wait, what?  Isn't everyone ALREADY dead from the tax bill? Plus, you know, they didn't care about the consequences of a shut down in 2013, now did they?]
"Shutting down the government is a very serious thing. People die, accidents happen. You don't know. Necessary functions can cease," she said. "There is no specific list you can look at and make a judgment: 'Well everything is going to be just fine.' You can't make that judgment. So, I think it's a last resort. And I'm really hopeful we don't get to it."
Feinstein said she had not made her mind up about whether to vote for the measure.
https://www.cnn.com/2018/01/18/politics/dianne-feinstein-people-will-die-shutdown/
Veteran Earns Spot at State of the Union After Maxine Waters Announces She's a No Show


When Rep. Maxine Waters (D-CA) joined the list of Democrats who said they'd be skipping President Trump's first State of the Union address (because he's a "despicable" human), one veteran jumped at the opportunity to be a seat filler.
Army Vet Ricky Taylor let it be known last week that he'd gladly take her spot.  Thousands of retweets, an appearance on "Fox & Friends," and a meeting with Rep. Sean Duffy (R-WI) later, and Taylor has earned himself a spot in the room.
Duffy reached out to Taylor after seeing his Fox News. Long story short: he invited the veteran to the SOTU address as his plus one. The extra ticket usually goes to his wife Rachel Campos Duffy, but she too was more than happy to give it to Taylor.
[CtH: Too bad it isn't Maxine's actual seat!]
https://townhall.com/tipsheet/cortneyobrien/2018/01/18/confirmed-veteran-is-taking-maxine-waterss-seat-at-state-of-the-union-n2436239
California AG: 'We Will Prosecute' Employers Who Cooperate with Federal Immigration Officials

SO IF AN EMPLOYER KNOWS SOMEONE IS AN ILLEGAL AND HAS COMMITTED CRIMINAL ACTS, HE'LL BE PROSECUTED FOR TURNING HIM IN?
[CtH: Sounds about right … for California. I wonder if federal law requires businesses to provide that information to ICE.  So many reasons why California is the least business-friendly state in the union.]
California Attorney General Xavier Becerra (D) says his office "will prosecute" employers who cooperate with federal immigration officials to deport criminal illegal aliens from the United States.
In a press conference on Thursday, the pro-open borders attorney general warned California employers of new state laws that barred businesses from providing information on illegal aliens to the Immigration and Customs Enforcement (ICE) agency that would aid in deportations.
http://www.breitbart.com/california/2018/01/18/california-ag-we-will-prosecute-employers-who-cooperate-with-federal-immigration-officials/
Heaven Help Us! Nancy Pelosi To Judge on 'RuPaul's Drag Race'


I TUNED IN TO THIS ONCE, BECAUSE I LIKE WATCHING TOP FUEL FUNNY CAR DRAGSTERS. ALL I SAW WAS A BUNCH OF UGLY GUYS IN WIGS.
Yes, the congresswoman who recently told her constituents she has a "massive funding gap to fill," is clearly working hard to keep her seat as she guest-judges with such Hollywood personalities as Vanessa Hudgens and Adam Lambert. Pelosi, who accused Trump of "destroying President Obama's phenomenal legacy," is keeping up with her own legacy by judging drag queens on VH1.
https://www.newsbusters.org/blogs/culture/corinne-weaver/2018/01/18/heaven-help-us-nancy-pelosi-judge-rupauls-drag-race
How the Press Treated Hillary's Health vs. Trump's
A good mashup here from the Washington Free Beacon. I mean, as far as I know, Trump hasn't passed out and collapsed into a car.
Vowing to 'rip' Trump 'a new one,' Obama's ex-presidency devolves into third-world coup-plotting

Far from content living his golden years on the $400,000 speech and lecture circuit of other former presidents, President Obama has been busy with clawing back his old power. He's actually covertly plotting to oust his democratically elected successor, President Trump, vowing to his associates to "rip him a new one" in the 2018 midterm elections. Seems he's not all that interested in watching his younger daughter grow up.
Want to know who the leader of the resistance is? This is the leader of the resistance.
Knowing how Obama's campaign organization was run, with its slipshod accounting of foreign cash infusions and phony claims to be running on small-dollar donations, it's probable that this operation is as shady as all the other ones. In fact, it is all the other ones. DCWhispers reports that it comprises almost entirely Obama's leftover and not dead campaign apparatus.
It's a disgusting picture for any ex-presidency.
[CtH: Seriously!  Don't TALK to me about Trump's tweeting, all you Obama lovers!]
http://www.americanthinker.com/blog/2018/01/vowing_to_rip_trump_a_new_one_obamas_expresidency_devolves_into_coup_plotting.html
Trump Admin Freezes Tens of Millions in Aid From UN Agency for Palestinians

The Trump administration is withholding more than half of an aid package to a United Nations agency that helps Palestinian refugees.  The U.S. will still give $60 million to the U.N. Relief and Works Agency but is cutting $65 million from a planned $125 million contribution.
https://townhall.com/tipsheet/leahbarkoukis/2018/01/17/trump-admin-holds-tens-of-millions-from-un-agency-for-palestinians-n2435320
PRESIDENT TRUMP Stops Speech…Brings Shocked Worker On Stage To Speak
If Democrats Take the House, They'll Impeach Trump

The Republicans may well lose control of Congress in 2018 for the first time since 2006. This is significant, because one of the things a congressional majority has the power to do is bring articles of impeachment against a sitting president.
The lowest possible arbitrary, inexact standards of "high crimes and misdemeanors" to which the Democrat-controlled Congress can possibly stoop will undoubtedly be fulfilled early on in the new congressional year as the Democrats rush to satisfy their highest priority – removing President Trump – to the complete and total exclusion of anything else the country needs to be done.
One can only imagine the breathless, frantic, grandstanding speeches and floor declarations from the likes of Maxine Waters, John Lewis, Nancy Pelosi, Sheila Jackson Lee, Adam Schiff, and Elijah Cummings as they compete for national liberal media adulation with one overwrought, hyperbolic performance after another.
http://www.americanthinker.com/articles/2018/01/if_democrats_take_the_house_theyll_impeach_trump.html#ixzz54ebpEEMP
Diamond and Silk tell Democrats: 'This is not Burger King, you can't have everything your way'
WE HAVEN'T HEARD FROM OUR GIRLS LATELY
The duo said they do not expect former President Barack Obama to campaign for endangered Democrats ahead of this November's House and Senate races.
"For him hitting the campaign trail, what he needs to be worried about is the trail leading back to him and his administration about their alleged abuse of power," said Diamond.
"And President Obama, need to stop acting like a girlfriend full of revenge and Donald Trump is the president, and Donald Trump is also Obama's president. So suck it up, buttercup," Silk added.
Illinois population trend could lead to one fewer congressional seat for state
ILLINOIS IS AMONG THE HIGH TAX STATES THAT ARE BLEEDING POPULATION. IT MAY LOSE 2 SEATS AFTER THE NEXT CENSUS.
In U.S. Census Bureau estimates released last month, Illinois' population decreased by 22,000 people from 2014 to 2015. Because of the estimated drop, Election Data Services, a Virginia-based political consulting firm, projects Illinois will lose a representative in the U.S. House of Representatives.
I LIVE IN THE 16TH DISTRICT, TOP DEAD CENTER OF THE STATE, 15 MILES FROM THE WISCONSIN LINE.
Illinois is one of nine states that could lose a representative in Congress. According to Election Data Services, Alabama, Michigan, Minnesota, New York, Ohio, Pennsylvania, Rhode Island and West Virginia also could lose a seat.
Arizona, Colorado, North Carolina and Oregon would each gain one seat, Florida would gain two seats, and Texas might gain three seats under the Election Data Services projections.
http://www.bnd.com/news/local/article53995625.html#storylink=cpy
Mulvaney Scolds Acosta for Defending Schumer From Shutdown Blame: 'I Have to Laugh'
Follow the March for Life Open Thread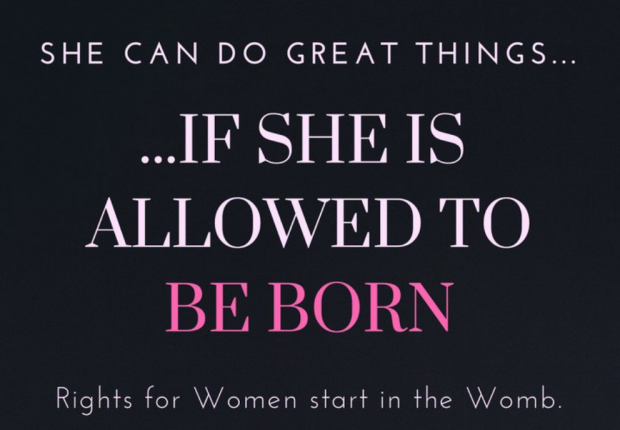 Every year, pro-lifers from all over the country brave the D.C. winter to stand for the sanctity of life, representing a fraction of national pro-life support.  The value and sanctity of each and every human life is by far one of the most, if not THE most important issue of our time.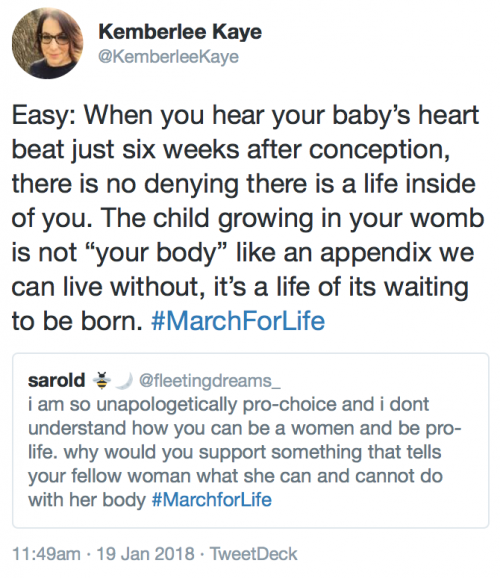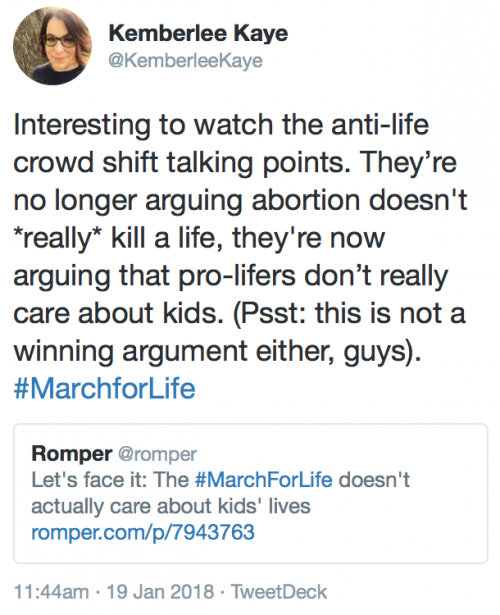 https://legalinsurrection.com/2018/01/follow-the-march-for-life-open-thread/
Anti-Israel activists attempt to hijack Women's March – again
Attempt by Jewish Voice for Peace, Code Pink and others to make Women's March 2018 about Ahed Tamimi, arrested for hitting and kicking Israeli soldiers for the cameras.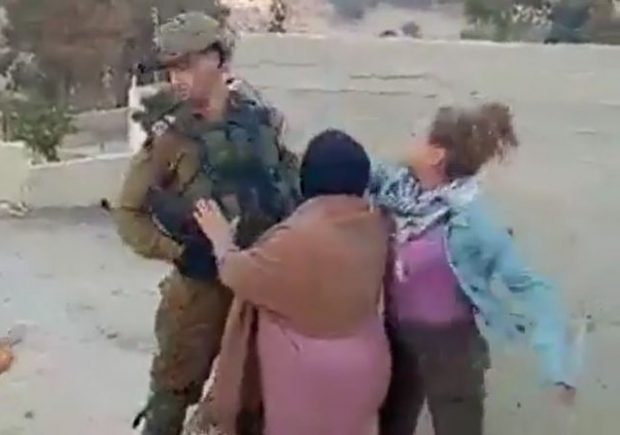 During the 2017 Women's March on Washington and follow up Women's Strike, anti-Israel activists attempted to hijack the movement.
Anti-Israel activist Linda Sarsour attempted to steer the movement against Israel, and the Women's Strike was co-organized by and honored convicted supermarket bomber murderer (and immigration fraudster) Rasmea Odeh.
Ahed Tamimi is the Palestinian teenager, who turns 17 this month, who has been exploited by her parents and supporters in groups like JVP and Code Pink, for propaganda purposes since early childhood. I summarized this background after Ahed was arrested for hitting and kicking Israeli soldiers on a live Facebook feed filmed by her mother, Ahed Tamimi, Palestinian teen exploited by her parents and BDS supporters, indicted for assault:
Ahed has been thrust into the spotlight by her parents because they understand, as her father Bassem recently stated, that her blond hair and light skin color makes her appealing to Western audiences.
As we have covered many times, it is nothing short of child exploitation and abuse to encourage children to engage in such dangerous behavior of deliberately trying to provoke the police and soldiers so that cameras can capture the interaction. If the Israeli policeman or soldier reacts, it's used as a propaganda tool to claim Israeli cruelty to children; if the Israeli policeman or soldier doesn't react (which is what almost always happens), it is used as a propaganda tool to claim Israelis are weak and scared….
https://legalinsurrection.com/2018/01/anti-israel-activists-attempt-to-hijack-womens-march-again/