Throwing caution to the wind, I put concern for my personal safety aside and accompanied my beloved child bride into the maelstrom known as the shopping mall during the holiday season. Our plan had some success, given our early arrival in an effort to complete the mission and retreat before the assault reached a fever pitch. Winding our way through the JC Penney store, we emerged onto the main battlefield and took evasive action, ducking into a Zales Jewelers. Always wanting to have my betrothed awash in finery, she picked out a nice sterling silver and topaz ring. It had to be sized, so she won't get it until the first week of January. She pointed out our anniversary is in February so she rationalized it could commemorate our long ago nuptials. She has a mind like a steel trap.
After a trek into Bed Bath and Beyond for some smelly concoctions, we were off to the grown man's Chuck E Cheese, Victoria's Secret. One would have thought purchasing gift cards would be a rather simple process. As we neared the counter, much to my chagrin, there were two long lines at the checkout. It was reminiscent of a WalMart the day the welfare class get their food stamps. I gave her my bank card to pay with and found a bench outside the store. The longer I stood there, watching women peruse stacks of panties and demi bras, the dirtier I felt.
Our final mission was a lunch at the food court. We dined on mango chicken with fried rice, bang bang shrimp, and spring rolls. Billy club and mace at the ready, we elbowed our way through the frenzied throng back through the Penney store and emerged, bruised but unbroken, in the parking lot to beat a strategic retreat to the sanctity of our home territory. I don't think I want to go through that hell again.


GOP senators hold back support for tax bill over child tax credit
THE SENATE HAS TO PASS A TAX CUT BILL BEFORE RECESS AND THEY KNOW IT… SO DO THE DEMOCRATS.
TRUE TO THE OLD CANARD ABOUT HERDING CATS, ALL THE USUAL SUSPECTS ARE PLAYING HARD TO GET WITH THEIR VOTE FOR THIS BILL. MURKOWSKI, FLAKE, McCAIN, COLLINS, AND RUBIO HAVE ALL SET CONDITIONS FOR THEIR APPROVAL. TO HELL WITH THE PEOPLE, WE WANT WHAT WE WANT.
"Senator Rubio has consistently communicated to the Senate tax negotiators that his vote on final passage would depend on whether the refundability of the child tax credit was increased in a meaningful way," said Rubio spokeswoman Olivia Perez-Cubas.
Conn Carroll, a spokesman for Utah GOP Sen. Mike Lee, also said Lee is "undecided" on the bill in its current form.

Tennessee Sen. Bob Corker, the only Republican to vote against the original version of the tax bill passed by the Senate, also told Fox News he is undecided on whether he will vote for the final version of the bill
http://www.foxnews.com/politics/2017/12/14/gop-senators-hold-back-support-for-tax-bill-over-child-tax-credit.html
Illness sidelines McCain, Cochran as tax vote nears

HERE WE HAVE THE COUNTRY'S LONGEST LIVING RINO AND THAT CADAVER WITH A PULSE WHO ARE DESPERATELY NEEDED TO PASS THE TAX CUTS. MCCAIN WILL SURELY ENJOY SOMEBODY BEGGING HIM TO DO SOMETHING FOR THE PEOPLE HE CLAIMS TO REPRESENT FOR ONCE, AND COCHRAN WILL HAVE TO BE STRAPPED TO A FURNITURE DOLLY AND WHEELED IN. REMEMBER, THIS WAS THE CORPSE THAT McCONNELL'S HIT SQUAD PAID VOTERS IN MISSISSIPPI TO VOTE FOR TO KEEP THE SEAT AWAY FROM A CONSERVATIVE.
I RECALL WHEN THE DEMOCRATS NEEDED A VOTE FROM KKK BYRD, THEY WHEELED HIM ONTO THE FLOOR OF THE SENATE TO VOTE… ONE SNOT BUBBLE FOR YEA, TWO BUBBLES FOR NAY.
Both men missed all Senate votes this week, but their presence will be crucial early next week as the GOP tries to pass the tax bill in the Senate with a razor-thin Republican majority of 52-48 — and all Democrats opposed to the legislation. Adding to the uncertainty on Thursday was Sen. Marco Rubio, R-Fla., who said he would vote against the bill if negotiators failed to expand the child tax credit.
http://www.breitbart.com/news/illness-sidelines-mccain-cochran-as-tax-vote-nears/
When Reporter Asked What Trump Is Doing To Combat Gun Violence Sanders Flips The Script

She responded, "I don't think there is any one thing that you could do that could have prevented both of those horrible, horrible tragedies." The press secretary then flipped the script on the reporter, asking her to name "a single thing" that would have prevented the tragedies.
http://dailycaller.com/2017/12/14/when-reporter-asked-what-trump-is-doing-to-combat-gun-violence-sanders-flips-the-script/
"I'm Not Taking Another Question From You" 

"You're Vying To Replace Jerry Springer": CNN's Jim Acosta Roasted For Spreading #FakeNews About Gun Control
CNN's Jim Acosta is at it again. The White House correspondent spread fake news about gun control to his nearly 500,000 Twitter followers on Thursday.
Acosta was widely mocked for his tweet, as per usual.
"This is a lie. If a politician said this, Jim Acosta would interrupt the press conference to live-fact-check him with readily available FBI statistics," pointed out National Review's Charles C.W. Cooke.
http://www.thegatewaypundit.com/2017/12/youre-vying-replace-jerry-springer-cnns-jim-acosta-roasted-spreading-fakenews-gun-control/
Mike Huckabee Tells Mika Brzezinski To 'Go Pound Sand' After She Attacks His Daughter
Mike Huckabee told Mika Brzezinski to "go pound sand" after the "Morning Joe" co-host attacked his daughter, White House press secretary Sarah Huckabee Sanders, Wednesday.

"My daughter stands strong and tough and walks into that lion's den of a press room every day and represents women and represents the president and represents strength in an incredible way."
On Wednesday's "Morning Joe," Brzezinski expressed disbelief that Sanders could stand by President Donald Trump's tweet that suggested Democratic Sen. Kirsten Gillibrand would "do anything" for political donations. Some thought that Trump's tweet implied Gillibrand exchanged sexual favors for political donations.
NO MATTER HOW OLD A WOMAN GETS, SHE WILL ALWAYS BE HER DADDY'S LITTLE GIRL. I EXPECT IT'S THAT WAY ALL OVER THE CIVILIZED WORLD.
http://dailycaller.com/2017/12/14/mike-huckabee-tells-mika-brzezinski-to-go-pound-sand-after-she-attacks-his-daughter-video/
Eric Trump: Kirsten Gillibrand visited my dad's office 'every three days' to ask for campaign money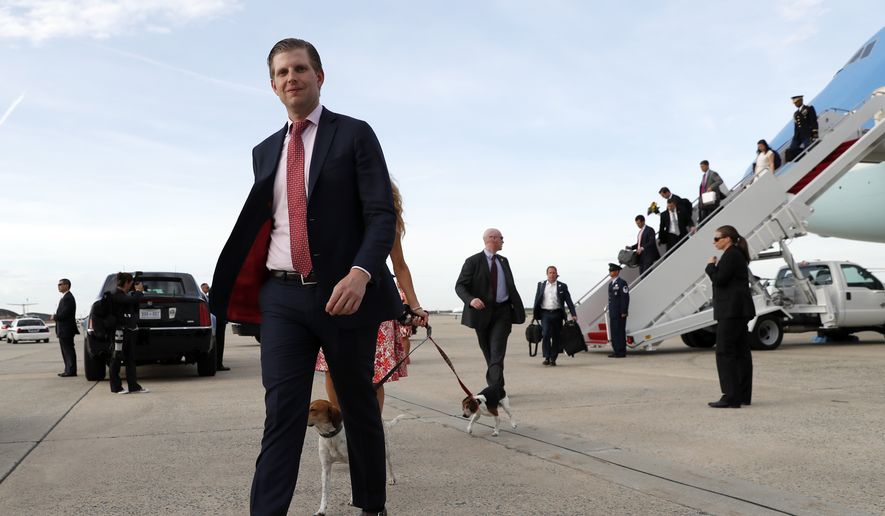 "I remember Kirsten Gillibrand when she came into his office every three days to ask him for money and asking for major campaign contributions," Eric Trump, 33, told WABC radio host Rita Cosby in an interview Wednesday. "There is no one who wanted to get into his office more than Kirsten Gillibrand.
Mr. Trump lashed out at the senator on Twitter Tuesday, calling her a "lightweight," who would "come to my office 'begging' for campaign contributions not so long ago (and would do anything for them)."
Mrs. Gillibrand on Tuesday called the tweet a "sexist smear" and accused the president of trying to silence his accusers.
https://www.washingtontimes.com/news/2017/dec/14/eric-trump-kirsten-gillibrand-visited-my-dads-offi/
Thom Hartmann: Trump's Tweet Slamming Gillibrand is 'Impeachable' Offense


BITCH, PLEASE
The perpetual outrage machine that is the left's pathological loathing for President Trump keeps reaching new lows in absurdity, albeit only on an hourly basis.
Plenty of liberals have labeled Trump's tweet slamming Democrat Senator and potential 2020 opponent Kirsten Gillibrand as "sexual harassment." But liberal radio host Thom Hartmann went beyond that and described it — I'm not making this up — as grounds for impeachment.
https://www.newsbusters.org/blogs/nb/jack-coleman/2017/12/14/thom-hartmann-trumps-tweet-slamming-gillibrand-impeachable-offense
USA Today: Trump is 'not fit to clean the toilets' at Obama's presidential library
The paper used this interpretation to argue the President is unfit for office.

NEVER IN THE HISTORY OF OUR NATION HAS A SITTING PRESIDENT BEEN TREATED WITH THE DISRESPECT AND OVERT LOATHING THAT THIS ONE HAS… AND ALL BECAUSE HE DEFEATED THEIR CORRUPT STANDARD BEARER.
"With his latest tweet, clearly implying that a United States senator would trade sexual favors for campaign cash, President Trump has shown he is not fit for office. Rock bottom is no impediment for a president who can always find room for a new low."
They went on to say President Trump would be unworthy to do bathroom duty at the Obama library.
http://www.bizpacreview.com/2017/12/13/usa-today-trump-not-fit-clean-toilets-obamas-presidential-library-575471
'Merry Christmas from the president and first lady!'
Melania stuns in a glittering black cocktail dress alongside The Donald in their first official holiday portrait
The 2017 Christmas portrait was revealed on Melania's Twitter page on Thursday
Andrea Hanks photographed the couple standing in front of the White House Blue Room on December 5
The president and first lady are holding hands and smiling for the camera in the festive photo taken in the Cross Hall
Melania opted for a sleeveless Delpozo dress featuring a sparkling applique and a pair of classic black pumps, while Trump wore a tuxedo
Ivanka, who converted to Judaism when she married Jared Kushner in 2009, shared her own festive snap from the White House on Instagram
In the image, she can be seen posing with two friends in front of a Christmas tree; she wished everyone a very 'Happy Holidays' in her caption

http://www.dailymail.co.uk/femail/article-5180939/Donald-Melania-Trump-release-Christmas-portrait.html#ixzz51KZf3xuw
FROM CURMUDGEON OVER AT PCP:
CNN Christmas Songs

On Tuesday, December 12th, someone started a hashtag #CNNChristmasSongs on Twitter. I thought some of them were pretty clever.
Do You Smear Who I Smear?
It's Beginning To Look A Lot Like Fake News
Let Bias Show, Let Bias Show, Let Bias Show
O Come, All Ye Hateful
Rudolph the Red Nosed Anonymous Source
Deck The Halls With Tons Of Fake News
Rumors We Have Heard on High
I'll Be Wrong For Christmas
Rockin' Around The Mistakes We Make
O Holy Cow! Trump Is Tweeting Nightly!
Whose Aborted Child Is This
It's Beginning To Look A Lot Like Bullshit
Acosty The Snowflake
O Whine All Ye Faithful
Silent The Right
All I Want For Christmas Is Some Russian Collusion
I Saw Daddy Drinking 12 Diet Cokes
Russians We Have Heard On High
Lemon Got Run Over By A Trump Tweet
The Lemon Dumber Boy
Little Tapper Boy
It Came Upon A Source Unclear
Acosta We Have Heard, Was High
Jingles Sell
I Saw Daddy Kissing Santa Claus
http://politicalclownparade.blogspot.com/2017/12/cnn-christmas-songs.html