All you'll hear about today is the showdown in Alabama. All the news crews are down there, ready to preen before the camera and try to act like it's simply reportage and not the culmination of a six week jihad to ruin a Republican senate candidate. Plenty of time for that. Consider this a sort of palate cleanser for the hard news yet to come.
This is the time of year where acts of love and compassion are most keenly felt. Like the characters in Scrooge who call on the old miser to solicit funds to buy some food and warmth for the truly needy, our own souls must be replenished to remind us that we are made by God and life is a temporary condition. Through the daily assault on our faith, our morals, and our way of life, we need reminders from time to time that God has got this. Trust in Him and we'll be OK. This Christmas is especially joyful because Israel has a powerful new ally.


I POST THIS EVERY YEAR. I NEVER GET TIRED OF IT. HOPE I NEVER WILL.
[CtH: Beautiful message, Pete. Thank you!]
Wreaths Across America caravan begins annual journey from Maine to Arlington
The Wreaths Across America caravan departed Sunday from Columbia Falls, where the wreaths were made. It'll travel through Maine, New Hampshire, Massachusetts, Connecticut, New Jersey, Delaware, Maryland and Washington D.C., before arriving in a week in Arlington, Virginia.
Medal of Honor recipient Roger Donlon and his wife Norma, seen here at a Capitol Hill reception in 2007, are the grand marshals for this year's Wreaths Across America caravan.
The tradition began when Maine wreath maker Morrill Worcester donated 5,000 wreaths to Arlington Cemetery. This year, there will be more than 200,000 of them placed at Arlington alone. A total of 1.2 million wreaths will be placed on markers across the country in 1,238 locations.
https://www.stripes.com/news/us/wreaths-across-america-caravan-begins-annual-journey-from-maine-to-arlington-1.501859
World War II Mansfield veteran gets a boost from firefighters
WANNA SEE A REAL BADASS?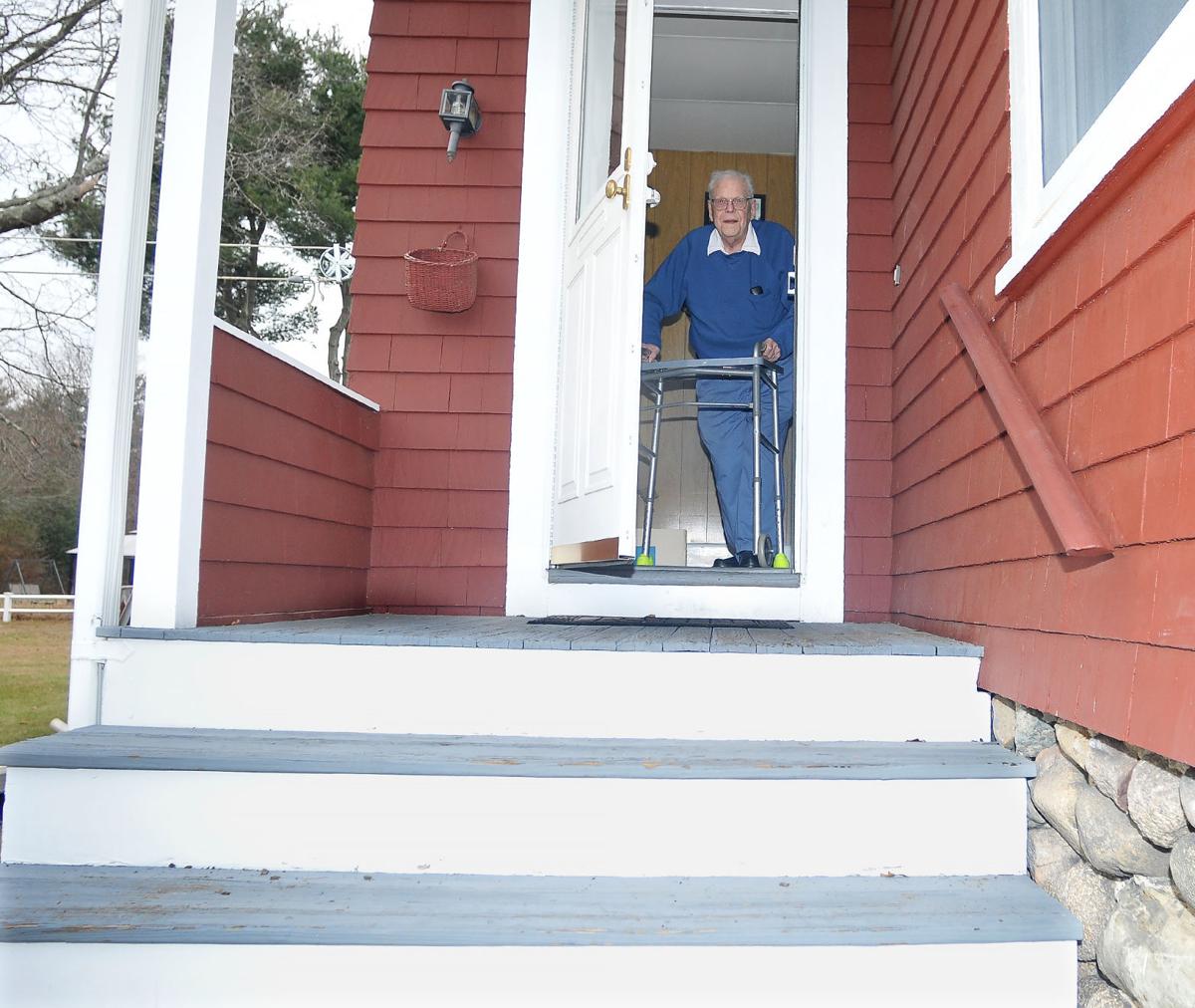 Decorated World War II veteran Walter Gilbert and his wife Mary are both 95 and still manage to live in their own home. But they have some mobility issues, including difficulty with stairs, such as the ones from their home.
About a half-dozen firefighters left their regular shift Friday morning and headed over to the couple's West Street home to install a ramp Veterans Agent Michael Raymond was able to get for the Gilberts.
One of the reasons Gilbert needs the ramp is because of injuries to his legs he suffered in the war.
Terry said he sat down and talked to Gilbert, learning he endured about 180 days of combat, and was wounded twice. He fought in the Battle of the Bulge where he took shrapnel.
Despite his service to our country and what he went through, Gilbert is humble and gracious for the support from the town.
When told he deserved it after his service he said, "Well I don't know about that."
Terry advises area residents to contact their community's veterans agents to see what is needed
http://www.thesunchronicle.com/news/local_news/world-war-ii-mansfield-veteran-gets-a-boost-from-firefighters/article_25027530-36e2-577d-a6bf-c8c5f77060e5.html
Widow, 94, breaks down as husband's ring lost after he was killed in WWII plane wreck is returned to her
BEHOLD THE COMPASSION OF ALMIGHTY GOD
Robert and his good luck charm made it through 38 successful missions but unfortunately he lost his life during the 39th. The ring survived and was discovered amongst the shattered plane in New Guinea 40 years ago.  It was returned recently to Greebull's wife who hasn't forgotten her love for him–not at all.
'He was a wonderful, wonderful guy,' Betty McAleenan said to KLTA. 'And I fell madly in love like all people do at that age,' she continued.
http://www.dailymail.co.uk/news/article-2539449/Widow-94-reunited-class-ring-gave-husband-70-YEARS.html#ixzz511XT2QSw
A little help here? Baby signs distress signal from mall Santa's lap
THIS IS ADORABLE

Kerry Spencer taught both of her children to sign using American Sign Language before they could speak because she found it useful to be able to communicate with them when they were babies.
Samuel was just one year old when he used his baby version of ASL to sign "help" to his mom while the photographer at the Provo Town Center Mall in Provo, Utah, snapped his picture. "I was standing to the side when the pic was taken and actually didn't see that he was signing for help until I saw the photo," his mom told TODAY Parents.
http://www.msn.com/en-us/lifestyle/whats-hot/a-little-help-here-baby-signs-distress-signal-from-mall-santas-lap/ar-BBGCCmv?li=BBnb4R7&ocid=UE12DHP
Bucking a trend, these churches figured out how to bring millennials back to worship
Pastors Kyle Turner, 36, and wife Liz, 37, say they had "discerned a call" to build a church for younger people when they moved to Kansas City from Oklahoma in 2009.
Today, The Cause has its own digs, a space at 4646 Belleview Ave. that feels more like a tech start-up than a place of worship. To the right of the entrance is a small work space and complimentary coffee bar. To the left, "Jesus Over Everything" beams in an aqua neon light. In one corner is "The Welcome Spot," a teal room where prospective members can learn more about the church. Across from there is the sanctuary, with rows of chairs facing a stage festooned with a neon-beamed backdrop.
THE METHODS OF PREACHING MATTER FAR LESS THAN GUIDING YOUNG PEOPLE TO GOD'S MERCY AND OUR REDEMPTION THROUGH THE BLOOD OF JESUS.
http://www.kansascity.com/living/religion/article188544194.html#storylink=cpy
Out of Wedlock Birth Rates High in America; End of Shotgun Weddings Partially to Blame


IN FULL DISCLOSURE, I MUST PLEAD GUILTY. MY FIRST WIFE WAS PREGNANT WITH RJ's MOM WHEN WE WERE MARRIED.  THERE WAS NO QUESTION … YOU JUST DIDN'T WALK AWAY. YOU TOOK RESPONSIBILITY.
The proportion of mothers who are unmarried is at 40 percent, up from five percent in 1960; two-thirds of first births to women under 30 are to unwed women. Determining why out-of-wedlock pregnancy and birth has spiked is the subject of a new report, released Monday, from the Social Capital Project.
Between the early 1950s and the late 2000s, the proportion of births from unwed pregnancies increased from 10 to almost 50 percent. Similarly, the rate of births to previously unwed couples who married after conception but before birth was 43 percent in the early 1960s; it dropped steadily to nine percent in the late 2000s.
The other most significant factor is the vanishing of the so-called "shotgun marriage," the sequence of events where a woman becomes pregnant, and then she and the father of the child are socially pressured into tying the knot.
http://freebeacon.com/culture/wedlock-birth-rates-high-america-end-shotgun-weddings-partially-blame/
Girl Scout Cookies will now be available in YOGURT form as Yoplait release three new versions of its Whips! yogurts

Yoplait is releasing Thin Mints, Peanut Butter Chocolate and Caramel Coconut
For purists, the Peanut Butter Chocolate may be equated with Tagalongs and Caramel Coconut with Samoas.
Thin Mint will have mint chocolate flavor; Peanut Butter Chocolate has peanut butter profile with chocolate finish; Caramel Coconut will be smooth and creamy.  The new yogurt flavors are due in stores this December.
UHH, NO, I DON'T THINK SO.


http://www.dailymail.co.uk/news/article-5169429/Girl-Scout-Cookies-available-YOGURT-form.html#ixzz511cXszG4
Nativity scene with Jesus in migrant boat is not going over well
A Catholic bishop condemned a nativity scene that depicts Mary holding Jesus in a rubber boat to symbolize the plight of migrants crossing the Mediterranean.
"I'm not saying a crib cannot be enriched by other elements, and certainly, a boat is a symbol that reminds us of the need for hospitality, but don't forget that Jesus is the savior of all problems, not just one," Vecchi said, according to International Business Times.
http://www.bizpacreview.com/2017/12/06/nativity-scene-jesus-migrant-boat-not-going-well-572287
Our World: Trump's great and ingenious gifts
Turning his back on the legacy of president Barack Obama, Trump beats a new path in American-Israeli relations.
With his recognition of Jerusalem as Israel's capital on Wednesday, US President Donald Trump gave a Hanukkah gift to the Jewish people. But he also gave a Christmas gift to the American people.
Trump's gift to Israel is not merely that 68 years after Israel declared Jerusalem its capital, the US finally recognized Israel's capital.
To understand why it was both courageous and wise, consider the political, institutional and geopolitical contexts in which Trump acted.
Politically, Trump made his declaration in a poisonous political environment at home.
The Democrats responded to Trump's victory last year over Hillary Clinton by seeking to delegitimize his victory. To this end, they chose to oppose everything that he says and does.
http://www.jpost.com/Opinion/Our-World-Trumps-great-and-ingenious-gifts-517417
84-Year-Old Korean War vet kills one home intruder in point-blank shot, sends second one running
THIS WAR HORSE IS OLD SCHOOL….TRY TO ROB ME, I'LL INTRODUCE YOU TO GOD… PERSONALLY.
An 84-year-old Korean War veteran killed a home intruder Friday with a single shot right to the chest, and he's crediting God with his success.  While Lutz is somewhat sore from the struggle, he has escaped without any real injuries and credits his success to his Christian faith.
"I've never been afraid in my life," Lutz said. "God has always been with me, and I'm a hard believer in God and Jesus Christ, and God was with me tonight."
Lutz is not facing any charges for his act of home self-defense.
http://www.bizpacreview.com/2017/12/10/84-year-old-korean-war-vet-kills-one-home-intruder-point-blank-shot-sends-second-one-running-573730
WE'VE ALL FELT THIS WAY…I'M PRETTY SURE