from Drudge:
DEM WINS ALABAMA
WHITE HOUSE SHOCK
BANNON BUSTED
It cost the democrats and the McConnell mob $100 million and a non-stop 6-week assault by their media hitmen to keep just enough republicans at home to eke out a narrow victory. The commie prick will serve the next two years but in all likelihood will not be re-elected in a state like Alabama. The democrats couldn't care less. They picked up an invaluable seat to encourage the mindless army of parasites who support them that they can wrest back the House next year.
The first item on the agenda? Of course: IMPEACH TRUMP!!
I still do not watch broadcast news but I'm sure there are back slaps all around at a smear campaign well done. Such is the state of politics today. The key for success seems to be to have a bevy of women come forward against every vulnerable republican male and accuse them of sexual misconduct. At least this takes away Franken's excuse for not leaving the senate.
ALABAMA ELECTION RESULTS: Judge Roy Moore Against "Lynch Mob Media" …Update: DEMOCRAT JONES WINS ALABAMA

Democrats are excited that black turnout is at 30%.
REMEMBER THEY WERE OFFERING $1-$100 TO VOTE FOR JONES? HOW'D THAT WORK OUT?
http://www.thegatewaypundit.com/2017/12/alabama-special-election-results-judge-roy-moore-dc-elites-lynch-mob-media/
GOPe Spent $500,000 to Defeat Roy Moore and Campaigns Against Him — Then Trashes Steve Bannon When He Loses
Republican elites spent at least $500,000 against Republican candidate Roy Moore in Alabama.
Anti-Trump presidential candidate Evan McMullin spent $500,000 on digital and TV ads that ask Alabama conservatives to reject Republican nominee Roy Moore's Senate bid.
Republican Senate leader Mitch McConnell told Roy Moore to step down.
Republican Senator Richard Shelby told CNN on Sunday that he would not vote for Judge Roy Moore.
Roy Moore lost tonight in Alabama to ultra-liberal Doug Jones by .7% in a special election with a very low turnout
These GOP elites must be wiped completely out of the Republican party. These are not honest people.  They do not give a rat's ass about your well-being.
http://www.thegatewaypundit.com/2017/12/gope-spent-500000-defeat-roy-moore-campaigns-trashes-steve-bannon-loses/
Republican Saboteurs Flip Seat to Dems
http://www.breitbart.com/big-government/2017/12/12/live-updates-alabama-senate-showdown/
CtH: This just makes me even more TRUMP than I was before!  And I didn't even like him when I voted for him.  I've just been super impressed with what a great job he's been doing.  Plus, I love his wife.
Alabama Senate Special Election – JONES wins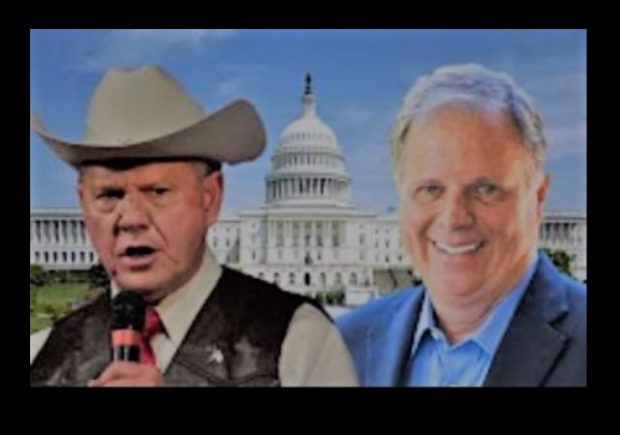 While this was a candidate specific loss, it certainly will be spun as part of a wave that started in Virginia and will be a precursor of the midterms. It also means that the Trump agenda is on the ropes, with just a single vote margin next year. Tax reform needs to pass this year (since Jones will not be seated until next term), or it may not get done. You probably can forget anything else big getting done before the midterms, not with McCain and Collins and a couple of others who barely vote with Trump.
https://legalinsurrection.com/2017/12/alabama-senate-special-election-results/
EXPECT THIS KIND OF BULLSHIT FROM NOW UNTIL NOV. 2018:
Clinton celebrates Jones' victory: 'Onward!'


Hillary Clinton celebrated the victory of Alabama Senate candidate Doug Jones (D) on Tuesday, calling for Democrats to "compete everywhere.""Tonight, Alabama voters elected a senator who'll make them proud," Clinton tweeted. "And if Democrats can win in Alabama, we can — and must — compete everywhere. Onward!"
http://www.msn.com/en-us/news/politics/clinton-celebrates-jones-victory-onward/ar-BBGFiDM?li=BBnb7Kz&ocid=UE12DHP
Cheers Can Be Heard on CNN as Dem Jones Takes the Lead in Alabama
In the early part of the 10:00 p.m. Eastern hour, and before the Alabama Senate race was called for Democrat Doug Jones, cheers could be heard on CNN's live broadcast as Wolf Blitzer announced Jones had taken the lead.  "All of a sudden, Doug Jones is taking the lead."
"Hale County just came in, which puts him back in the lead," explained Inside Politics host John King as they stood in front of the map. And as they spoke an audible whoop from off-camera could be heard.
[CtH: CNN isn't biased!  Just ask them!]
https://www.newsbusters.org/blogs/nb/nicholas-fondacaro/2017/12/12/cheers-can-be-heard-cnn-dem-jones-takes-lead-alabama
THERE WILL BE HOURS AND HOURS OF COMMENTARY ABOUT THE REBUKE OF THE TRUMP AGENDA AND THE BRIGHTENING FUTURE FOR DEMOCRATS ALL DAY TODAY AND FOR SOME TIME TO COME.
I'll be gone a large part of the day and we're braving the hordes at the mall to get gift cards for our 11 and 16 year old granddaughters at…Victoria's Secret.  YAAAA!!!!!!
After my blood pressure came down, DW said they have a line of things for younger girls called "Pink." A call to my eldest confirmed this and said they LOVED Victoria's Secret. I always viewed it like Larry The Cable guy does… like a grown man's Chuck E. Cheese.
While we're there we'll stop at the food court. There's a little place called the Thai Hut that serves Mango Chicken. Really yummy. She doesn't know it yet, but I've put a little away and plan to stop by Zale's Jewelers (hint: I don't wear jewelry). It never hurts to put a little honey on the biscuit, know what I mean?
[CtH: Pete and Dearest are tied for the PoliNation Husband Award!  I'm getting a closet and a pedometer for Christmas.  I asked for the pedometer, cuz I've been getting strong enough lately that we have been able to take Daisey out on the Rail Trail!  Yay me!!  And I want to know how far I walk for my Rehab Stats Report I give my 2 doctors.  We've measured our street, so that's easy, but the Rail Trails don't have any mile markers.  The closet was a TOTAL SURPRISE!  He just up and cleaned it out and said I could have it!  He's a pack rat, so this was a MAJOR thing for him.  God works in mysterious ways His wonders to behold!]


It's going to be difficult going through this garbage for awhile, but I'll do the best I can.