My beloved child bride was tending Miss Olivia, who wasn't feeling well, so I turned in about 8:00PM. Someone locked the bottom door of our apartment building, which is broken and there is no key for, just the deadbolt that all tenants can open. She had to ring the buzzer shortly after 9 and I've been up since.
I leave for work in an hour and a half so I thought I'd take a minute to post some things I didn't get around to yesterday.
One week from today is the showdown in Alabama. Trump has finally given his full support to Judge Moore and the RNC is funding his campaign again. This seems to be a sign they know he's going to win despite their best efforts to screw him over. The left, though, never gives up. They sense that Roy Moore is heading toward victory.
Alabama voters doubt accusations enough that they may feel comfortable sending a message of contempt for Washington, both D.C. and Post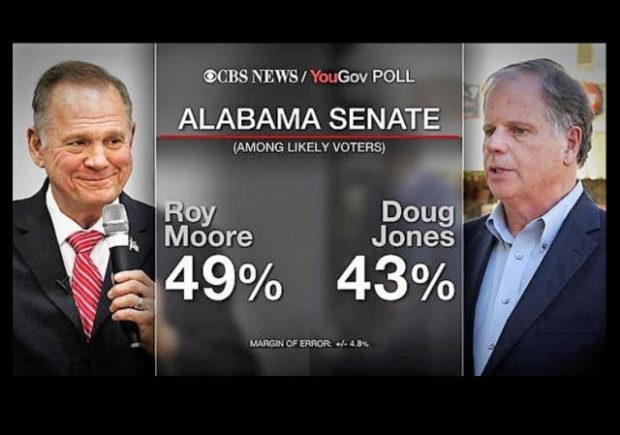 If there was a turning point in Roy Moore's political fortunes, it was the press conference Gloria Allred held with accuser Beverly Nelson, who emotionally described what she said was a sexual assault behind a diner at which she worked. That press conference gave Moore two things he needed politically: a chance to make Allred an issue in the campaign, and a piece of physical evidence to attack, the handwriting in the yearbook.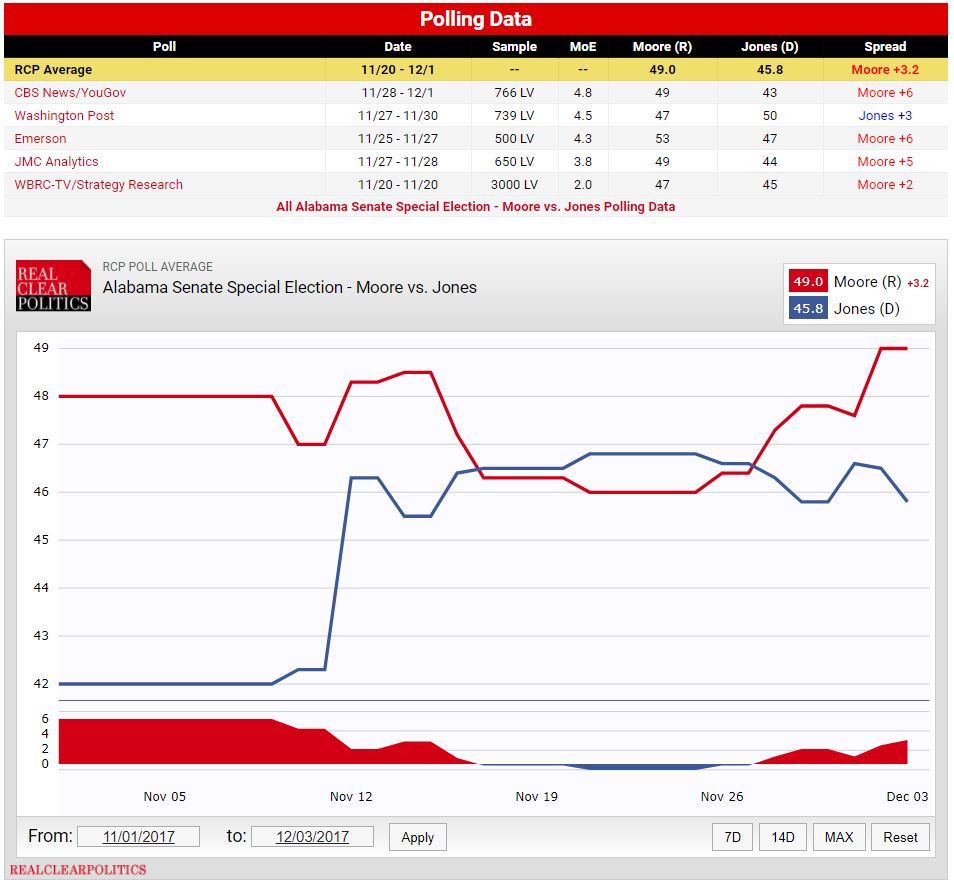 https://legalinsurrection.com/2017/12/the-sense-that-roy-moore-is-heading-toward-victory/
Mitch McConnell Folds on Opposition to Roy Moore: 'We're Going to Let the People of Alabama Decide'

"Well, I think — we're going to let the people of Alabama decide a week from Tuesday who they want to send to the Senate. And then we'll address the matter appropriately," McConnell said, insinuating that he would back a Senate Ethics Committee investigation of the allegations against Moore when Moore wins on Dec. 12.
[CtH: Meanwhile, they're letting Democrats decide IF they want to resign?]
http://www.breitbart.com/big-government/2017/12/03/mitch-mcconnell-folds-on-opposition-to-roy-moore-were-going-to-let-the-people-of-alabama-decide/
I PREDICT IF MOORE WINS AND McCONNELL REFUSES TO SEAT HIM, THERE WILL BE A CONSTITUTIONAL CRISIS.
Soros Army in Alabama to Register Convicted Felons to Vote Against Roy Moore

HEY, IT HELPED THE DEMOCRATS WIN IN VIRGINIA.
The aim of the effort has been to get as many felons as possible on the roster before last Monday, the deadline to register in order to vote in Alabama's Dec. 12 senate special election that pits Republican Roy Moore against Democratic challenger Doug Jones. The man spearheading the campaign has stated outright that his effort is meant to ensure a Democratic victory in Alabama.
The thousands of felons reportedly newly registered over the past few weeks were most likely not included in any recent polling on the Alabama senate race put out by major firms.
[CtH: What does it say about the Democratic Party that they feel confident that FELONS will vote for THEIR candidates?]
http://www.breitbart.com/big-government/2017/12/03/soros-army-alabama-register-convicted-felons-vote-roy-moore/
Supreme Court Allows Trump's Full Travel Ban In 7-2 Decision
The Supreme Court on Monday allowed the Trump administration to fully enforce the travel ban by residents from six radical regimes and failed states. The travel ban applies to travelers from Chad, Iran, Libya, Somalia, Syria and Yemen. And officials from North Korea and Venezuela.

Far left Justices Ruth Bader Ginsburg and Sonia Sotomayor dissented.
YOU LIKELY KNEW WHO THE DISSENTERS WERE.  TRUMP SHOULD SEND AUTOGRAPHED COPIES TO THE NINTH CIRCUS AND THAT PUNK BUDDY OF OBAMA'S IN HAWAII.
http://www.thegatewaypundit.com/2017/12/supreme-court-allows-trumps-full-travel-ban-7-2-decision/
Trump's Plan To Overhaul National Monuments Law Is All About 'Righting Past Overreach'
TRUMP SPOKE IN UTAH TODAY AND RETURNED 2 MILLION ACRES THAT OBAMA ILLEGALLY CONFISCATED TO STOP ENERGY EXPLORATION.
Trump will sign orders to shrink the Bears Ears and Grand Staircase-Escalante national monuments as recommended by Secretary of the Interior Ryan Zinke. However, that's only the first step in the administration's plan for the Antiquities Act.
"Public lands should be for the enjoyment of everyone, not just special interests," will be the Trump administration's message in this effort
http://dailycaller.com/2017/12/04/trumps-plan-to-overhaul-national-monuments-law-is-all-about-righting-past-overreach/
Utah state leaders Greg Hughes and Wayne Niederhauser thanked President Trump for following through on a promise to voters.
"This is great news for the residents of southern Utah who depend on the use of public lands for their livelihoods and the Native Americans who depend on access to Bears Ears lands for their material and spiritual needs."
http://www.sltrib.com/opinion/commentary/2017/12/02/commentary-we-encourage-and-support-utahs-federal-delegation-changing-the-antiquities-act/
Trump's Monuments Decision Is A Huge Win For Utah's Orrin Hatch

All the while in private, Trump is asking Hatch, the the longest-serving GOP senator in history, to run for re-election.
http://dailycaller.com/2017/12/04/trumps-monuments-decision-is-a-huge-win-for-utahs-orrin-hatch/
NOT EVERYONE WAS HAPPY TO SEE THE PRESIDENT TODAY.
Protesters chanting 'F—k you, Trump' greet president at Utah State Capitol

President Trump was greeted by protesters at the Utah State Capitol on Monday shouting "F**k you, Trump" as the motorcade passed by.
The president traveled to Utah on Monday to announce his decision to scale back the state's Bears Ears and Grand Staircase-Escalante National Monuments.
http://www.washingtonexaminer.com/protesters-chanting-fk-you-trump-greet-president-at-utah-state-capitol/article/2642496
Obama Can't Resist Urge to Bash Trump Overseas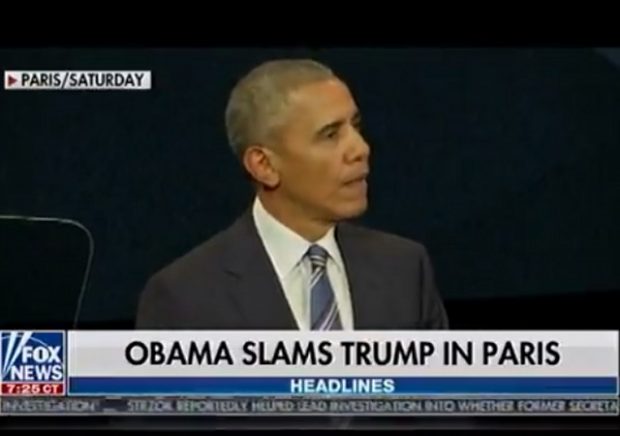 IT'S JUST KILLING HIM TO SEE ALL HIS DEVIL'S WORK BEING UNDONE.
This weekend, Obama proved once again that he is incapable of affording his successor the same courtesy shown by his predecessor. While speaking in Paris, Obama cited a lack of American leadership on climate change.
https://legalinsurrection.com/2017/12/obama-cant-resist-urge-to-bash-trump-overseas/
Feinstein: Case 'Being Put Together' Against Trump For Obstruction of Justice
Democrat Dianne Feinstein, ranking member of the Senate Judiciary Committee, which is investigating Russian interference in the 2016 presidential election, said on Meet the Press that it is becoming clear that President Trump's firing of FBI Director James Comey represents an obstruction of justice — a case she believes special counsel Robert Mueller is now focused on.
http://www.hapblog.com/2017/12/feinstein-case-being-put-together.html
THE DERSH WOULD TEND TO DISAGREE WITH HER.
Dershowitz Slams Feinstein Over Obstruction Argument: 'Doesn't Know What She's Talking About'

"You cannot charge a president with obstruction of justice for exercising his constitutional power to fire Comey and his constitutional authority to tell the Justice Department who to investigate, who not to investigate," Dershowitz said during an interview with Fox News.  "We have precedents that clearly establish that."
https://townhall.com/tipsheet/leahbarkoukis/2017/12/04/the-dershowitz-interview-trump-said-is-a-mustwatch-n2417735
Puerto Rican Refugees Could Flip Florida, Put Impeachment in Play
I HEARD THIS ON RUSH TODAY… THIS IS FRIGHTENING

Remember the big hurricane that wiped out Puerto Rico? The publisher of a newspaper in Puerto Rico is reporting that, by their count, 320,000 Puerto Ricans have immigrated to the United States. Seventy percent of them to Florida. Now, the publisher of the Puerto Rican newspaper says that all of these people are very disappointed in the response of the Trump administration to help Puerto Rico recover. She believes by the end of 2018 there will be nearly 400,000 to 500,000 immigrants — think illegal immigrants — in Florida, and, if 60% of them register Democrat, then Florida ever voting for a Republican presidential candidate may be lost for as long as we can see.
https://www.rushlimbaugh.com/daily/2017/12/04/puerto-rican-refugees-could-flip-florida-put-impeachment-in-play/
REPORT: Trump to Pull U.S. From U.N. Migration Compact

Officials stated that the New York Declaration, a non-binding political declaration unanimously approved in a non-binding resolution in September 2016, "contains numerous provisions that are inconsistent with U.S. immigration and refugee policies and the Trump Administration's immigration principles."
http://www.breitbart.com/texas/2017/12/02/report-trump-pull-u-s-u-n-migration-compact/

Trump Dumps Michelle Obama School Lunch Fiasco – Chocolate Milk Is Back!
I LOVED CHOCOLATE MILK IN SCHOOL

Agriculture Secretary Sonny Perdue has been dismissing Michelle Obama's signature school lunch rules all year.
"This is not reducing the nutritional standards whatsoever," Perdue said in May when announcing the Agriculture Department's intention to bring chocolate milk back to schools. "I wouldn't be as big as I am today without flavored milk."
http://www.thegatewaypundit.com/2017/12/trump-dumps-hated-michelle-obama-school-lunch-fiasco-chocolate-milk-back/
THE SKY IS FALLING! WOE IS US! WOE IS US!
Pelosi: GOP Tax Bill Is 'End Of The World'
Democratic House Minority Leader Nancy Pelosi claimed Monday the Republican tax bill is the end of the world. Calling the bill "armageddon," Pelosi said, "There's really a very hard way to come back from this."
[CtH: Seriously?  Has anyone checked if Nancy is taking her meds?]
http://dailycaller.com/2017/12/04/pelosi-gop-tax-bill-is-end-of-the-world-and-armageddon-video/
MSNBC Guest Says Republican Tax Bill Is 'Akin to Rape'
PROJECT WE MUCH.
[CtH: Those of us who are survivors of ACTUAL RAPE RAPE are offended by all the Democrat hyperbole on the subject.  I DEMAND A SAFE SPACE!]
House Republicans Already Shooting Down Tax Bill's Promises
FLAKE ISN'T RUNNING AGAIN BECAUSE HE'D GET HIS ASS WHIPPED.  WHAT CAN YOU EXPECT FROM THE MAINE PAIN?
Collins said she received a promise that the Senate would consider two bipartisan pieces of legislation that would ostensibly mitigate the negative effects that could come from the tax bill's repeal of Obamacare's individual mandate. Flake said he received a "firm commitment from Senate Leadership and the administration" to work on a permanent protections for the soon-to-be-ended Obama-era program that shields children of undocumented immigrants.
http://www.msn.com/en-us/news/politics/house-republicans-already-shooting-down-tax-bills-promises/ar-BBGeKJo?li=BBnb7Kz&ocid=UE12DHP
Report: FBI Agent Dismissed From Mueller's Russia Probe Changed Comey's Language on Clinton to 'Extremely Careless'

THERE WAS A REASON FOR CHANGING THE WORDING.
The shift from "grossly negligent" to "extremely careless," which may appear pedestrian at first glance, reflected a decision by the FBI that could have had potentially significant legal implications, as the federal law governing the mishandling of classified material establishes criminal penalties for "gross negligence."
Senate Judiciary Chairman Chuck Grassley, R-Iowa, raised questions over why the change was made after receiving documents from the FBI last month, but the identity of who was behind the edit has not been reported until now.
http://freebeacon.com/politics/report-fbi-agent-dismissed-muellers-russia-probe-changed-comeys-language-clinton-extremely-careless/
Byron York: In Trump-Russia probe, was it all about the Logan Act?
In short, there's no doubt the Logan Act, a law dismissed as a joke or an archaic irrelevancy or simply unconstitutional by many legal experts, played a central role in the Obama administration's aggressive and enormously consequential investigation of its successor.
Democrats began accusing Trump of Logan Act violations in the summer of 2016, immediately after the Republican convention, when Trump sarcastically invited Russia to produce the 30,000-plus emails that Hillary Clinton deleted rather than turn over to investigators. "Russia, if you're listening, I hope you're able to find the 30,000 emails that are missing," Trump said during a July 27 news conference. "I think that you will probably be rewarded mightily by our press — let's see if that happens, that'll be nice."
http://www.washingtonexaminer.com/byron-york-in-trump-russia-probe-was-it-all-about-the-logan-act/article/2642434
[CtH: This should read, "It is vital we do something to rebuild the trust we threw away in our non-stop efforts to promote Democrat politicians and policies."]