Actually, not so much when you get right down to it. Michael Flynn pleaded guilty to one count of lying to the FBI. He could have been charged with a number of other offenses. This led to speculation that he flipped and is cooperating with the Mueller inquisition in his jihad against President Trump. The Dow plunged about 300 points after the news broke but gained most of it back by the end of the day. At this point it's all speculation. Trump's attorney says it's a nothing burger, as does Andrew McCarthy. The left is making messes in their underwear at the fantasy of the president's demise dances in their heads like so many sugar plums. I went to Yahoo, which is as hard left as HuffPo, and tried to read some of the comments. They were absolutely giddy at the thought of a possible impeachment.
Michael Flynn Pleads Guilty to Lying to the FBI; Now Cooperating with Mueller

ABC's Brian Ross: Flynn Prepared To Testify Against Trump, Trump Family, White House Staff 
JUST IN: @BrianRoss on @ABC News Special Report: Michael Flynn promised "full cooperation to the Mueller team" and is prepared to testify that as a candidate, Donald Trump "directed him to make contact with the Russians."
https://t.co/aiagnvr8eS pic.twitter.com/r8u2LWAd0O
UPDATE: ABC News has deleted the above video of Ross' report from Friday morning after investigative reporter Brian Ross retracted the explosive claim that Flynn would be willing to testify against Trump.
Ross said on ABC World News Tonight that incoming President Trump, not candidate Trump, instructed Flynn to speak to the Russians, a chasm between the original report that the Republican nominee made the request.
ANOTHER FACT TOO GOOD TO CHECK
He said the President asked Flynn to contact Russia during the campaign. He's now clarifying that statement, saying, according to Flynn, candidate Trump asked him during the campaign to find ways to repair relations with Russia and other hot spots and then after the election, the President-elect asked him — and told him to contact Russia on other issues, including working together to fight ISIS, David."

https://www.realclearpolitics.com/video/2017/12/01/abcs_brian_ross_flynn_prepared_to_testify_against_trump_trump_family_people_in_the_white_house.html
Donald Trump 'the candidate' did not commit a crime: Gregg Jarrett


Former Trump national security advisor Michael Flynn plead guilty Friday to charges of lying to the FBI. Now there are reports Flynn was urged by then-candidate Donald Trump to talk to the Russians in potential violation of the Logan Act, a 1799 law which bars private citizens from negotiating with foreign governments.
But Fox News anchor and attorney Gregg Jarrett told the FOX Business Network's Neil Cavuto this would not violate the Logan Act.
"No, it wouldn't…Nobody's ever been prosecuted under it. Why? Because the federal courts, especially a New York U.S. federal court, said in 1964 it's unconstitutional," Jarrett said.
http://www.foxbusiness.com/politics/2017/12/01/donald-trump-candidate-did-not-commit-crime-gregg-jarrett.html
What the Flynn Plea Means
ANDREW McCARTHY EXPLAINS IT AS WELL AS ANYBODY

Flynn, an early backer of Donald Trump and a fierce critic of Obama's national-security policies, was generally despised by Obama administration officials. Hence, there has always been cynical suspicion that the decision to interview him was driven by the expectation that he would provide the FBI with an account inconsistent with the recorded conversation — i.e., that Flynn was being set up for prosecution on a process crime.
While initial reporting is portraying Flynn's guilty plea as a major breakthrough in Mueller's investigation of potential Trump-campaign collusion with the Russian regime, I suspect the opposite is true.
In his guilty-plea allocution (the part of a plea proceeding in which the defendant admits what he did that makes him guilty), the accomplice explains the scheme and the actions taken by himself and his co-conspirators to carry it out. This goes a long way toward proving the case against all of the subjects of the investigation.
That is not happening in Flynn's situation. Instead, like Papadopoulos, he is being permitted to plead guilty to a mere process crime.
Meanwhile, the only major case Mueller has brought, against former Trump-campaign chairman Paul Manafort and an associate, has nothing to do with the 2016 election. It is becoming increasingly palpable that, whatever "collusion" means, there was no actionable, conspiratorial complicity by the Trump campaign in the Kremlin's machinations.
http://www.nationalreview.com/article/454269/michael-flynn-plea-no-breakthrough-russia-investigation
ROGER STONE: Mueller Used False Intelligence From Joe Biden & Susan Rice To Charge General Flynn
Flynn's decision to make false statements to the FBI is leaving many wondering, if the phone calls were sanctioned by the Obama administration and cleared of wrongdoing by Comey's FBI, why didn't the former military man just tell the truth?
Perhaps we may have the answer.

http://www.thegatewaypundit.com/2017/12/roger-stone-mueller-used-false-intelligence-joe-biden-susan-rice-charge-general-flynn-audio/
Dirty Cop Comey Gloats After General Flynn Pleads Guilty

Dirty cop Comey gloated after it was reported that General Michael Flynn will plead guilty to lying to the FBI deep state operatives in the ongoing Trump witch hunt today.
Once again — this verdict has NOTHING TO DO with Trump-Russia collusion.
It's just a way for the Democrat media and Deep State to erase an election and eliminate Donald Trump.
After the news broke of Flynn, Comey gloated by quoting Bible scripture saying 'justice will roll down like water..', a quote from the book of Amos. He attached an Instagram picture of the Great Falls of the Potomac to the tweet.
Comey is quoting Amos 5:24 which is interpreted by many as a threat of chastisement– judgment will roll over the land and bring justice. The righteous will prevail and drive out the wicked.
James Comey has a lot of nerve acting holier than thou after he leaked classified memos of his conversations with President Trump to a friend in order to prompt a Special Counsel.
http://thegatewaypundit.com/2017/12/dirty-cop-comey-gloats-general-flynn-pleads-guilty/
White House Plays Down Importance Of Flynn Guilty Plea

"The false statements involved mirror the false statements to White House officials which resulted in his resignation in February of this year," Cobb said in a statement released to reporters. "Nothing about the guilty plea or the charge implicates anyone other than Mr. Flynn.
http://dailycaller.com/2017/12/01/white-house-plays-down-importance-of-flynn-guilty-plea/
Trump White House Caught Off Guard by Michael Flynn Plea: 'Their Own Counsel Didn't Know'

"No one in the White House was prepared."
That is how Politico began its article Friday afternoon, reporting that the White House legal team dealing with the Russia investigation, headed by Ty Cobb, was taken completely by surprise when former National Security Advisor Michael Flynn pleaded guilty to lying to the FBI earlier in the day.
As Breitbart News had already more than a week ago, the New York Times reported on Thanksgiving that Flynn's lawyers had terminated an agreement with President Donald Trump's legal team to share information about the probe. As the Times noted, that termination would have made sense if Flynn had begun cooperating with Special Counsel Robert Mueller. And, indeed, other reports in the days that followed seemed to indicate that was likely.
http://www.breitbart.com/big-government/2017/12/01/michael-flynn-report-trump-white-house-caught-off-guard-flynn-plea-counsel-didnt-know/
Rush Limbaugh Explains Why Flynn's Guilty Plea Shows Mueller Has NOTHING on Trump
"But there is nothing unusual about that. Once again, the lack of understanding by the drive-by media reporters — oh — Flynn's pulling out of the joint agreement to share information, that means he's getting ready to flip."
"No, it meant he was getting ready to make a deal with the prosecutor, as such, it becomes unethical for the two lawyers or teams to communicate with each other when one of the people involved is going to cop a plea," Limbaugh said.

http://www.thegatewaypundit.com/2017/12/rush-limbaugh-brilliantly-explains-flynns-guilty-plea-shows-mueller-nothing-trump-video/
THE LEFT ARE WETTING THEMSELVES
JENNIFER RUBIN IS WAPO'S "CONSERVATIVE"
FROM WAPO:
Flynn could deliver a knockout blow to Trump
Trump's defenders will argue that this still does not touch on the underlying issue of collusion with Russia. That's true but misses the point. If there was collusion, Flynn almost certainly would have known about it. He was both Trump's closet foreign policy adviser and a pro-Russia operator who traveled to Russia to give a lavishly compensated speech and appeared on RT, Russia's propaganda network, which he asserted was no different than any American news outlet. (RT has since been required to register as a foreign agent.) Trump can claim all he wants that the Russia investigation is a hoax, but if Flynn provides direct evidence implicating Trump, the president's days in office are numbered.
https://www.washingtonpost.com/blogs/right-turn/wp/2017/12/01/flynn-could-deliver-a-knockout-blow-to-trump/?utm_term=.7deef95277fb
MSNBC Contributor On Flynn Charges: 'Historic Day', 'Could Be The Beginning Of The End'

MSNBC contributor and Watergate prosecutor Jill Wine-Banks declared that it "could be the beginning of the end" over Michael Flynn's guilty plea.
"So, yes, this is a historic day and could be the beginning of the end. I think the comparison to John Dean is very apt, because he was the person who had the inside knowledge and who really opened the doors to what was really going on in the White House," Wine-Banks stated.
"And that could be what is happening here with Flynn," she added.
http://dailycaller.com/2017/12/01/msnbc-contributor-on-flynn-charges-historic-day-could-be-the-beginning-of-the-end-video/
FROM LEGAL INSURRECTION:
Mueller's Quest for The Donald: Making sense of the Michael Flynn plea
Mueller wants The Donald more than anything Mueller ever has wanted before in his prosecutorial and law enforcement career.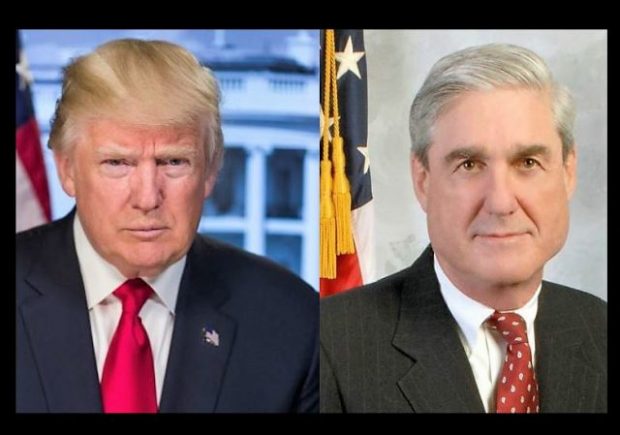 A somewhat moribund Russia-collusion conspiracy community sprang back to life instantaneously. The treason-choir found its voice again.
Pundits speculated endlessly about what it all means — in a distinctly binary manner: Trump is a gonner, or it's a big nothing burger.
The Logan Act, that never-enforced hobgoblin of small minds, was trending.
So what to make of the latest feeding frenzy?
The only thing of which I am certain is that Mueller wants Donald Trump to take a perp walk, or at least be impeached based on the findings of Mueller's investigation. Mueller wants it more than Mueller has ever wanted anything before in his law enforcement and prosecutorial life. And he will stop at nothing to get The Donald. Sure, he'll charge or convict Manafort and Flynn, and anyone else he can find, but they are just stepping stones.
MORE:
https://legalinsurrection.com/2017/12/muellers-quest-for-the-donald-making-sense-of-the-michael-flynn-plea/
THERE WAS, HOWEVER, ONE PRESIDENT WHO ACTUALLY DID COLLUDE WITH THE RUSSIANS
HOW DO YOU PLAGIARIZE YOUR OWN WORDS???