Big day tomorrow. Miss Olivia is playing in "A Charlie Brown Christmas." She's playing Charlie Brown's little sister Sally who has a mad crush on Linus. Trouble is, she doesn't like the boy playing Linus. It's called "acting," honey.

JIMMY KIMMEL WAS NEVER REALLY FUNNY. SINCE HE WENT FULL TILT LIBERAL HE'S JUST PATHETIC.
HE'S TRYING TO PICK A FIGHT WITH JUDGE ROY MOORE. HE'S WAY OVER HIS HEAD.
Comedian Tony Barbieri crashes Roy Moore rally in south Alabama
THIS PUNK WORKS FOR KIMMEL…HE'S CRASHED A LOT OF EVENTS

Roy Moore Campaign Blasts Jimmy Kimmel for Using His Paid Trickster to Disrupt Alabama Prayer Service
On Wednesday night Judge Roy Moore spoke at a prayer service in an Alabama church.
Liberals infiltrated and disrupted the prayer service.
Jimmy Kimmel sent his paid trickster Tony Barbieri to disrupt the Roy Moore PRAYER SERVICE on Wednesday night.

Barbieri dressed as a Roy Moore superfan and stood up and started screaming during a PRAYER SERVICE!
Liberals think this is funny.
http://www.thegatewaypundit.com/2017/11/boom-roy-moore-campaign-blasts-jimmy-kimmel-using-paid-trickster-disrupt-alabama-prayer-service/
Roy Moore Campaign to Jimmy Kimmel: If You Want to 'Mock Our Christian Values,' 'Come Down Here' to Alabama to 'Do It Man to Man'

The U.S. Senate campaign of Judge Roy Moore is firing back at Jimmy Kimmel and his paid trickster Rich Barbieri—also known as "Jake Byrd"—for disrupting a worship service at which Moore spoke here on Wednesday night.
"Jimmy Kimmel and the 'Hollywood elite' cross the line when they invade our churches under a disguise and attempt to make a mockery of our worship services," Drew Messer, a senior adviser to Moore, told Breitbart News on Thursday morning after the incident at the church on Wednesday night.
http://www.breitbart.com/big-government/2017/11/30/exclusive-roy-moore-campaign-to-jimmy-kimmel-if-you-want-to-mock-our-christian-values-come-down-here-to-alabama-to-do-it-man-to-man/
KIMMEL APPARENTLY ACCEPTED MOORE'S INVITATION. MAYBE HE THINKS SOMEBODY WILL ACTUALLY WATCH HIS SORRY ASS.
Jimmy Kimmel is ready to take on U.S. Senate candidate Roy Moore
Kimmel went on to reference Moore's alleged misdeeds with underage girls, saying he would meet Moore at the mall.
"We'll have a little Panda Express, and we'll talk about Christian values," Kimmel said.

http://money.cnn.com/2017/12/01/media/jimmy-kimmel-roy-moore/index.html
DOJ demands custody of Steinle killer
Trump administration moves to take case away from California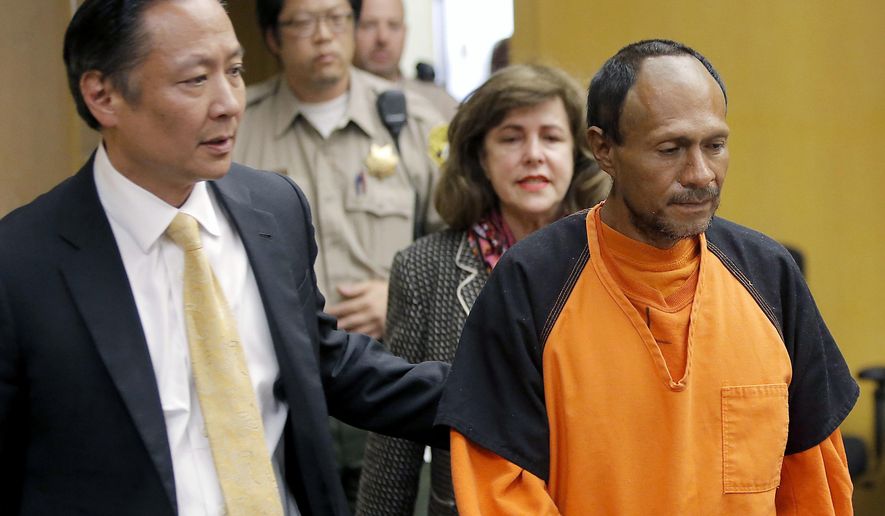 The move is aimed at taking Jose Inez Garcia Zarate away from California officials, after a jury in that state acquitted him Thursday of murder and manslaughter charges stemming from the Steinle killing.
A Justice Department official said there's an existing federal detainer requiring Garcia Zarate to be remanded to U.S. Marshals and sent to a federal court in Texas to answer for the probation violation.
https://www.washingtontimes.com/news/2017/dec/1/doj-demands-custody-steinle-killer/?utm_campaign=shareaholic&utm_medium=twitter&utm_source=socialnetwork
GOP Senate Repeals Obamacare Tax… Saves 6.7 Million Working Americans $2085 Each Year
In 2009 President Barack Obama repeatedly claimed the Obamacare surtax was not a tax.
As Americans for Tax Reform noted: Obama famously told George Stephanopoulos the Obamacare surtax was not actually a tax
"Families ought to be able to make decisions about what they want to buy and what works for them — not the government," Sen. John Barrasso (R-Wyo.) said, hailing the accomplishment.
"I believe if people don't want to buy the ObamaCare insurance, they shouldn't have to pay a tax penalty to the IRS."
THEY DIDN'T WANT TO GO HOME WITH NOTHING TO SHOW FOR A YEAR OF DOING NOTHING
http://www.thegatewaypundit.com/2017/12/victory-gop-senate-repeals-obamacare-tax-saves-6-7-million-working-americans-2085-year/

Shut up, Obama
Barack Obama today disgraced himself and the office he once held by going overseas and criticizing Our President.
This will come to bite his sycophants in the press and his loathsome Marxist supporters. And not just because feuds with President Trump usually end up worse for the experience.

"What I would say is Twitter, Facebook, WhatsApp, all these various platforms are extraordinarily powerful tools, and those tools can be used for good and they tools can be used for ill," he said.
President Trump uses his Twitter account as a laser dot to distract the simple minded.
So I am not surprised that Obama did this.
http://donsurber.blogspot.com/2017/12/shut-up-obama.html
Cop to thug who shot him: You'll need a lot of lube in prison

"You are going to need a lot of this," the officer, who was not named, said to Kevin Rojas, 21, while holding up a container of the lubricant during Rojas' sentencing, the Florida Times-Union reported.
The officer refused to comment to the newspaper when questioned about the K-Y Jelly.
Rojas was found guilty by a jury in October of attempted first-degree murder, attempted manslaughter, two counts of aggravated assault on a law enforcement officer, grand theft auto and fleeing in connection to the 2016 incident.
https://nypost.com/2017/11/30/cop-to-thug-who-shot-him-youll-need-a-lot-of-lube-in-prison/
Joy Behar and The View Audience Go Wild Over False Report Trump Directed Flynn to Contact Russians During Campaign
"Breaking news." Behar started reading the card, which relayed a (what turned out to be false) report from ABC's Brian Ross that Gen. Michael Flynn had pled guilty and was prepared to testify that President Donald Trump directed him during the presidential campaign to contact the Russians. Behar grew ecstatic as she read the report, tossing the blue card in the air in celebration

PAGING CAPTAIN BUZZKILL
"Michael Flynn promised full cooperation to the [Robert] Mueller team," Behar read in disbelief, "and is prepared to testify that, as a candidate, Donald Trump directed him to make contact with the Russians."
To this, Behar flung her arms in the air and yelled "Yes!" as the audience cheered."
Behar posted a gif of herself celebrating, "Christmas came early. Thank you, Santa!"
http://thegatewaypundit.com/2017/12/videojoy-behar-view-audience-go-wild-false-report-trump-directed-flynn-contact-russians-campaign/
Philly Lawmaker Moves To Ban Bulletproof Glass In Businesses

Kim said that he had the bulletproof glass installed after a shooting, and that it saved his mother-in-law from a knife attack.
"If the glass comes down, the crime rate will rise and there will be lots of dead bodies," he said.
Bass was more concerned about customer's feelings, and said her constituents shouldn't have to suffer the indignity of shopping through bulletproof glass.
She said that she is trying to put some type of control on these small stores, which she claimed sell booze, very little food, and caused a lot of trouble in her district.
https://www.themaven.net/bluelivesmatter/news/philly-lawmaker-moves-to-ban-bulletproof-glass-in-businesses-Saf1_mzuD0qK2UuImYTtkQ