Have that many people lost their minds? Every year it just seems to get worse. Greed overcomes every other human instinct as people lose all perspective in a quest for a cheap electronic device or a stupid toy that, made the way toys are made today, won't last a month. We have nearly all our shopping done and never left the house. Why put yourself through it? Still, there are those who revert back to the hunter-gatherer days of the neanderthal.
Grown Men Fight Over Toy Car On Black Friday
The four men seem to grapple over a cardboard box containing the toy until one man dressed in camouflage begins dragging it away. A woman convinces him to let it go, leaving the other three to continue the fight.

St. Louis Galleria Closes on Black Friday After Protesters Storm Mall
The St. Louis Galleria was shut down today on Black Friday – the biggest shopping day of the year — after Black Lives Matter protesters stormed the popular St. Louis mall.
Black lives matter protest locks down stores at Galleria Mall in #RichmondHeights #Missouri today, yelling "white silence is violence".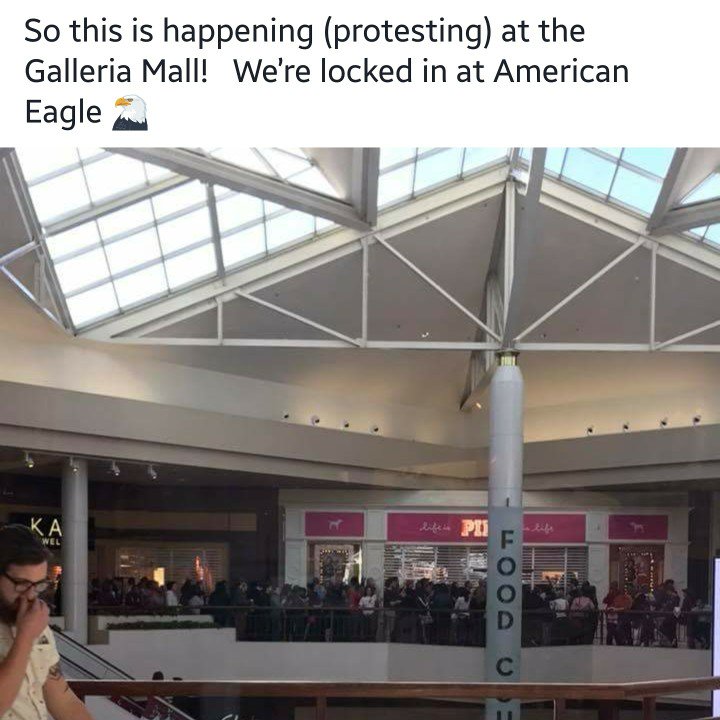 http://www.thegatewaypundit.com/2017/11/breaking-st-louis-galleria-closes-black-friday-protesters-storm-mall-video/
Democratic State Rep. Arrested In Anti-Black Friday Protest


FORMER RAPPER ELECTED BY THE SAME KIND OF VOTERS THAT ELECT MAXINE WATERS AND JOHN CONYERS TERM AFTER TERM
State Rep. Bruce Franks Jr. was among seven people arrested after they marched through the St. Louis Galleria mall, the St. Louis Post-Dispatch reports. The protesters reportedly chanted "Shut it down!" as they marched through the mall.
Franks, who was a local rapper and activist before winning election last year, was arrested last month after blocking a highway as part of anti-police protests.
http://dailycaller.com/2017/11/24/democratic-state-rep-arrested-in-anti-black-friday-protest/
SEASON'S BEATINGS: Huge Black Friday Brawl Erupts Inside Mall — Shopper Throws Shoe At Baby
A large 'Black Friday' brawl erupted inside Riverchase Galleria mall in Hoover, Alabama, late Thursday night. Female shoppers were filmed punching and kicking one another, while one threw a shoe at a baby.
Stunned witnesses laughed and recorded video on their mobile phones as police ordered them to leave the store.
The mall in the US state of Alabama had to be shut down early after multiple fights were reported, while a shooting left one person critically injured at a mall in Missouri as Black Friday shoppers showed up looking for deals.
http://thegatewaypundit.com/2017/11/seasons-beatings-huge-black-friday-brawl-erupts-inside-mall-shopper-throws-shoe-baby-video/
Black Friday Freak Outs: 2017 Edition
Black Friday always brings out crazy brawls between strangers fighting over the last marked-down item — and 2017 proved to be no different. Here are some of the craziest videos from this year's Black Friday.
Warning: The following video clips contain strong language.

This one looks like it hurt. A LOT. Two customers get into it, and one quickly throws the other into a metal shelf and walks off with the merch.
2) Steam Cleaner Tug Of War

IT TAKES A SPECIAL KIND OF SUBHUMAN TO COMMIT ASSAULT OVER A STEAM CLEANER
The manager sounds like a babysitter trying to deal with a rebellious toddler. "No. No. NO. You have to let go." Nobody gets paid enough to deal with this.
3) Black Friday Reaches South Africa – BRACE YOURSELVES!

At this store, customers don't even reach the merchandise before the melee starts.
4) Cops Break Out Tasers, Mace To Pass Out Electronics

http://dailycaller.com/2017/11/24/black-friday-freak-outs-2017-edition-video/
GOD MADE MAN IN HIS OWN IMAGE, WITH THE POWER TO REASON AND OPPOSABLE THUMBS TO SEPARATE US FROM LOWER FORMS OF ANIMAL. WATCHING THIS SHEER LUNACY YOU HAVE TO THINK TO YOURSELF: THERE BUT FOR THE GRACE OF GOD GO I.