Daily Archives:
November 25, 2017
The girls were really on a roll with this Bowl of Stupid episode! And ITA with their assessment.
Comments Off on See Which Turkey Made It Into Bowl This Week
Filed under Loose Pollen
At some point, exactly when is unknown as far as I can tell, the slime merchants who infest Washington, D.C., who laughingly refer to themselves as "representatives of the people" knew to concoct something called an Office of Compliance, funded with taxpayer dollars to pay off the victims that they pinch, paw and fondle on a regular basis. The numbers that have been made public say that 256 victims have been paid over $16 million to date.
These victims have little choice except to take the money and sign the standard 'confidentiality agreement.' If they report the molester, they get exposed, the big shot goes to trial (maybe) and gets no punishment. Meanwhile, the victim resigns/gets fired and is left with nothing and no future. The ones with the power hold all the cards. They know it, which is why they act with such blatant disregard for the laws they write to make everyone else follow.
If the Weinstein case had come up in January of 2016, Donald Trump may never have been elected president. Considering the ferocity the leftists/media/DC elite are assaulting Roy Moore, how many phony "victims" could they have created to smear Trump? That's all you would have heard about. Media whores are experts at putting pressure on republicans, regardless of how obviously unfounded the accusations may be. The abuse by the powerful of those they prey upon has been happening for a very long time and will certainly continue unabated, if unreported. As the old saying goes: power corrupts and absolute power corrupts absolutely.
The Party of Women: Dem Rep Says Sexual Misconduct Allegations Against Conyers 'Could Be Made Up'
Republicans and Democrats are in the crosshairs. Liberal media figures have also fallen. Yet, the Left is still engaging in the Bill Clinton protocol, circling the wagons and trying to downplay the accusations. Right now, Sen. Al Franken (D-MN) has four women, two of which wish to remain anonymous, alleging that he groped them.
The other Democrat in the news is Rep. John Conyers (D-MI), who has had sexual misconduct allegations lobbed against him, with financial settlements providing a paper trail of possible bad behavior.
HE PAID OFF ONE VICTIM WITH $27,000 FROM HIS BUDGET ALLOWANCE, SO BASICALLY IT CAME OUT OF YOUR POCKET, NOT HIS.
"You can't jump to conclusions with these types of things," Clyburn said, despite the documented complaints. "For all I know, all of this could be made up."
John Conyers Admits To Settling Sexual Harassment Case, Denies Wrongdoing + Charlie Rose Fired
Watch how Charlie Rose covered sexual harassment
Wait—isn't the rule that all women should be believed no matter what? Is Clyburn suggesting that some due process should be involved in these cases? Isn't this part of the "war on women"?
https://townhall.com/tipsheet/mattvespa/2017/11/23/the-party-of-women-dem-rep-says-sexual-misconduct-allegations-against-conyers-could-be-made-up-n2413302
Sex abuse allegations expose the media's hypocrisy on Trump


"Not every horny narcissist with bad judgment is named Donald Trump."
That was the actual "reportage" of New York Times reporter Glenn Thrush last year, in an article referring to the online sexual exploits of former congressman Anthony Weiner.
It appears, in retrospect, that Thrush might well have been describing himself.
http://thehill.com/opinion/international/361725-sex-abuse-allegations-riveting-the-media-have-exposed-the-industrys
Al Franken's Newest Excuse For Groping Allegations: 'I Hug People'

Democratic Minnesota Sen. Al Franken's latest excuse for the groping allegations against him is that he is a "warm person" who likes to "hug people."
Some women have found my greetings or embraces for a hug or photo inappropriate, and I respect their feelings about that. I've thought a lot in recent days about how that could happen, and recognize that I need to be much more careful and sensitive in these situations."
TRANSLATION: 'I'M NOT GOING ANYWHERE SO YOU CAN ALL GO F**K YOURSELVES.'
[CtH: Yeah, cuz "hugs" always include woodies and tongues. smh]
http://dailycaller.com/2017/11/24/al-frankens-newest-excuse-for-groping-allegations-i-hug-people/
Dem Rep: 'No Offense,' But Ethics Committee Investigations Aren't Going to Help


Rep. Kathleen Rice (D-NY) is so far the only Democratic representative brave enough to demand Rep. John Conyers's (D-MI) resign over sexual assault allegations.
"No offense," she told her colleagues, but their efforts are not going to result in any real accountability.
THE FACTS ARE DEMOCRATS HAVE NO MORALS, NEVER CLAIMED TO HAVE. FOR THE MOST PART THEIR VOTERS ONLY CARE ABOUT KEEPING THE FREE STUFF FLOWING. CIVILIZED BEHAVIOR IS NOT REQUIRED NOR EXPECTED.
[CtH: I don't EVER want to hear another word about the Roman Catholic Church's sex abuse issue.  The RCC instituted zero tolerance rules in every parish.  (Mama Buzz had to have a background check done on her before she could ASSIST in a Sunday School class room.)  AND they have OUTSIDE auditors ensuring that every part of the American Catholic Church is in compliance.]
https://townhall.com/tipsheet/cortneyobrien/2017/11/24/dem-rep-ethics-committee-investigations-are-not-going-to-help-n2413859
Have that many people lost their minds? Every year it just seems to get worse. Greed overcomes every other human instinct as people lose all perspective in a quest for a cheap electronic device or a stupid toy that, made the way toys are made today, won't last a month. We have nearly all our shopping done and never left the house. Why put yourself through it? Still, there are those who revert back to the hunter-gatherer days of the neanderthal.
Grown Men Fight Over Toy Car On Black Friday
The four men seem to grapple over a cardboard box containing the toy until one man dressed in camouflage begins dragging it away. A woman convinces him to let it go, leaving the other three to continue the fight.

St. Louis Galleria Closes on Black Friday After Protesters Storm Mall
The St. Louis Galleria was shut down today on Black Friday – the biggest shopping day of the year — after Black Lives Matter protesters stormed the popular St. Louis mall.
Black lives matter protest locks down stores at Galleria Mall in #RichmondHeights #Missouri today, yelling "white silence is violence".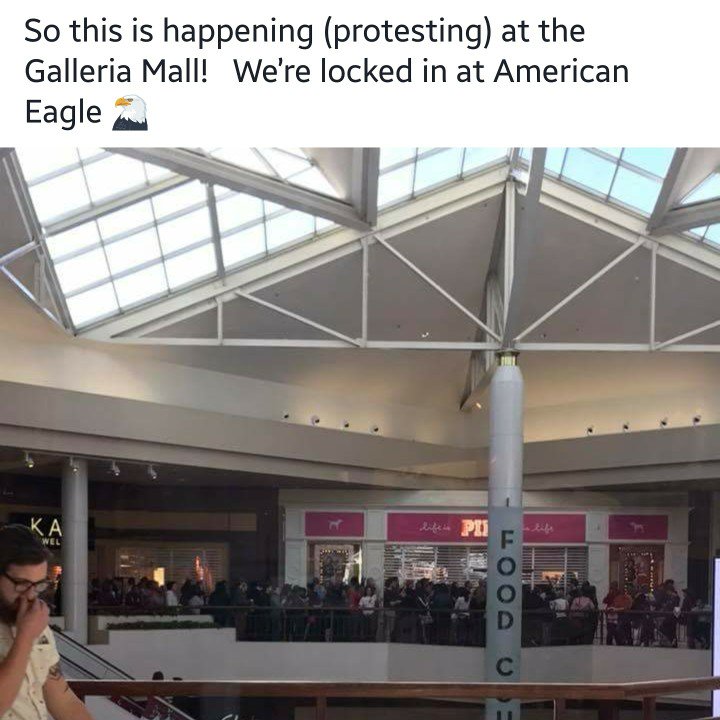 http://www.thegatewaypundit.com/2017/11/breaking-st-louis-galleria-closes-black-friday-protesters-storm-mall-video/
Democratic State Rep. Arrested In Anti-Black Friday Protest


FORMER RAPPER ELECTED BY THE SAME KIND OF VOTERS THAT ELECT MAXINE WATERS AND JOHN CONYERS TERM AFTER TERM
State Rep. Bruce Franks Jr. was among seven people arrested after they marched through the St. Louis Galleria mall, the St. Louis Post-Dispatch reports. The protesters reportedly chanted "Shut it down!" as they marched through the mall.
Franks, who was a local rapper and activist before winning election last year, was arrested last month after blocking a highway as part of anti-police protests.
http://dailycaller.com/2017/11/24/democratic-state-rep-arrested-in-anti-black-friday-protest/
SEASON'S BEATINGS: Huge Black Friday Brawl Erupts Inside Mall — Shopper Throws Shoe At Baby
A large 'Black Friday' brawl erupted inside Riverchase Galleria mall in Hoover, Alabama, late Thursday night. Female shoppers were filmed punching and kicking one another, while one threw a shoe at a baby.
Stunned witnesses laughed and recorded video on their mobile phones as police ordered them to leave the store.
The mall in the US state of Alabama had to be shut down early after multiple fights were reported, while a shooting left one person critically injured at a mall in Missouri as Black Friday shoppers showed up looking for deals.
http://thegatewaypundit.com/2017/11/seasons-beatings-huge-black-friday-brawl-erupts-inside-mall-shopper-throws-shoe-baby-video/
Black Friday Freak Outs: 2017 Edition
Black Friday always brings out crazy brawls between strangers fighting over the last marked-down item — and 2017 proved to be no different. Here are some of the craziest videos from this year's Black Friday.
Warning: The following video clips contain strong language.

This one looks like it hurt. A LOT. Two customers get into it, and one quickly throws the other into a metal shelf and walks off with the merch.
2) Steam Cleaner Tug Of War

IT TAKES A SPECIAL KIND OF SUBHUMAN TO COMMIT ASSAULT OVER A STEAM CLEANER
The manager sounds like a babysitter trying to deal with a rebellious toddler. "No. No. NO. You have to let go." Nobody gets paid enough to deal with this.
3) Black Friday Reaches South Africa – BRACE YOURSELVES!

At this store, customers don't even reach the merchandise before the melee starts.
4) Cops Break Out Tasers, Mace To Pass Out Electronics

http://dailycaller.com/2017/11/24/black-friday-freak-outs-2017-edition-video/
GOD MADE MAN IN HIS OWN IMAGE, WITH THE POWER TO REASON AND OPPOSABLE THUMBS TO SEPARATE US FROM LOWER FORMS OF ANIMAL. WATCHING THIS SHEER LUNACY YOU HAVE TO THINK TO YOURSELF: THERE BUT FOR THE GRACE OF GOD GO I.