It seemed an appropriate title since most of the ideas my brain concocts are crap anyway. Being heavily medicated, this diatribe will likely ramble from one drug-addled thought to another.
It is heartbreaking to watch what's being done to Judge Moore. The accusers come crawling out from under their rocks to make scurrilous accusations with no proof. They don't need any. The republican standard is they must be able to prove their innocence beyond a doubt, otherwise they're assumed guilty.
My prediction: despite the massive assault on a good man, I think he will prevail December 12. This will turn out to be an exercise in futility because there's no way that prick McConnell is going to seat him. The fix has been in since he beat Mitchy's boot licker Luther Strange in the republican primary. He's enjoying the full cooperation of his democrat friends and there's no way he'll be allowed into their club.
Moore is down to having one supporter in the senate: Rand Paul. Cruz pulled his endorsement Monday and I'm not going to bother listing all the other who have run like the yellow dog cowards they are. This is nothing new for republicans. In 1973 Nixon may have survived the Watergate mess, but his own party leaders slithered in to the Oval Office and said he was going to face impeachment and they weren't going to stop it.
When Newt Gingrich and the House GOP impeached that sociopathic rapist Bill Clinton, Senate Majority leader Trent Lott told them not to bother bringing it to the senate holy chambers because they didn't want anything to do with it. The democrats had earlier whined that he should be merely reprimanded… made to stand in the well of the senate while people shook their fingers and scolded him for being so naughty. When you're dealing with a sociopath there's nothing you can do or say that would affect them. Like a mass murderer standing before a judge, staring, cold as ice, no feeling whatever. The GOP only got 47 votes to convict. They lost a number of their own party. I can't recall, but I'd be willing to bet these two both voted no:

Deliberations in the Menendez trial continue today. They cannot come to a decision on any of the 12 counts against him. My prediction: there's a democrat plant on the jury who will not vote to convict on a single charge, regardless of the evidence. The jury will hang, a mistrial will be declared. This smarmy little punk will strut back into the senate chambers to a standing ovation from his buddies. He'll proudly announce: "They didn't lay a glove on me!!"


Jury Deadlocked in Democrat Sen. Menendez Corruption Case, Deliberations to Continue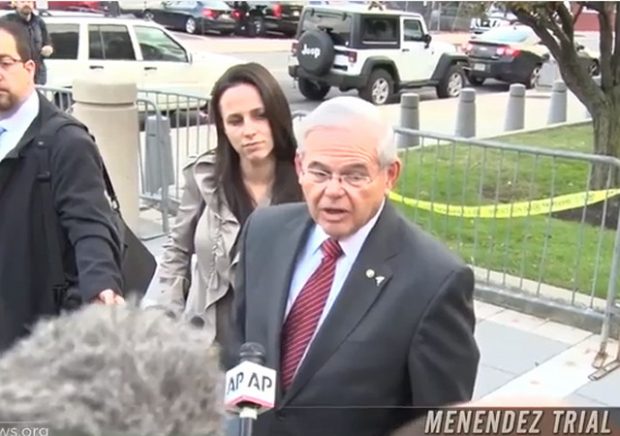 YOU HEARD IT HERE FIRST… HE'S GOING TO GET AWAY WITH IT. DEMOCRATS ALWAYS DO.
https://legalinsurrection.com/2017/11/jury-deadlocked-in-democrat-sen-menendez-corruption-case-deliberations-to-continue/
Trump White House officials are considering replacing Jeff Sessions with Judge Roy Moore, installing the Attorney General back to his former Senate seat.
The Daily Caller reported a DOJ official and another source close to Sessions both shot down the idea that the attorney general wants to return to his Senate seat.
Sessions has made noises about appointing a second special counsel to investigate the Clintons and Uranium One.
My money says it will not happen and he wants to remain AG so he can better protect his democrat colleagues.


I find it depressing thinking of how many hours we spent doing research at the library for term papers, doing math problems where the teacher demanded that you SHOW YOUR WORK. All that knowledge, all that discipline. Nowadays any 12 year old can be just as informed by googling every damn thing they need to know. No muss, no fuss. I recall some college snowflakes demanded they be given their final exams to take home and work on where they can get all the answers and simply copy and paste. No imagination or skill necessary. There's an awful lot of people on the internet, hiding behind their monitors, who pretend they know sheep shit from apple butter, when they'd be exposed as babbling morons without Google to give them all the answers.
This is JJ Watt,defensive end for the Houston Texans.
If you want to donate to JJ Watt's Hurricane Harvey Relief Fund:
Kaepernick is the piece of garbage that started the whole kneeling for the National Anthem last year. The league did nothing about it and it has festered this year until viewership dropped precipitously. And he still doesn't have a job.
GQ Names Kaepernick 'Citizen of the Year.' Seriously.


The best part of this editorial tongue bath is the "ten-person team of his closest confidants" who briefly tell readers just how awesomely woke and caring and brave and caring and righteous and caring this journeyman QB-turned SJW all-star really is.
https://www.newsbusters.org/blogs/culture/matthew-philbin/2017/11/13/gq-names-kaepernick-citizen-year-seriously