It is at once sickening and maddening that when anything happens you know exactly how the left/media will react.  The only reason the democrats have remained a viable political party for as long as they have is they turned our schools into indoctrination centers turning out socially engineered automatons who have no knowledge of America's history and are barely capable of independent thought.   They only see the headline in any story and accept whatever they are told without question.
Someone once said the ill-educated are more easily commanded.
You just knew once this woman came forward making accusations against Judge Moore, an honorable and Godly man, that the media would grab it like a coyote grabbing a dead ground squirrel and rub their noses in it to spread the smell.  The newspapers and airwaves were blitzed with scurrilous accusations that many people believed, even if the facts were made up from whole cloth.  Meanwhile there's a trial going on right now of a senator charged with 22 counts of corruption and sex trafficking. No one has heard a word of it. The difference is the senator has a 'D' after his name and that makes all the difference,since they are held to no standards of morality.
CtH: I mentioned the Menendez trial and Dearest had literally never heard of it.  He likes to listen to Rush and Laura Ingraham, so is usually up on this stuff, but he's been really busy lately.  (Hurrah for the Trump Economy!)
The DC Swamp is an exclusive society that does not accept outsiders. They despise Donald Trump for invading their little clique and want to deprive him of anyone who would not sell him out. They are furiously attempting to ruin Judge Moore and can only do it with the complicity of their republican co-conspirators.
McConnell Implies He May Not Seat Roy Moore if He Wins Election
RINO swamp creatures such as Mitch McConnell are so afraid that Roy Moore will win the Alabama Senate seat that they are pulling out all the stops to block him.  And to hell with the voters.

Republican senators and their advisers, in a flurry of phone calls, emails and text messages, discussed fielding a write-in candidate, pushing Alabama's governor to delay the Dec. 12 special election or even not seating Mr. Moore at all should he be elected. In an interview, Senator Mitch McConnell of Kentucky, the majority leader, declined to say whether he would agree to seat Mr. Moore should he win.
http://www.thegatewaypundit.com/2017/11/swamp-creature-mcconnell-implies-may-not-seat-roy-moore-wins-election/
Would the Senate invoke Article I, Section 5, clause 2, to "expel" Senator Roy Moore?
[CtH: I've seen stories about how Democrat senators have no intention of ousting Menendez EVEN IF HE'S CONVICTED!]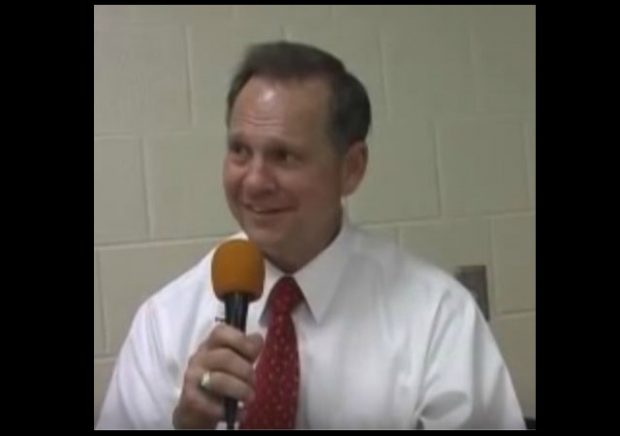 The WaPo article does not say how WaPo found these specific women, it only says it heard general rumors:
"While reporting a story in Alabama about supporters of Moore's Senate campaign, a Post reporter heard that Moore allegedly had sought relationships with teenage girls. Over the ensuing three weeks, two Post reporters contacted and interviewed the four women."
Alabama is a pretty big state, it would be interesting to know how WaPo identified four women out of millions for a story that has not been uncovered by any of Moore's many prior political opponents.
Let's hope more evidence comes out that sheds light on who is telling the truth, and that it comes out before the election.
https://legalinsurrection.com/2017/11/would-the-senate-invoke-article-i-section-5-clause-2-to-expel-senator-roy-moore/
John McCain @SenJohnMcCain
The allegations against Roy Moore are deeply disturbing and disqualifying. He should immediately step aside and allow the people of Alabama to elect a candidate they can be proud of.  1:44 PM – Nov 9, 2017
[CtH: Yo, Mitt.  Would you have stepped aside if Democrat operatives had made up crap about your past behavior?]
Lindsey Graham Calls for Roy Moore to Step Aside but Defends Bob Menendez

All of the ALLEGATIONS against Moore date from the late 1970s and early 1980s — more than 30 years ago.
Compare this to the allegations against New Jersey Democrat Sen. Bob Menendez, who is ON TRIAL for corruption and sex trafficking.
Lindsey Graham says Moore should be dealt with "harshly", but that Menendez is an "honest" and "honorable man."
http://www.lifezette.com/polizette/lindsey-graham-calling-moore-step-aside-one-week-went-nj-testify-dem-bob-menendez/
Judge Roy Moore: Establishment Republicans, Democrats, Washington Post May Have Colluded in Smear


Well I think they should see it how it really is, and that's 40 years I've been in the public eye and serving as a deputy prosecutor—as a judge, I've been a chief justice twice. I've run a Foundation for Moral Law, and now after 40 years—four weeks out from an election, not even mentioned in a primary, they bring charges and try to back them up with other things that sound bad?
http://www.breitbart.com/big-government/2017/11/10/judge-roy-moore-establishment-republicans-democrats-washington-post-may-have-colluded-in-smear/
Moore refused debate because of Dem rival's stance on 'transgenderism'


"The transgenders don't have rights," Moore said Wednesday during a press conference. "They've never been denominated as having rights by the U.S. Supreme Court."
Moore also attacked Jones Wednesday for supporting allowing transgender individuals to serve in the military.
http://thehill.com/homenews/campaign/359871-moore-i-refused-to-debate-democratic-opponent-because-of-stance-on
ABC's Raddatz Disgusted by Skeptics of Allegations Against Roy Moore


On Sunday's Good Morning America, ABC's Martha Raddatz used her analysis to express her frustration and contempt for such people. "I don't really know what those voters are waiting for," she huffed.
Raddatz was dumbfounded that there were people who didn't believe the allegations. And her contempt was visible as she talked down to them and about their way of thinking:
But I think, generally, you hear, you know, we don't know and it was 40 years ago. Sort of the things that Roy Moore was saying. That "if," "if" he did that. And I don't know really how you take this further. You've got four women on the record who The Washington Post sought out.
https://www.newsbusters.org/blogs/nb/nicholas-fondacaro/2017/11/12/abcs-raddatz-disgusted-skeptics-allegations-against-roy-moore
CtH: Let's ask Kathleen Willey, Juanita Broaddrick, Carolyn Moffet, Christy Zercher, Eileen Wellstone, and Sandra Allen James about all the support people like you gave them, shall we, Martha?

http://dailycaller.com/2016/10/09/meet-bill-clintons-accusers/
Van Hollen Won't Say Whether Menendez Should Step Down if Convicted By Jury
[CtH: I used to have such high regard for George and Barbara and George and Laura Bush. So far, Laura hasn't (to my knowledge) done anything to tarnish that. But I heard that some years ago, Barbara said Sarah Palin should shut up and go back to Alaska. I hoped it was just a scurillous rumor. But now it seems the Georges are bad mouthing Trump. I was impressed during all those years they did not stick their noses into public affairs. So WTH are they doing NOW, shooting off their mouths about a REPUBLICAN president?! I'm so disappointed.]
NOW A WORD FROM AMERICA'S MOST FAMOUS HE/SHE,COMPLIMENTS OF THE AMERICAN TAXPAYER