Daily Archives:
November 6, 2017
This post will likely meander from here to there, occasionally making sense, but most of the time not. In other words, the usual babble.
Anti-Trump Prince Alwaleed – a BIG Clinton DONOR – is Jailed in Corruption Sweep in Saudi Arabia
In December 2015 Saudi Prince Alwaleed bin Talal slammed Donald Trump for proposing a ban on Muslim immigrants in the US until the government could alleviate security concerns.

Prince Alwaleed bin Talal is a top Clinton Foundation donor.
Campus Watch reported:   Some are upset that the Clinton Foundation accepted donations from Middle Eastern countries with terrible records on women's rights. In "Hillary Clinton Faces Test of Record as Women's Advocate," the New York Times writes:
Saudi Arabia has been a particularly generous benefactor to the Clinton Foundation, giving at least $10 million since 2001, according to foundation disclosures. At least $1 million more was donated by Friends of Saudi Arabia, co-founded by a Saudi Prince.

On Sunday Prince Alaweed was arrested in a corruption sweep.
http://thegatewaypundit.com/2017/11/anti-trump-saudi-prince-alwaleed-clinton-donor-jailed-corruption-crackdown/
Sen. Rand Paul Assaulted by Next-door Neighbor
"Paul told troopers that his neighbor came onto his property and tackled him from behind, forcing him to the ground and causing pain."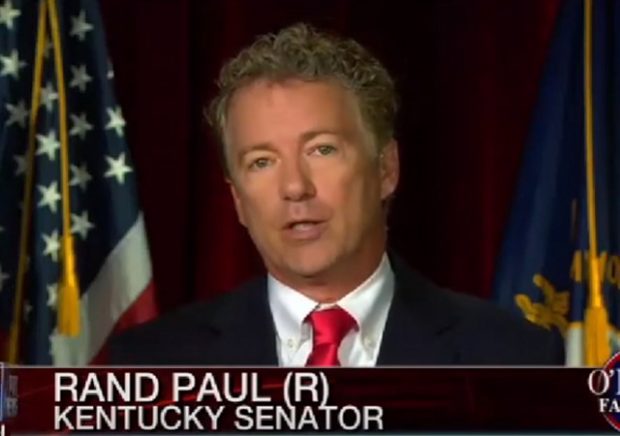 THE SENATOR WAS ASSAULTED WHILE MOWING HIS LAWN. CAN YOU IMAGINE ANY DEMOCRAT ACTUALLY DOING YARD WORK? MOST OF THEM HAVE ILLEGALS DOING THEIR LANDSCAPING.
"Senator Paul was blindsided and the victim of an assault. The assailant was arrested and it is now a matter for the police," says Kelsey Cooper, State Communications Director for Office of U.S. Senator Rand Paul (R-KY).
[CtH: I read on Facebook that Rand suffered serious rib fractures, not just cracked, but actually broken.]
Warren County Regional Jail has the spelling listed as Rene Albert Bousher.

https://legalinsurrection.com/2017/11/sen-rand-paul-assaulted-by-next-door-neighbor/
Alabama Fan Puts Cigarette In Face Of Cop, Gets Dragged Out

One Alabama fan decided to try and press her luck Saturday night at Bryant-Denny stadium by enjoying a smoke break from her seat when a police officer asked her to put it out.
Sarcastically, she puts the cigarette up to the officer's face, almost as if she was offering him a drag.
The officer was not amused, as he brought out the handcuffs immediately.
SHE WAS TAKEN DOWN HARD. LUCKILY SHE'S WHITE — OTHERWISE THE OFFICERS WOULD BE FORCED TO UNDERGO SENSITIVITY TRAINING.
http://www.wafb.com/story/36768707/watch-alabama-fan-arrested-after-putting-cigarette-in-officers-face
Trump greets Japanese emperor with a handshake and nod – but no bow

U.S. President Donald Trump greeted Japanese Emperor Akihito and Empress Michiko on Monday with a genteel handshake and nod, but no bow, avoiding the pitfall of U.S. President Barack Obama who was criticized at home for his deep bow to the monarch.
Hillary Clinton shook hands and air-kissed the empress on both cheeks, then took her hand as they entered the palace when she met the royal pair as secretary of state in 2011, a month or so after the triple disasters of an earthquake, tsunami and nuclear meltdown hit northeastern Japan in March of that year.
http://www.msn.com/en-us/news/world/trump-greets-japanese-emperor-with-a-handshake-and-nod-but-no-bow/ar-AAuubvt?li=BBnbfcL&ocid=UE12DHP
Democrats' civil war isn't bringing them closer to understanding why they lost

Much of the base wants to go "full Bernie," and embrace free college and national health insurance. Yet this ignores the fact that Bernie Sanders did so well in the primaries mainly because Clinton was the same horrible candidate she's always been.
This wing of the party thinks President Barack Obama was too centrist. Hmm: Is that why the party lost 14 governorships plus nine Senate and 60-plus House seats on his watch?
http://nypost.com/2017/11/05/democrats-civil-war-isnt-bringing-them-closer-to-understanding-why-they-lost/
Shutdown threat growing over immigration fight

Democrats believe they have leverage to demand an immigration deal going into the end-of-year negotiations because GOP leadership will likely need their votes to keep the government open.
They are signaling, despite the decision from the president, that they will keep DACA in the December talks until Republicans show they can pass a spending bill on their own.
"Unless Republicans can keep the government open without Democratic votes, this is not their decision to make. I have yet to see any evidence that they will be able to do that," said Rep. Joseph Crowley (D-N.Y.), the chairman of the House Democratic Caucus.
http://thehill.com/homenews/senate/358718-shutdown-threat-growing-over-immigration-fight
Anthony Weiner to begin prison sentence for sexting conviction

MEANWHILE BOWE BERGDAHL IS HAVING A BEER AT THE BOWLING ALLEY.
Former Rep. Anthony Weiner, D-N.Y., will begin his 21 month prison sentence on Monday after being found guilty of sexting a 15-year-old girl.  Weiner, 53, was sentenced in September after court papers showed that he repeatedly encouraged an underage girl to undress and fondle herself over Skype, The Daily News reported.
http://www.foxnews.com/politics/2017/11/06/anthony-weiner-to-begin-prison-sentence-for-sexting-conviction.html
Nancy Pelosi Asked About DNC Rigging Primary For Hillary: "I'm Not Interested In What Went On Within The DNC"
Donna Brazile Working As DNC Chair Was Worse Than Hurricane Katrina
Paul Ryan: We Will Not Interfere With Russia Investigation
Democrats Drive Toward the Cliff and Hit the Gas
We've long called the GOP "The Stupid Party," and it certainly deserves the nickname, but what's the right family-friendly adjective for the Democrat Party? "The Moronic Party?" "The Mind-Bogglingly Nuts Party?" What moniker best reflects a party you dare not trust with power? These people are to governing as Kevin Spacey is to babysitting.
https://townhall.com/columnists/kurtschlichter/2017/11/06/democrats-drive-toward-the-cliff-and-hit-the-gas-n2405198
SPOILER ALERT: TOMORROW IS THE VIRGINIA GUBERNATORIAL CONTEST. I HAVE SOME THINGS CACHED TO POST ABOUT IT.