Would that it were true.

The complicit media still steadfastly refuses to acknowledge that the democrats and the Clinton campaign committed multiple felonies in their quest to win the presidency/destroy Donald Trump with the use of a phony dossier, paid for by the DNC and the Clinton's which was then used to obtain legal/illegal FISA warrants to unlawfully investigate people in Trump's orbit. Will anybody pay a price for these illegal acts of subversion and, in the case of the uranium sellout, treason? They will not. We've known how completely corrupt the Clintons are, have been for decades, and nothing has ever touched them. They are, for lack of a better term, above the law.
Clinton Campaign Lied About Funding the Trump Dossier
http://www.whitehousedossier.com/2017/10/25/clinton-campaign-lied-funding-trump-dossier/
Clintons, DNC, FBI, & Media All Found Colluding With Russia Against Trump

Multiple media outlets now reporting that the Hillary Clinton campaign coordinated with Fusion GPS, a D.C. based political opo research firm, to create and then distribute the infamous "Trump dossier" that attempted to spread salacious fabrications against Donald Trump and his campaign. This false dossier was then used to wage the equally false Trump-Russia investigation that is still ongoing in Congress.
Whispers indicate many high-placed figures in the Establishment Media already knew this. Not only did they refuse to report on it, but they knowingly continued reporting on the false premise of the Trump-Russia investigation
http://dcwhispers.com/breaking-clintons-dnc-fbi-media-found-colluding-russia-trump/#FkuXXM0moibLXImd.99
Why doesn't Hillary's 'dossier' trick count as treason?

Just last summer, when it was reported that Donald Trump Jr. had met with a Kremlin-linked Russian lawyer who claimed to be in possession of damaging information about Clinton, there was widespread condemnation and shouts of treason. But Trump Jr. did not seek out, hire anyone, pay for, or accept the information.
The Clinton campaign did all of that, then leaked the fake dossier to their friends in the pro-Clinton, anti-Trump media, which ignored the tainted source and reported on it gleefully. Then the Obama administration used it to justify a FISA warrant to tap a Trump adviser.
http://nypost.com/2017/10/25/why-doesnt-hillarys-dossier-trick-count-as-treason/
When the hunters become the hunted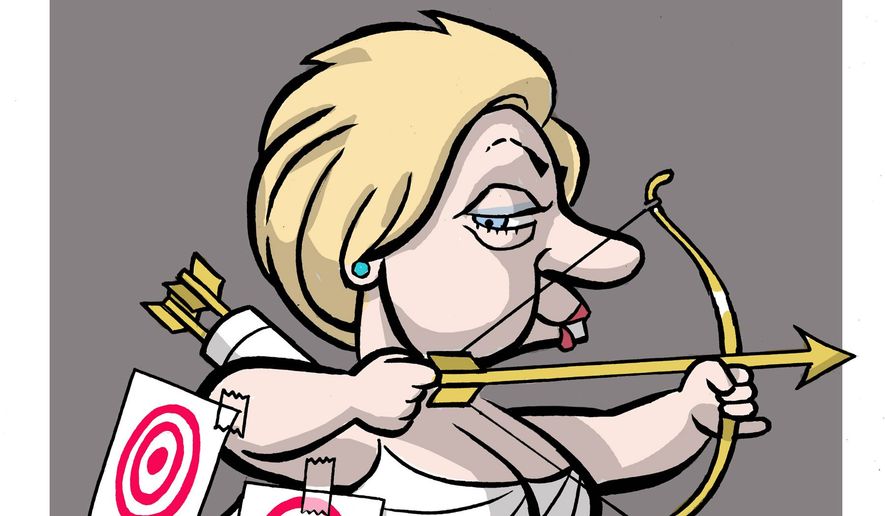 Democrat critics of Donald Trump LOVED Robert Mueller's investigation into Russian interference in the 2016 election.  They were sure it would prove Russia colluded with the Republicans to wreck Hillary's bid for the White House.  They sniggered about how many more days Donald Trump would last before he was impeached.
It's not quite working out that way as Hillary moves to the center of Mueller's search for a Russian connection.
http://www.washingtontimes.com/news/2017/oct/25/hillary-clinton-joins-mueller-investigation-into-r/
Tammy Bruce: CNN's latest, desperate attempt to hammer Trump is mind-boggling

Reaching deep in their drawer of smug, CNN unleashed a "Facts First" initiative, starting with an ad featuring an apple, with a voice-over warning viewers that some awful, yet unnamed, person or network is trying to convince you the apple is a banana.
What CNN reveals with this abject sanctimony is their contempt for the viewers themselves
This is 30 seconds of CNN condescendingly treating news consumers as idiots, unable to judge for themselves. Think about this: Someone at CNN thought it would be a great idea to suggest people who don't trust CNN are either brainwashed or just plain stupid.
http://www.foxnews.com/opinion/2017/10/25/tammy-bruce-cnns-latest-desperate-to-hammer-trump-is-mind-boggling.html
DOJ Lifts Gag Order: FBI Informant Can Speak About Clinton's Uranium One Deal


I WOULDN'T WANT TO BE THIS WITNESS. PEOPLE TESTIFYING AGAINST THE CLINTONS TEND TO MEET UNTIMELY ENDS. THAT'S NOT HYPERBOLE, THAT'S A FACT.
Before the Obama administration approved a controversial deal in 2010 giving Moscow control of a large swath of American uranium, the FBI had gathered substantial evidence that Russian nuclear industry officials were engaged in bribery, kickbacks, extortion and money laundering designed to grow Vladimir Putin's atomic energy business inside the United States, according to government documents and interviews.
https://townhall.com/tipsheet/katiepavlich/2017/10/26/doj-lifts-gag-order-fbi-informant-can-speak-about-uranium-one-deal-n2400446
Democrats' Russia Narrative Spiraling Out Of Control


Prominent Democrats are now scrambling to distance themselves from the revelations. The DNC released a carefully-worded statement meant to distance current party leader from the dossier. The "new leadership" of the DNC, the statement said, was not involved with the dossier.
[CtH: Rats.  Sinking ship. ::snigger::]
http://dailycaller.com/2017/10/25/democrats-russia-narrative-spiraling-out-of-control/
CHECK THE COMMENTS…YOU MIGHT FIND SOMETHING INTERESTING. STRANGER THINGS HAVE HAPPENED.