In retrospect, I managed to survive more than the first 60 years of my life without Facebook. To date, I've sent one text in my entire life. I don't tweet, snapchat, or instagram, and I've yet to feel the need to take a picture of myself. My phone flips and I only carry it while I'm working. I've been spending a lot of time watching videos of old songs I remembered from my wasted youth on YouTube and commenting on sports blogs. I even learned how to fillet a catfish.
Trump plan promises huge tax cuts, but big questions remain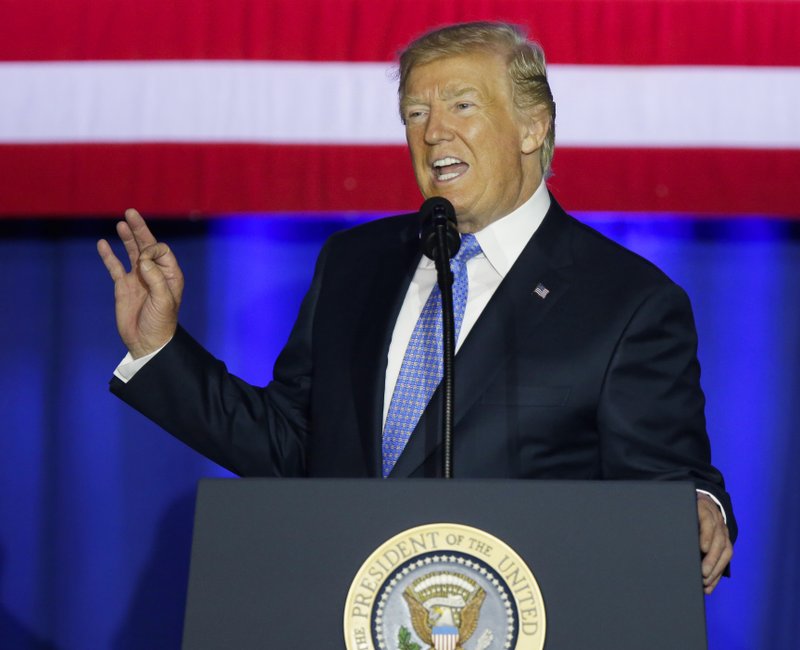 Trump declared repeatedly the plan would provide badly needed tax relief for the middle class. But there are too many gaps in the proposal to know how it actually would affect individual taxpayers and families, how it would be paid for and how much it might add to the soaring $20 trillion national debt.
WHY IS IT WHEN A REPUBLICAN PROPOSES CUTTING TAXES THE LEFT SCREAMS: "HOW ARE WE GOING TO PAY FOR IT??" YET, WHEN THEY SHOVE TAX INCREASES DOWN THE MIDDLE CLASS'S THROATS, THEY NEVER ASK HOW THE PEOPLE WILL PAY FOR IT?
[CtH: They also never factor in how much increased business and more jobs stimulated by the cuts will increase tax income.]
https://apnews.com/1e6f32b534fc4b7883642a3e58bf547f/Trump-plan-promises-huge-tax-cuts,-but-big-questions-remain
Trump tax plan eliminates big perk for high-tax states


President Trump will release a sweeping plan Wednesday to cut taxes and simplify the tax code that will eliminate the deduction for state and local taxes — a move that Gov. Andrew Cuomo has warned would be a "death blow" for New York.
[CtH: Cuomo and his Democrat cronies have been trying to kill New York for decades. And since when do Democrats care about rich people?  Aren't the rich not supposed to get deductions in their world, cuz it's not FAIR … or something?]
Repealing it would increase federal revenue by $1.3 trillion over the decade, according to the Tax Policy Center.  But it would also slam high-income New Yorkers.  Manhattan leads the way nationally in taking the deduction, with residents writing off an average of $24,898 on their federal returns.  Deductions would remain for mortgage interest and charitable contributions. Also, the standard deduction would nearly double to $12,000 for individuals and $24,000 for married couples.
http://nypost.com/2017/09/27/trump-tax-plan-eliminates-big-perk-for-high-tax-states/
Schumer: Trump's Tax Plan 'Socks it to the Middle Class'
[CtH: I don't believe a word that comes out of this man's mouth.]
Trump: 'Democrats Don't Want Massive Tax Cuts'

While some Democrats are already working with the president, a coalition of roughly 45 Democrats in the Senate, including Senate Minority Leader Chuck Schumer, could give the administration trouble going forward. This group has promised to reject any bill that cuts taxes on the wealthy.
[CtH: So they're against increasing taxes on wealthy New Yorkers AND decreasing taxes on wealthy Americans? Oooookay.]
http://dailycaller.com/2017/09/28/trump-democrats-dont-want-massive-tax-cuts/
Michelle Obama: Women Who Didn't Vote for Hillary Clinton 'Voted Against Their Own Voice'

She continued, "It doesn't say as much about Hillary and everybody is trying to wonder, 'Well what does it mean for Hillary?' Well no, what does it mean for us, as women, that we look at those two candidates and many of us said, 'That guy? He's better for me. His voice is more true to me.' Well, to me that just says you don't like your voice. You like the thing we're told to like—the voice we are told we are supposed to like. You bought into that."
[Cth: Pardon my French, but … bullshit.  You don't know diddly DAMN about my "voice."]
http://www.breitbart.com/video/2017/09/27/michelle-obama-women-didnt-vote-hillary-clinton-voted-voice/
Chuck Todd: Roy Moore 'Doesn't Appear to Believe in the Constitution as It's Written'
For any non-revisionist individual who's read the Constitution or commentaries on it, they would know that Todd's slam against Moore is pure and utter fake news. Why? It's because the Constitution ensures that our God-given rights aren't hinged upon by the government.
https://www.newsbusters.org/blogs/nb/curtis-houck/2017/09/27/chuck-todd-roy-moore-doesnt-appear-believe-constitution-its-written
MSU Female Police Chief Defends Calling Kneeling NFL Players "Ingrates" and "Degenerates"

[CtH: You go, girl!  How about THIS woman's voice, Mooch? If you think a female POLICE CHIEF just thinks and votes the way some white man tells her to, then you're as dumb as I've always suspected.]
http://www.thegatewaypundit.com/2017/09/msu-female-police-chief-defends-calling-kneeling-nfl-players-ingrates-degenerates-video/
Jane Fonda Snaps at Megyn Kelly for Asking Plastic Surgery Question
"You've been an example to everyone in how to age beautifully and with strength and unapologetically," Kelly told Fonda.
She should have stopped there, but Kelly continued, "You admit you've had work done, which I think is to your credit, but you look amazing… I read that you said that you felt you're not proud to admit that you've had work done. Why not?"
"We really want to talk about that now?" Fonda sniped, looking genuinely perplexed.
[CtH: Well, yes, actually.  Especially, given that you've made a ton of money off your health & fitness products!]
http://www.msn.com/en-us/movies/celebrity/jane-fonda-snaps-at-megyn-kelly-for-asking-plastic-surgery-question/ar-AAsxdvZ?li=BBnb7Kz&ocid=UE12DHP
Maxine Waters: Black women can get Trump out of office

"Black women, because we have evolved with strength and voting power and economic power, this is a special moment in the history of black women," Waters told The Root.
[CtH: Maxine, Democrats do NOTHING for blacks.  Every important initiative I've ever heard of was proposed by Republicans, opposed by Democrats, and voted in by a Republican majority.]
http://thehill.com/homenews/house/352803-maxine-waters-black-women-can-get-trump-out-of-office
Dems cautious but hopeful in Ala. after Moore win

YEAH, GOOD LUCK WITH THAT
Democrats are cautiously hopeful that controversial former judge Roy Moore's GOP primary victory in Alabama on Tuesday has created the once-in-a-lifetime opportunity for a competitive Senate race in the deep-red state.
http://thehill.com/homenews/campaign/352858-dems-cautiously-hopeful-after-moores-alabama-win
THEY WANT TO BEAT JUDGE ROY WITH THIS CHUMP
Democratic Senate Candidate in Alabama Calls for No Restrictions on Abortion
Clemson Student Leaders Refuse To Stand For Pledge Of Allegiance
Anyone else remember the days when the left told us dissent was the highest form of patriotism?