Neither am I. It's noon as I'm writing this and my team's game has just started. All anybody has talked about the last two days is Trump commenting somebody should fire these overpaid thugs, and of course the entire left has jumped all over him. It started with Colon Crappernuts, who staged his own little protest and, like the sheep they are, the rest of the homeys have followed. The billionaire owners have either sided with the players or are too weak kneed to speak out.
It Begins: Democrat Calls on All Football Players to Disrespect US Flag and Kneel During Anthem
The crowd went wild after Trump said, "Wouldn't you love to see one of the NFL owners, when someone disrespects our flag, to say 'get that son of b*tch off the field right now! Out! He's fired! He's fired!"
The crowd erupted into cheers and started chanting, "USA! USA! USA!"

http://www.thegatewaypundit.com/2017/09/begins-democrat-calls-football-players-disrespect-us-flag-kneel-anthem/
NFL Commissioner Roger Goodell's ironic response to Trump backfires; shows he is indeed a coward
In a strong presumptive response to President Trump's comments Friday night about the cowardliness of NFL owners who won't stand up to protesting players, the NFL isn't holding anything back.
Commissioner Roger Goodell said in a statement on Saturday that the comments were divisive and showed an "unfortunate" lack of respect for the organization.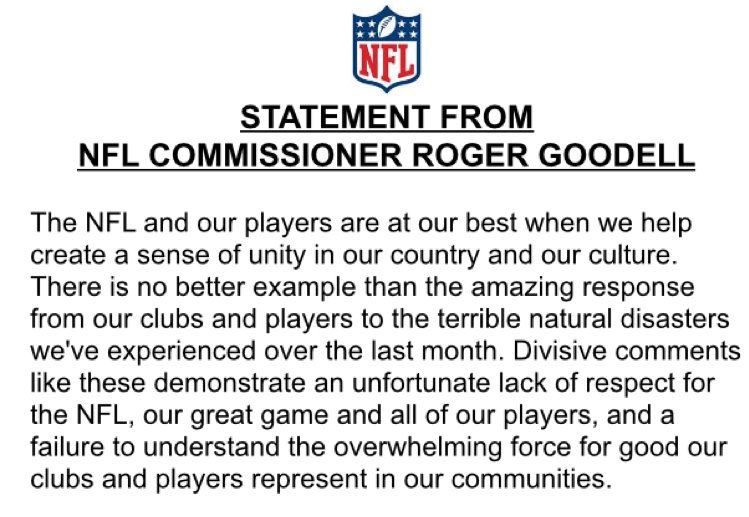 http://www.bizpacreview.com/2017/09/23/nfl-commissioner-roger-goodells-ironic-response-trump-backfires-shows-indeed-coward-539573
Golden State Warriors reject White House invitation after Trump rescinds offer to Stephen Curry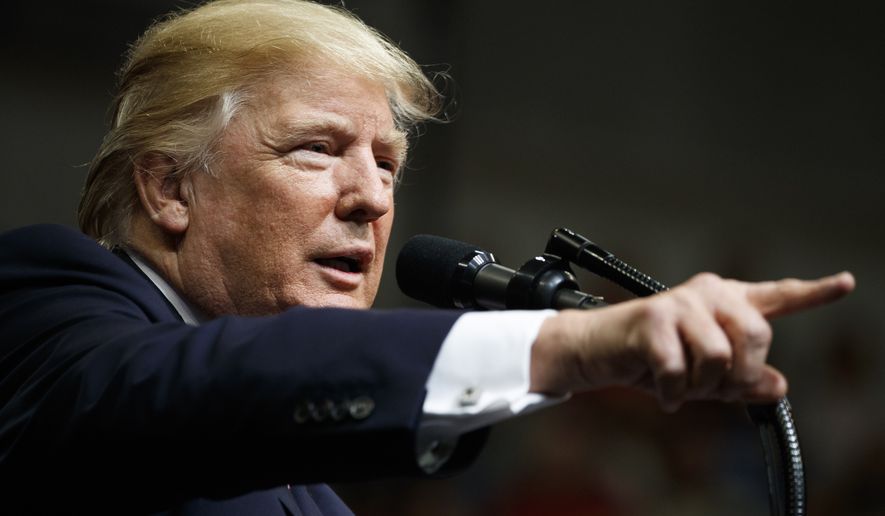 "Going to the White House is considered a great honor for a championship team. Stephen Curry is hesitating, therefore invitation is withdrawn!" Mr. Trump tweeted Saturday morning.
None of the Warriors plan to visit the White House now, the team responded in an afternoon statement.
http://www.washingtontimes.com/news/2017/sep/23/golden-state-warriors-reject-white-house-invitatio/?utm_source=RSS_Feed&utm_medium=RSS
LeBron James Slams Donald Trump: 'Going to White House Was a Great Honor Until You Showed Up!'

James jumped to his Twitter account on Saturday morning to slam the president, saying, "U bum @StephenCurry30 already said he ain't going! So therefore ain't no invite. Going to White House was a great honor until you showed up!"
http://www.breitbart.com/sports/2017/09/23/lebron-james-slams-donald-trump-going-to-white-house-was-a-great-honor-until-you-showed-up/
Steelers stay in the locker room during national anthem as dozens of NFL players protest


EVERY ONE OF THEM MAKES MILLIONS… SOME ARE COLLEGE GRADS AND CAN HARDLY READ OR WRITE
Pittsburgh Steelers head coach Mike Tomlin also announced earlier on "NFL on CBS" his team will not participate in the national anthem before its game Sunday against the Chicago Bears.
http://www.foxnews.com/sports/2017/09/24/ravens-jaguars-players-kneel-during-national-anthem-after-trumps-attacks-on-nfl.html