Shortly after I started on Facebook I became friends with a brilliant writer who is a columnist for a major political blog. I don't want to mention the name; it could cause irreparable harm to his reputation having friends like me. Anyway, we were discussing the wretched, slimy reptile known as the governor of Virginia. As we were waxing poetic about what a steaming pile of toad excrement he was, Kathleen Willey — yes,THAT Kathleen Willey — joined the conversation. We echanged a few thoughts and when I lamented how frustrating it was that these two felons have never and WILL never pay a price for their crimes, she told me not to be too sure. Maybe there's something she knows that we don't.
It was clear the assault she suffered at the hands of former president Ben T. Penis may never fully heal. At least there is some solace that she, Paula Jones, Juanita Broadrick, and all the other victims of this soulless sociopath got to see Hillary Rotten Clinton get humiliated last November. As they say, revenge is a dish best served cold.
How The Left Gets Away With Unlawful Discrimination


In the United States of today, only liberals and the far-left are allowed to discriminate without fear of penalty and do so with a vengeance.
For the last 40 years-plus, liberals and the far-left have not only come to dominate the media, academia, and entertainment, but have systematically engaged in an effort to limit or outright eradicate Republican, conservative, libertarian, independent, and even Christian thought.
https://townhall.com/columnists/douglasmackinnon/2017/08/28/how-the-left-gets-away-with-unlawful-discrimination-n2374155
Judge Rejects Palin's Lawsuit Against New York Times


YOU CAN SLANDER PUBLIC FIGURES AT WILL AS LONG AS THEY'RE CONSERVATIVES. JUST SAY YOU DIDN'T MEAN TO IF YOU GET CAUGHT. COURTS ARE A FORGIVING LOT.
Judge Jed Rakoff said Tuesday that while the offending editorial contained a few factual inaccuracies, they did not rise to the level of defamation of a public figure, the Associated Press reported. He also noted the Times subsequently issued a correction.
http://freebeacon.com/politics/judge-rejects-palin-lawsuit/
Hurricane survivor rips CNN for exploitation
IF YOU HAVEN'T SEEN THIS, IT'S WORTH WATCHING. THE MEDIA ARE PRESSING EVERYBODY TO TRY TO GET A NEGATIVE OPINION OF THE PRESIDENT THAT THEY CAN FEED OFF OF.
Did CNN wander through the shelter and corner her when she was clearly still reeling from what she went through or were they stationed somewhere inside the shelter where people who wanted to talk could approach? There's a fine line, as Harry Enten said, between humanizing the disaster and exploiting it. It's not obvious from this snippet which side of the line CNN was on.

http://hotair.com/archives/2017/08/29/wow-hurricane-survivor-rips-cnn-exploitation/
MONDAY:
Coalition of Leftists Begin 10-day "March To Confront White Supremacy"
Among their demands is Trump's removal from office

Activists are set to start a 10-day march from Charlottesville, Va., to Washington, D.C., on Monday to confront white supremacy and demand President Trump's removal from office.
"The March to Confront White Supremacy," is set to start in Charlottesville Monday, Aug. 28 and end in Washington, D.C., on Wednesday, Sept. 6. Organizers say the march will be followed by an occupation of Washington with daily nonviolent demonstrations.
http://legalinsurrection.com/2017/08/coalition-of-leftists-begin-10-day-march-to-confront-white-supremacy/
YESTERDAY:
It Only Took A Day For The March To DC To Lose Nearly All Of The Marchers

The March to DC from Charlottesville, Va., started with nearly 200 marchers Monday, but by Tuesday morning there were only 35 marchers.
The overnight rains were enough to keep all but "about 35" from marching Monday morning, the day after the pep talk when police escorted the group from Emancipation Park downtown Sunday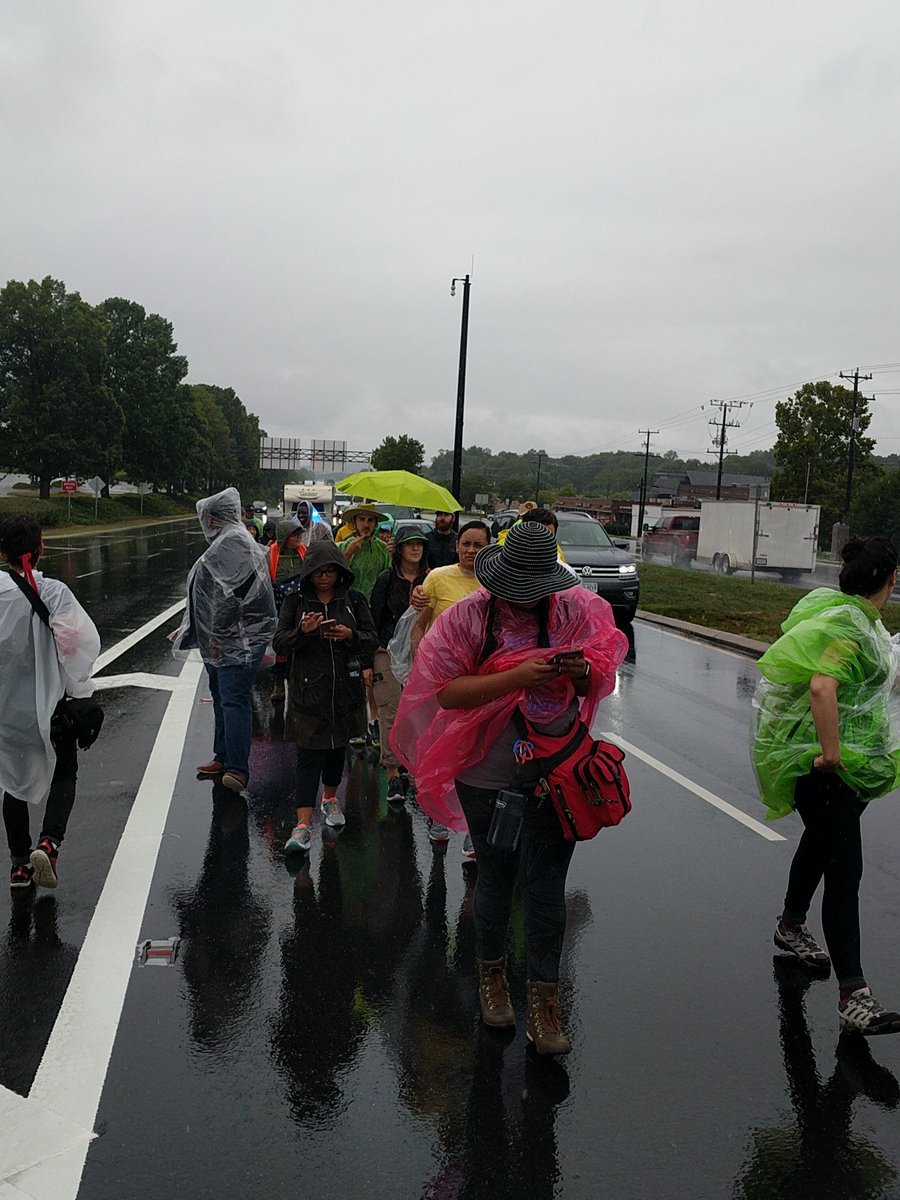 http://dailycaller.com/2017/08/29/it-only-took-a-day-for-the-march-to-dc-to-lose-nearly-all-of-the-marchers/?utm_source=site-share
Box Office Bust: Revenue Down 70% Compared to August 2016


THEY BLAME IT ON THE HURRICANE, ON THE ECONOMY. THERE'S AN OBVIOUS ANSWER THEY WON'T ADMIT: THEY CALL TRUMP HITLER, CALL US NAZIS, FASCISTS, RACISTS, BIGOTS, WE'RE STUPID, WE'RE EVIL, BLAH BLAH BLAH. THEN THEY EXPECT US TO SHELL OUT $30 TO GO TO ONE OF THEIR STUPID MOVIES AND SPEND ANOTHER $20 ON POPCORN AND A SODA. FAT CHANCE.
http://www.hapblog.com/2017/08/box-office-bust-revenue-down-70.html
#FakeNews Media Refuses to Show MASSIVE CROWD OF SCREAMING SUPPORTERS Greeting Trumps in Texas
THIS VIDEO IS AMAZING. THE LIBERAL MEDIA REFUSED TO SHOW YOU THIS TODAY:

http://www.thegatewaypundit.com/2017/08/massive-crowd-lines-street-corpus-christi-welcome-president-trump-first-lady-melania-trump/
President Trump and FLOTUS Melania arrive in Texas to survey flood damage

Donald Trump to Cheering Crowd: 'Texas Can Handle Anything!' After Hurricane Harvey

President Donald Trump and First Lady Melania Trump traveled to Corpus Christi, Texas, for a briefing on the state's efforts to rescue victims of Hurricane Harvey.
http://www.breitbart.com/big-government/2017/08/29/donald-trump-to-cheering-crowd-texas-can-handle-anything-after-hurricane-harvey/
GOP Rep's Proposal Would Defund Mueller Probe After 6 Months


Rep. Ron DeSantis (R-Fla.) has proposed an amendment to the upcoming federal spending bill that would "severely curtail" Special Counsel Robert Mueller's investigation of President Trump after six months.
The congressman's amendment stipulates that no funds from the spending package "may be used to fund activities pursuant to [the special counsel probe] later than 180 days after the date of the enactment of this Act."
THIS COULD BE DONE UNLESS RYAN TELLS HIS PACK OF RINOS THEY NEED TO KEEP THE INVESTIGATION GOING
https://pjmedia.com/trending/2017/08/29/gop-reps-proposal-defund-mueller-probe-6-months/
Media questions if Trump is visiting Texas 'too soon'
YOU KNEW THIS WAS COMING

Sheila Jackson Lee repeatedly confuses Sandy Hook with Superstorm Sandy on CNN
THE PEOPLE IN HOUSTON WHO KEEP VOTING FOR THIS TRAMP ARE THE ONES DOING ALL THE LOOTING. COUNT ON IT.

Houston Police Nab 14 Armed Robbers and Looters as City Struggles with Harvey Aftermath

If convicted, those arrested could face heavier than average sentences due to laws that provide stiffer penalties for such crimes committed during a crisis. The average penalty for home invasions or robberies is two to 20 years, but under crisis conditions, the penalties jump to five years to life.
Chief Acevedo warned lawbreakers that the city would not "tolerate people victimizing others."
http://www.breitbart.com/big-government/2017/08/29/houston-police-nab-14-armed-robbers-and-looters-as-city-struggles-with-harvey-aftermath/
Boaters helping rescue flood victims pound shots of vodka; news anchor think it's water
WHATEVER IT TAKES, I'LL BUY