There is currently a bit of a rift in the democrat party over pure ideology vs. trying to be inclusive. Some have argued that the party should welcome pro-life candidates in an effort to appeal to evangelicals they assume are upset with president Trump. Of course, this is all simply a façade to fool people into thinking they have softened their view on the slaughter of innocents. Then there are the hardliners who steadfastly insist there is no place in the democrat party for anyone not wholly approving of abortion at any point up until the moment of birth.
There are no 'moderate' democrats anymore. Haven't been for some time. The Obamacare vote proved that. They all just have different price tags. Bart Stupak and a few pro-life democrats were reticent to sign on to the healthcare law at first. Had he remained steadfast it is a certainty he could have gotten millions of grateful citizens for heading off the coming disaster. In the end he settled for a worthless promise from Obama there would be no federal funding for abortion. This promise was forgotten the minute they cast their votes. The next election Stupak and almost all his coalition were voted out by people incensed by their cowardice. The democrat party is a pit of vipers and should be shunned by people of faith. Liberalism is their religion and abortion is their sacrament.
Hillary Wants to Preach
Religion is playing a big role in Clinton's post-election tour. What does she have to gain from sharing her faith now?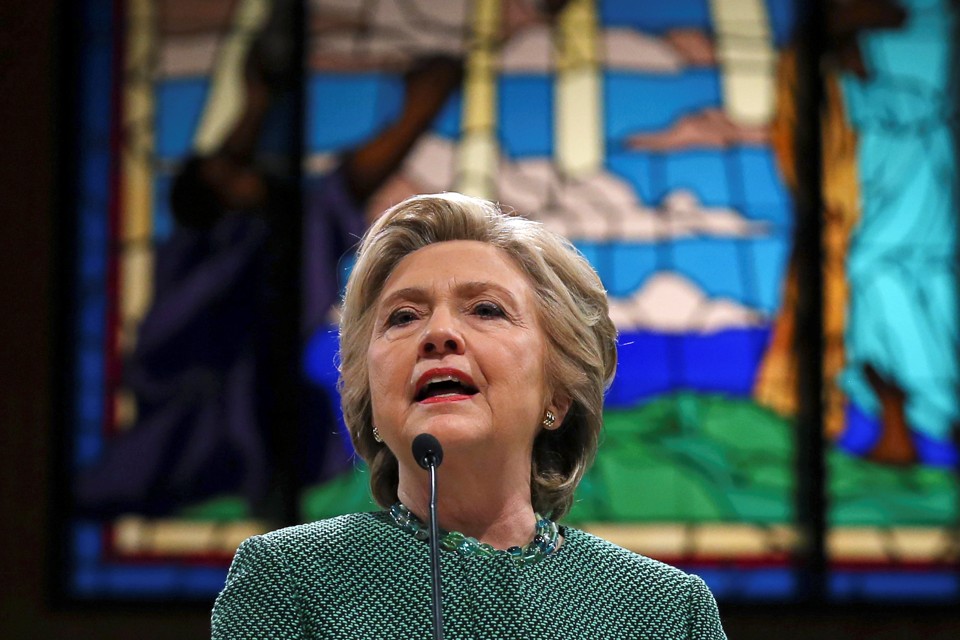 Hillary Clinton wants to preach. That's what she told Bill Shillady, her long-time pastor, at a recent photo shoot for his new book about the daily devotionals he sent her during the 2016 campaign. Scattered bits of reporting suggest that ministry has always been a secret dream of the two-time presidential candidate: Last fall, the former Newsweek editor Kenneth Woodward revealed that Clinton told him in 1994 that she thought "all the time" about becoming an ordained Methodist minister.
https://www.theatlantic.com/politics/archive/2017/08/hillary-clinton-devotionals/535941/
The Ghost of Hillary Still Haunts Evangelicals

She's gone. It's time to stop fighting the old war. It almost never fails. When I'm asked to speak to Evangelical audiences about politics, I can predict the reaction to the speech based almost entirely on the age of the audience. If a Christian is older than me, he's often angry. If younger, usually grateful.
Younger Evangelicals (and younger conservatives more generally) saw Hillary as a corrupt choice for president. She was no more honest than Trump, but unlike Trump she was actively hostile to religious liberty and increasingly radical in her support for abortion. That's bad enough, of course, but older Evangelicals were carrying a full quarter-century of baggage into the fight. Beginning in 1991, she wasn't just at the center of scandal after scandal, she was on the wrong end of the culture wars, and she was an icon of the brand of arrogant, condescending feminism that most Christian conservatives openly despise. And she was in our face for decades.
http://www.nationalreview.com/article/450200/hillary-ghost-haunts-evangelicals-prompts-trump-support
Stop Calling Jesus a Socialist
It must be said that Jesus was and is not a socialist by anyone's definition, save those of his revisionists. The Gospels do not speak of a heavenly economy of democratic access. Instead, they speak of the Kingdom of God as the advent of an impending regime change whose topsy-turvy standard of behavior threatens the lives of the unprepared. Where Jesus stands in the face of government saying his kingdom is not of this world, those aligned with him, the corpus mysticum, stand as a historical reminder that power itself is fleeting and its programs destined for collapse.
http://www.americanthinker.com/articles/2017/08/stop_calling_jesus_a_socialist.html#ixzz4p4gW4fHy
WashPost Hypes Poll: Christians 'Far More Likely' to Dismiss the Poor as Lazy Bums

This poll from the Post and the liberal Kaiser Family Foundation is three months old, taken from April 13 to May 1. This is not just a poll question; it's begging for overgeneralization, with "the poor are mostly lazy" being judged by liberals as akin to "Muslims are mostly terrorists" or "Catholic priests are mostly child abusers." As a citizen, I'd refuse to answer that on the grounds that it's used to cast aspersions – conservative voters live in a world of ugly, unproven stereotypes.
It also implies that most Christians are largely bad Christians if they don't favor a government-organized redistribution of wealth. Liberals, including liberal journalists, often suggest private donations to the poor somehow don't imply Christian values half as much as supporting government action toward the poor.
https://www.newsbusters.org/blogs/nb/tim-graham/2017/08/06/washpost-hypes-poll-christians-far-more-likely-dismiss-poor-lazy-bums