The media helped him win the Republican nomination and chuckled with glee. This reality TV star, this ego-maniacal showboat would pose no challenge to Mme. Hillary as she pursued the prize she coveted above everything. He drew turn-away crowds of tens of thousands. Hillary couldn't fill a high school gymnasium. Not to worry, she has the vaunted "blue wall" of states that always, ALWAYS vote Democrat. Then the sh!t hit the fan.
Trump has been a marked man since the day he won. The Democrats and their sycophants in the media have savaged him every day. He wasn't even allowed a peaceful inauguration day. He had no support from his own party as they have stood on the sidelines, preoccupied with not doing anything that would jeopardize their personal fiefdoms.
The president has assembled a staff through the process of trial and error. Some of his picks have worked well, others he got very bad advice about. The first thing he should have done is fire every last Obama appointee and Democrat career politician. It would leave huge gaps in differing departments, but when you rid your home of pestilence you must be thorough.
He waited far too long to fire James Comey and the Democrats bullied Jeff Sessions into recusing himself. This infuriated the president, who expected loyalty from those who serve under him. This led Rod Rosenstein to appoint uber-liberal Robert Mueller who was given unlimited power and resources and a mandate to find SOMETHING with which to try to force Trump out of office. He has a hand-picked squad of 16 professional Democrat assassins and has just empaneled a grand jury and moved if from Virginia, where Trump has support, to DC where he can get away with almost any dirty trick he chooses. Keep in mind that a grand jury is completely one-sided. The defense is not allowed in the room, the prosecutors can compel anyone to testify, they submit any unsubstantiated evidence without proof and this particular panel is sure to be made up of people who despise Trump. It will not end well. If they can't pin anything on him, they'll get his son.
Grand jury subpoenas issued in relation to Russian lawyer, Trump Jr. meeting
Mueller's use of a grand jury could give him expansive tools to pursue evidence, including issuing subpoenas and compelling witnesses to testify. The Wall Street Journal earlier reported a grand jury was impaneled.

http://www.msn.com/en-us/news/politics/grand-jury-subpoenas-issued-in-relation-to-russian-lawyer-trump-jr-meeting-sources/ar-AApnlMA?li=BBnb7Kz&ocid=UE12DHP
3 Reasons Why Trump Should Be Very Concerned That Mueller Impaneled a Grand Jury
#1: The Grand Jury Has Subpoena Power
Federal grand juries have the power to subpoena documents, and witnesses. That means that witnesses who may refuse to speak with investigators will be forced to testify under oath. If they lie, they can be charged with a a crime.
#2 Grand Jury Investigations Often Lead to Criminal Charges
"Typically if you are going to devote prosecutor manpower and agents to investigation, then usually charges will result," Hockeimer said.
#3 Mueller made this move despite another federal grand jury investigating in Virginia.
We already knew that a grand jury was meeting in Alexandria, Virginia, to probe former National Security Adviser Michael Flynn over his work in the private sector on behalf of foreign interests. The fact that Mueller empaneled another grand jury means that the investigation has grown even wider.
http://www.msn.com/en-us/news/politics/3-reasons-why-trump-should-be-very-concerned-that-mueller-impaneled-a-grand-jury/ar-AApns4w?li=BBnb7Kz&ocid=UE12DHP
White House Responds to Mueller Enlisting Grand Jury in Russia Investigation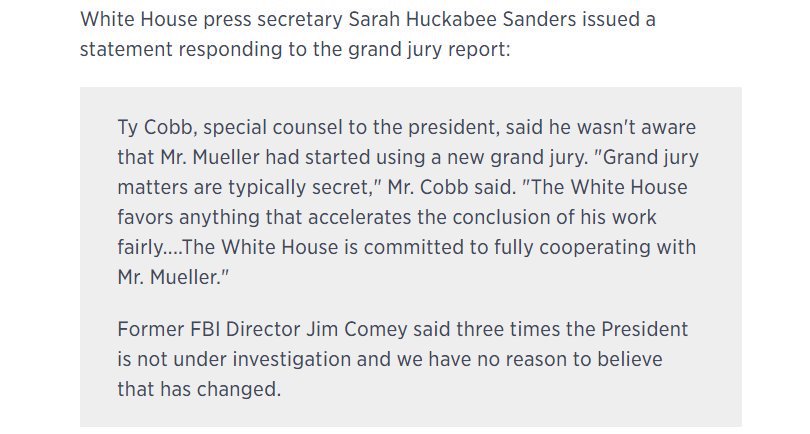 IS TRUMP SO NAIVE THAT HE THINKS THIS BAG OF BASTARDS WILL ADHERE TO ANY LAWS?
Trump lawyer John Dowd told NBC News the president's legal team has been "cooperating with Bob Mueller and his staff since the first of June because we're trying to get this thing over and done with."
http://www.thegatewaypundit.com/2017/08/white-house-responds-mueller-enlisting-grand-jury-russia-investigation/
Trump says he hopes for 'honest' outcome of Russia probe
"HONEST DEMOCRAT" IS AN OXYMORON IF THERE EVER WAS ONE
http://www.msn.com/en-us/news/politics/trump-says-he-hopes-for-honest-outcome-of-russia-probe/ar-AApmEnh?li=BBnb7Kz&ocid=UE12DHP
Senators propose bill to protect Robert Mueller from being fired

The bill, introduced Thursday by Sens. Thom Tillis, R-N.C., and Chris Coons, D-Del., would allow a special counsel who is removed to challenge the firing in court. There, a three-judge panel would decide whether the special counsel's removal was justified. If the judges decide there was no good cause for firing, the person would be reinstated as special counsel over the wishes of the president.
http://www.washingtonexaminer.com/senators-propose-bill-to-protect-mueller-from-being-fired/article/2630533
EVERY MOVE HE MAKES IS LEAKED TO A SAVAGE PRESS
Someone Leaked Classified Transcripts Of Trump's Phone Calls With Foreign Leaders

The Washington Post on Thursday published portions of classified transcripts of combative phone calls President Trump had earlier this year with the leaders of Mexico and Australia.
The transcripts portray acrimonious conversations between Trump and Mexican President Enrique Peña Nieto and Australian Prime Minister Malcolm Turnbull, largely on the issues of immigration, border wall funding and refugees.
http://dailycaller.com/2017/08/03/someone-leaked-classified-transcripts-of-trumps-phone-calls-with-foreign-leaders/
Warner, Ranking Senate Intel Dem: Congress Ought to Investigate Leaked Trump Transcripts

Warner, the ranking Democrat on the Senate Intelligence Committee, told the Daily Beast that the leak is "disturbing." He said that the president must be able to speak in private with foreign leaders.
"A president of the United States, a governor would tell us they've got to be able to have confidential conversations," Warner said. "And I think it was disgraceful that those [came out]."
http://freebeacon.com/politics/warner-congress-investigate-leaked-transcripts/
THE MOST SHAMEFUL THING TO ME IS THAT NOT ONE REPUBLICAN HAS COME FORWARD IN SUPPORT OF THE PRESIDENT. NOTE THE CLINTONS AND OBAMA HAVE COMMITTED BLATANT REPEATED FELONIES AND NOT A WORD OF PROTEST WAS HEARD. THE DEMOCRATS CIRCLE THE WAGONS WHEN ONE OF THEIR OWN IS IN TROUBLE. THE REPUBLICANS ARE ONLY CONCERNED WITH PROTECTING THEIR ON SORRY ASSES.