When Anthony Scaramucci was first tapped to be Trump's CoS, I, apparently along with a million others, thought of how to insert this little ditty in a timely fashion:
Scaramooch, Scaramooch, will you do the fandango?
Tell me Bohemian rhapsody didn't go through your mind.  You're lying.
Anthony Scaramucci Out As White House Communications Director | NBC News
I have a theory which, along with a dollar will get you a cup of coffee at McDonald's. Some think he was brought in specifically to get rid of Spicer and Priebus. As the head of the RNC, Preeby was good buddies with McConnell, Graham, Boehner, all the Nevertrumpers. It is highly likely that he was the source of some of the leaks coming from the inside.
Trump probably hired Scaramucci because he seemed like a no-nonsense type. Never mind the fact his beliefs ran counter to everything Trump ran for office on. He made it all about himself, which is not a good career move. The bombastic, grenade-throwing style was not what the president needed. He was replaced by General John Kelly, a no-nonsense career military man who demands discipline and loyalty. Word is that even Ivanka and Jared have to answer to him. Hopefully, he made a condition of his appointment that when he made a public statement, Trump wouldn't contradict what he said an hour later.
When a regular politician of either party is elected president, they have a national organization to help establish the agenda ,including lawyers, political operatives, hangers-on, and ne'er-do-wells. Trump had none of that when he was inaugurated. The GOP elite didn't want him and the Democrats sure as hell didn't. Holdovers from past administrations and NeverTrumpers systematically leaked information daily in an effort to cripple his ability to get organized and begin the demands of governance.
REPORT: POTUS Preparing For "Independent WH" – Warfare Against GOP Congress
On the same day that Anthony Scaramucci was removed as White House Communications Director, leaks have been flowing out of the Trump administration.
According CNBC's John Harwood, an anonymous "Ryan-Priebus" ally revealed to the reporter that President Trump is preparing to plot a more "independent" course for the White House, while taking on GOP lawmakers.
U.S. Senator Rand Paul said he spoke to President Donald Trump by phone about healthcare reform on Monday and told the president he thought Trump had the authority to create associations that would allow organizations to offer group health insurance plans.
Allowing groups like AARP, which represents retirees, to form health associations could enable individuals and small businesses to form larger groups to negotiate with health insurance companies for lower rates.
http://www.thegatewaypundit.com/2017/07/report-potus-preparing-independent-wh-warfare-gop-congress/
WHITE HOUSE: Ten days after appointing him, Trump has fired Scaramucci due to his expletive-laden interview with New Yorker reporter
Scaramucci threatened to fire the White House communications staff and descended into a profanity-laced rant about senior strategist Steve Bannon and then-Chief of Staff Reince Preibus.
Anthony Scaramucci Goes On Profane Tirade | NBC Nightly News
Huckabee Sanders Condemns Scaramucci's Vulgar Comments in New Yorker Interview
Scaramucci told Lizza that Priebus was "a f***ing paranoid schizophrenic." He then turned on Steve Bannon saying, "I'm not Steve Bannon. I'm not trying to suck my own c**k."
On Monday, Sarah Huckabee Sanders said Scaramucci was fired after his interview with The New Yorker.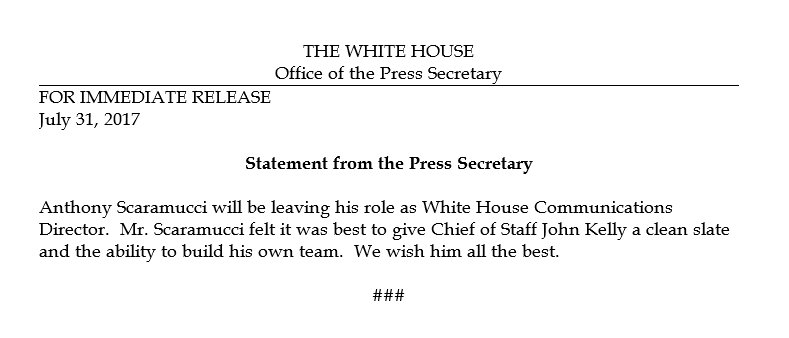 Getting The Troops in Line: All White House Staff Will Report to General John Kelly

"General Kelly will bring new structure to the White House and discipline, strength and we're all really excited to work with him," she continued.
According to Sanders, there will be no exceptions. Senior White House advisors Ivanka Trump, Jared Kushner, Kellyanne Conway and Steven Bannon will report to Kelly.
Since the ousting of Reince Priebus on Friday and the hiring of Kelly, questions have swirled about whether he would be able to establish a chain of command and restore order in the West Wing. He appears to be doing just that with the abrupt firing of Communications Director Anthony Scaramucci Monday afternoon, just 10-days after he was hired.
https://townhall.com/tipsheet/katiepavlich/2017/07/31/in-charge-all-white-house-staff-will-report-to-chief-of-staff-john-kelly-n2362594