John McCain has led a colorful life. The son of a Navy admiral, he served in Vietnam (a hell of a lot longer than John Kerry) and spent 4 years as a POW in the Hanoi Hilton. What actually happened while he was a captive will never be known. Whether he suffered torture or got special treatment in exchange for cooperating with his enemies is for other people to say.
What is known is that when he returned to civilian life he married a wealthy beer heiress, was elected to the House of Representatives, and later became a senator. He became one of the democrats' best allies, nearly always siding with them on any important legislation. He handed the presidency to Barack Obama in 2008 and delights in going on television to trash his own party.
Although he has continually angered and frustrated conservatives, he now faces the fight of his life against a formidable foe. It's a form of cancer called glioblastoma. It was discovered during a minor surgical procedure.
About 20,000 people in the U.S. each year are diagnosed with a glioblastoma. The American Cancer Society puts the five-year survival rate for patients over 55 at about 4 percent.
Because glioblastomas can grow rapidly, the most common symptoms are usually caused by increased pressure in the brain. These symptoms can include headache, nausea, vomiting, and drowsiness.
Glioblastoma can be difficult to treat because the tumors contain so many different types of cells, the association says.
As expected, the tributes have poured in for the senator from all over. Fortunately, he has the best healthcare on the planet, but cancer does not discriminate when it comes to its victims. My grandson Tyler is eight years old and has been doing battle with it for almost two years.
Sen. John McCain diagnosed with malignant brain tumor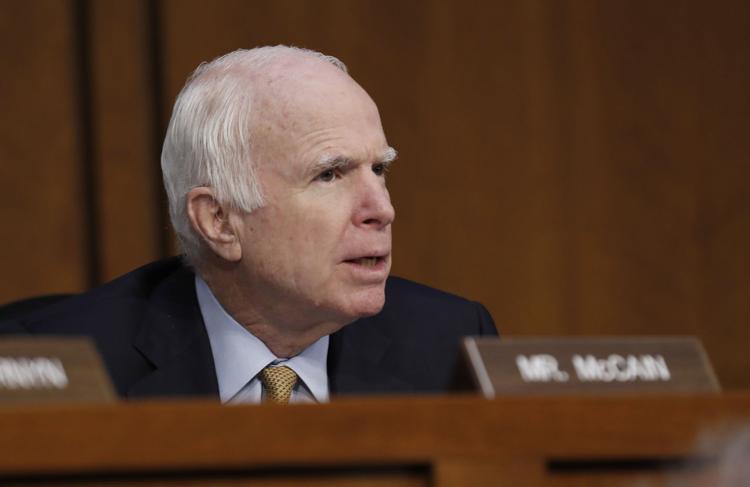 In a statement, McConnell said: "John McCain is a hero to our Conference and a hero to our country. He has never shied from a fight and I know that he will face this challenge with the same extraordinary courage that has characterized his life. The entire Senate family's prayers are with John, Cindy and his family, his staff, and the people of Arizona he represents so well."
http://tucson.com/news/local/sen-john-mccain-diagnosed-with-malignant-brain-tumor/article_e8277172-6cde-11e7-baba-3bd459ef9b97.html
http://www.dailymail.co.uk/news/article-4713092/President-Trump-leads-tributes-Senator-John-McCain.html