G20 Protesters BLOCK First Lady Melania Trump From Leaving Building


THOUSANDS of far left protesters gathered in Hamburg, Germany this week to protest the G20 meetings
On Friday morning First Lady Melania Trump was blocked by protesters from leaving her building.
German police refused to allow Melania from leaving building!

Merkel under fire for 'embarrassing' – and predictable – riots that saw hundreds arrested during the G20 Summit as Germans call the protests an 'orgy of violence'
Hundreds of anti-capitalist militants rioted during the G20 Summit in Hamburg
About 20,000 German police struggled to contain the rioters over the weekend
Police said on Sunday they had arrested 186 people and took 225 into custody
German Chancellor Angela Merkel is now being questioned over the ordeal
which German press have called an 'embarrassment' and an 'orgy of violence'

http://www.dailymail.co.uk/news/article-4679472/Germans-angry-orgy-violence-Merkels-pre-election-G20.html#ixzz4mRda5C00
Day 3 of G20 protests: Looting, burning, vandalizing and over 200 police injured


After two days of vandalism, arson and skirmishes with police in Hamburg, Germany, anti-capitalists were apparently hungry from all their hard work. Last night several hundred people looted a small market and other stores, stealing everything they could after breaking inside. These are communists after all. What belongs to you, belongs to them:

OUR COPS NEED TO USE THESE

http://hotair.com/archives/2017/07/08/day-3-g20-protests-looting-burning-vandalizing/
Pic Of Day 'Perfectly Sums Up The Hypocrisy Of These So-Called Anarchists' At G20

Imposter Mayor
Fashioning himself as an international progressive hero, Bill de Blasio has no real interest in the job he was elected to do.
MAYOR DE BLASIO, aka Mayor Commipinkofag, took his pathetic ass to Germany to protest Trump a day after the assassination of NYPD officer Miosotis Familia.


Mayor de Blasio made a surprise departure from New York City yesterday—just one day after the assassination of NYPD officer Miosotis Familia while she guarded a violence-plagued Bronx corner—in order to attend anti-capitalist protests in Hamburg, site of the G-20 summit
https://www.city-journal.org/html/imposter-mayor-15311.html
While de Blasio whined in Germany, Trump was our defender
It is a tale of two New Yorkers. Donald Trump goes to Germany to defend Western civilization and promote economic growth. Bill de Blasio goes to Germany to throw verbal Molotov cocktails and promote socialism.
One is the leader of the free world, the other is a great pretender.
The mayor was in full Putz mode as he abandoned his City Hall post to join the anarchists, socialists and violent leftists trying to disrupt the G-20 summit. In the history of low moments in New York politics, de Blasio's stunt stands out.
http://nypost.com/2017/07/08/while-de-blasio-whined-in-germany-trump-was-our-defender/
De Blasio blasted by police over Germany protest junket

The mayor's timing for this trip is inexplicable and shows a complete lack of regard for anyone but himself and the advancement of his progressive ideals. Less than 24 hours earlier, a uniformed NYPD police officer, Miosotis Familia, was brutally assassinated by Alexander Bonds, an ex-convict who was under parole supervision and had been released from a Bronx psychiatric facility just days before committing the murder.
http://www.foxnews.com/opinion/2017/07/07/de-blasio-blasted-by-police-over-germany-protest-junket.html
NY Post's Cover Captures Bill De Blasio's Germany Debacle Perfectly: 'Deutsch Bag!"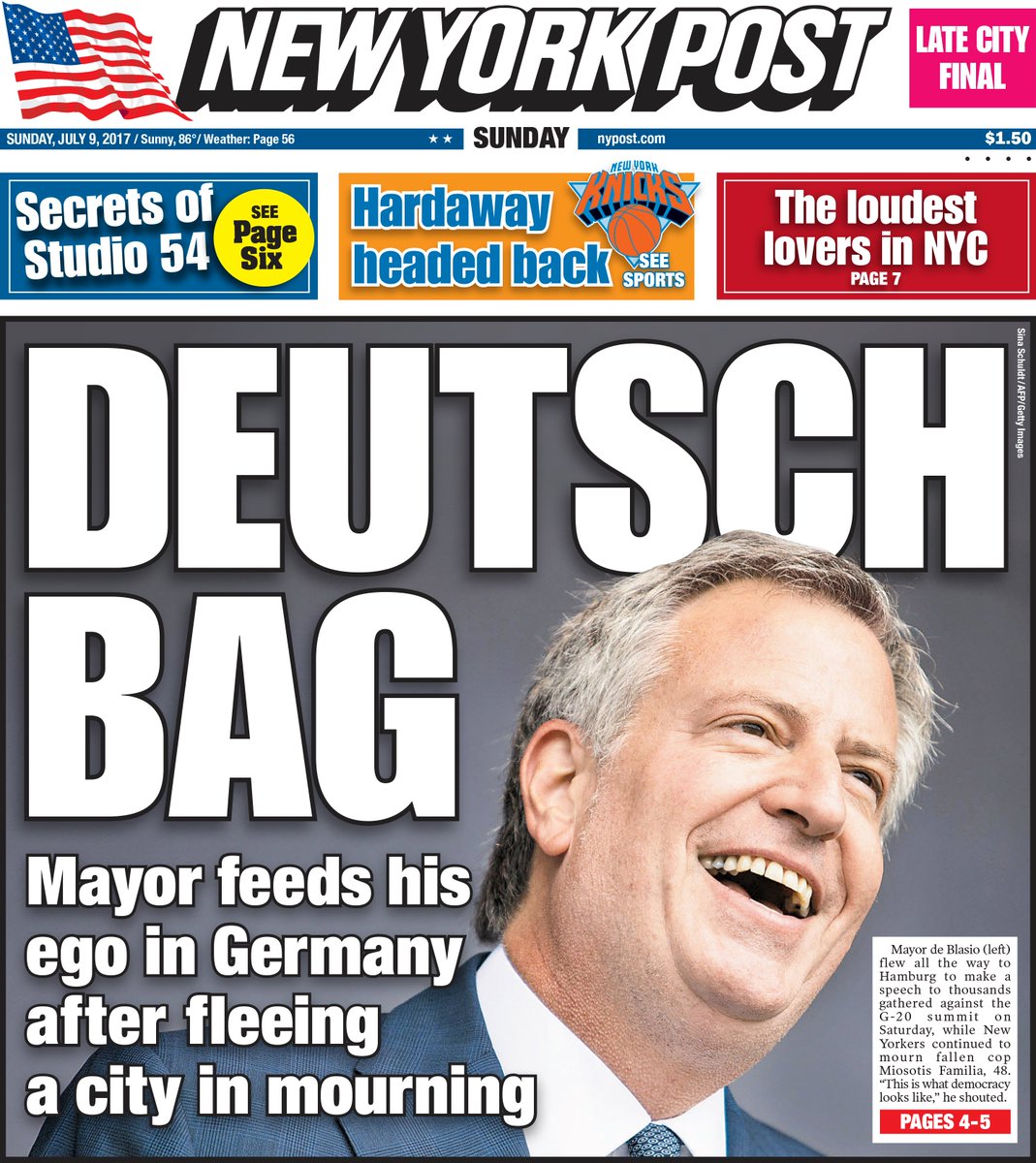 A day after New York Police Officer Miosotis Familia was assassinated in cold blood – New York City Mayor Bill De Blasio will skip a police ceremony and jet off to Hamburg to protest the G20.
Warren Wilhelm Jr…. DeBlasio's real name fits right in with Merkel as she attempts to build the 4th reich.

The Murder of Officer Miosotis Familia—and Those Who Killed Her


Officer Familia, judging from her name and photograph, is a dark complexioned Hispanic.
The scumbag who robbed her of her life is black.
This last point bears mentioning, for there is no way to divorce this cold-blooded, unprovoked assassination of one of New York's Finest from the anti-police Zeitgeist to which forces on the left have given rise.
Yet it's equally true that this hostility accelerated considerably during Barack Obama's second term as President, particularly since the shooting death of Mike Brown and the Black Lives Matter movement that arose in its wake.
Leftists are forever excusing non-white actors for their conduct, however atrocious it may be. It is to "the root causes," the context of "social conditions" or "institutions," that we must turn to account for why, say, blacks, though comprising no more than 13% or so of the American populace, are responsible for over half of all murders.
In other words, non-whites are never, ultimately, accountable for those of their behaviors that are undesirable and destructive (it is always and only their bad behavior from which nonwhites are exempted of responsibility). It is "society," i.e. whites, who bear accountability for the bad deeds of nonwhites
http://www.frontpagemag.com/fpm/267205/murder-officer-miosotis-familia%E2%80%94and-those-who-jack-kerwick