The proper thing to do would be to soundly condemn the way Trump has gotten down and dirty with his constant tormentors. A consensus of GOP senators ( who all skipped out early yesterday for their July 4th break) and every last leftist loon claim shock, embarrassment, and disgust at his rude behavior toward a poor defenseless female who has called him every unholy name in the book. Bush was accosted nonstop for 8 long years and never hit back. He was a grand target for liberal abuse. They never tired of tormenting him. They will find out in due time Donald trump is no George W. Bush. That's precisely why we elected him.He won't tolerate a bunch of sh*t from worthless slugs who contribute nothing of value to America. In a way he reminds me of the incomparable John Belushi from Animal House.
FOOD FIGHT!!!!!

(Note: that scene was shot in one take and was completely unrehearsed.)
Mad genius of Trump drives schoolmarms of political press crazy
The only thing missing from this electronic presidential address was the Marine Band playing "Hail to the Chief."
She was bleeding badly. Face-lift. Low I.Q. Psycho Joe.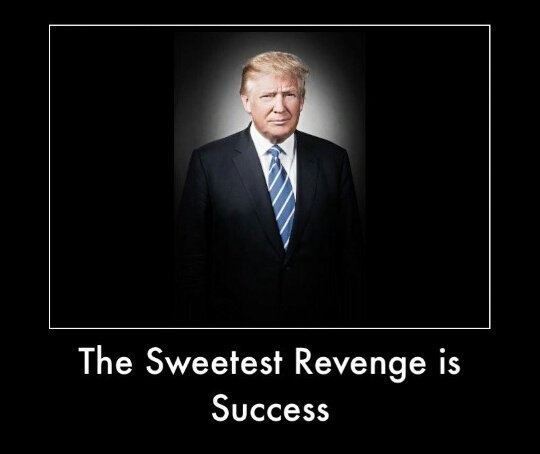 It is all so delicious. Mercilessly inventive. Joyously vicious. Like an entire season of pro wrestling drama, all sewn up into two little Twitter messages.
http://www.washingtontimes.com/news/2017/jun/29/donald-trumps-mad-genius-drives-schoolmarms-of-pol/
Mika Brzezinski Called President Trump Narcissist, Ignorant, Stupid, Mentally Ill, etc – In Less Than a Minute

President Trump obviously felt that Mika was out of line and he let her have it.
When this President swings he knocks people out
http://www.thegatewaypundit.com/2017/06/362496/
This Is What CNN Focused On For 13 Hours Straight


CNN's TV coverage was no less intense. Beginning with the 9 a.m. hour, the network covered the tweets in depth every hour as anchors, panelists and guests expressed their outrage that the tweets.
CNN White House correspondent Jim Acosta appeared to demand an apology for the tweets at the end of White House Sanders's press briefing Thursday afternoon. "No apology from the president, Sarah?" Acosta asked as Sanders walked away from the podium.
http://dailycaller.com/2017/06/29/cnn-cranks-up-the-outrage-during-day-long-marathon-on-two-trump-tweets/
Sarah Huckabee Sanders Defends POTUS's Tweets: Trump 'Fights Fire With Fire'
MSNBC host Mika Brzezinski compared President Donald Trump's administration to North Korea last Friday morning.
On Thursday President Trump fired back– And hit Mika and Joe HARD

http://www.thegatewaypundit.com/2017/06/sarah-huckabee-sanders-defends-potuss-tweets-trump-fights-fire-fire-video/
Mark Levin Slams 'Bad Lounge Act' Morning Joe, Compares Scarborough to Banjo Player in Deliverance

"Don't I remember Joe Scarborough in the audience when President Trump was giving his State of the Union address jumping up like a clapping seal over and over and over again?" Levin began. "The guy's been to Mar-a-Lago, he's been to the White House, he's been to Trump's State of the Union… and now all of a sudden he's part of a bad lounge act over there at the conga line of left-wing freaks they call MSNBC."
"CONGA LINE OF LEFT WING FREAKS"…. LOVE IT
http://www.mediaite.com/online/mark-levin-slams-bad-lounge-act-morning-joe-compares-scarborough-to-banjo-player-in-deliverance/
On Morning Joe, Deutsch Calls Pres. Trump "Physically Disgusting," a "Pig"
"I'm going to go thug here; I'm going low"
WHEN DID HE EVER GO HIGH?

http://legalinsurrection.com/2017/06/on-morning-joe-deutsch-calls-pres-trump-physically-disgusting-a-pig/
Trump and Morning Joke

SOMEBODY BESIDES ME CALLS THEM 'MORNING JOKE"
Perhaps there is no better window on the awfulness of the self-appointed New York-to-DC ruling class than MSNBC's Morning Joe. The show revolves around a collection of chattering-class bores who devote the start of their day to seconding each other's shallow and smug criticisms of Trump. The women make faces; the men roll their eyes.
Co-host Mika Brzezinski is a feminist who lectures other women on the need to show firmness in a man's world. Yet she spends most of the show acting like a prim, entitled Victorian-era dingbat on a fainting couch. She grips her chair for balance while she makes faux-terrified faces, then turns to "Joe" for guidance on how to address this or that Trump "outrage." "Joe" is the vainglorious former Congressman Joe Scarborough. The two are engaged, but one suspects the relationship won't last Trump's two terms.
Scarborough resembles a beady-eyed frat boy whom one can more easily imagine bellowing over a keg than cracking open a serious book. Yet he casts himself as Trump's moral and intellectual better. Trump, you see, lacks Joe's "substance."
https://spectator.org/trump-and-morning-joke/
Dem Rep. Sheila Jackson Lee Demands Trump Resign After Tweets Attacking 'Morning Joe'…

WHY DOES SHE ALWAYS WEAR A CABBAGE ON HER JACKET?
Jackson Lee posted a video to her Twitter account slamming Trump for the tweets, particularly for the comment targeting Brzezinski.
"There's a sense of hurt feelings," she said. "Mr. President, bleeding from the face? You're again attacking women, professional women? You're calling someone a psycho with all of the individuals fighting for their lives, suffering from mental health needs? You're attacking a woman, a professional woman, about her IQ?"
http://freebeacon.com/politics/jackson-lee-trump-resign-tweets-attacking-morning-joe/
Don Lemon: Trump 'Gross and Disgusting' for Tweets Attacking 'Morning Joe'