"The most trusted name in news" has become a pathetic joke. In its zeal to bring down Republicans in general and Donald Trump in particular, they have stooped to quoting "unnamed sources" and "anonymous tips,"  which is code for Obama holdovers leaking information to harm the administration. They behave like spoiled children at press briefings when they are not given the deference they feel they're entitled to. It's gotten to the point the briefings are no longer daily nor televised.
James O'Keefe from Project Veritas has done yeoman's work for years exposing the Left for the liars and frauds they truly are. He taped a CNN producer admitting the Trump/Russia collusion stories are "mostly bullshit."
Project Veritas Captures CNN Producer Saying Russia Reporting Is 'Mostly Bulls**t'
Three journalists quit CNN in fallout from retracted Russia story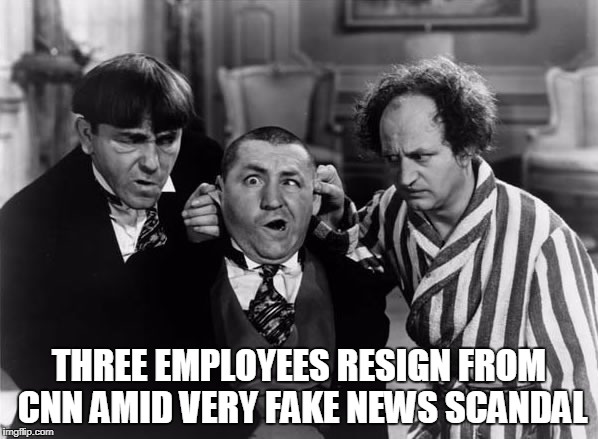 Reporter Thomas Frank, editor Eric Lichtblau and executive editor Lex Haris all resigned from their positions following a company-wide investigation into the single-sourced story that was quickly debunked, The Washington Post first reported. CNN quickly followed up with a story of their own on the resignations.
Lichtblau reportedly oversaw the false story, while Haris headed up CNN's investigative unit.  In the retraction, the network said the story "did not meet CNN's editorial standards." The network is now requiring approval from two top editors before any Russia-related story can be published.
http://dailycaller.com/2017/06/26/three-cnn-employees-resign-over-botched-trump-russia-story/
CNN Brags About Ratings After Undercover Tape Released
CNN is bragging about the network's ratings shortly after an undercover video showed one producer claiming they cover Russia so heavily because it helps their ratings.
CNN seemed to think it was good timing to attack President Trump Tuesday morning for misrepresenting the network's ratings and remind people they had their "most-watched second quarter in history."
http://dailycaller.com/2017/06/27/cnn-brags-about-ratings-after-undercover-tape-released/
POTUS Trump Responds to Latest O'Keefe CNN Bombshell Report
"So they caught Fake News CNN cold, but what about NBC, CBS & ABC? What about the failing @nytimes & @washingtonpost? They are all Fake News!"
http://www.thegatewaypundit.com/2017/06/potus-trump-responds-latest-okeefe-cnn-bombshell-report/
CNN's Jim Acosta Breaks Press Briefing 'No Cameras' Rule and Takes Picture of Sean Spicer
No cameras were allowed in the White House press briefing on Monday, but CNN's Jim Acosta broke the rules and took a picture anyway.
The liberal press pool act like children in the briefing room.  At one point, CNN's Acosta opined:  "Why are the cameras off, Sean, why did you turn them off? Can you just give us an answer to that? Can you tell us why you turned the cameras off? Why are they off?"
http://www.thegatewaypundit.com/2017/06/fake-news-cnns-jim-acosta-breaks-press-briefing-no-cameras-rule-takes-picture-sean-spicer/
This is what CNN has become…