Voting will close at 11:30 PM ET on Saturday, June 17.  The winners will be announced on Sunday, June 18.
http://politicalclownparade.blogspot.com/2017/06/poll-is-now-open-begin-voting-for-fifth.html
CNN Mislabels Unity Moment Of Prayer At Congressional Baseball Game As "Democrats Praying"
THE RADIO ON FRIDAY MORNING DESCRIBED IT AS A MOMENT OF BIPARTISANSHIP. HE ALSO ADDED IT WAS UNCLEAR HOW LONG IT WOULD LAST. THAT'S EASY — IT NEVER EXISTED. DEMOCRATS' KNEELING WAS STRICTLY FOR SHOW.

Democratic Staffers Booed Trump At 'Unity' Congressional Baseball Game
So much for defanging the poisonous debate in Washington.
Dozens of congressional staffers erupted into boos, jeers and even vulgar gesticulations Thursday when President Trump appeared in a video at the Congressional Baseball Game at Nationals Park.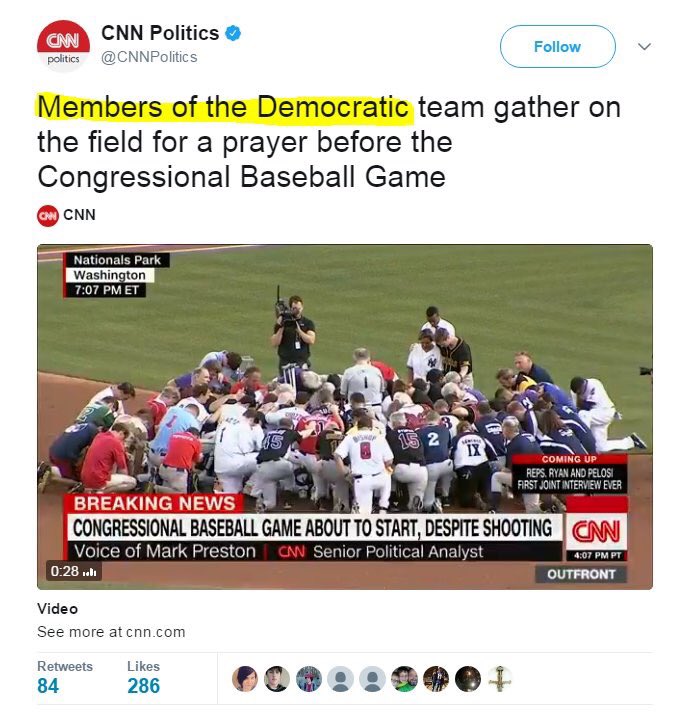 Mr. Trump delivered a message of unity, but some fans in the stands weren't having any of it.
http://www.washingtontimes.com/news/2017/jun/15/congressional-staffers-boo-trump-unity-baseball-ga/
FROM DIOGENES:
Okay, Now That's Just Downright Offensive!

I know it was just a short three hour phony show of unity by democrats solely for media purposes, but seeing this lying leftist bag of bones wearing LSU Colors is disgusting. Not only a slap in the face to an Historic Southern University, but to the best sports conference in the country, The SEC. Whoever's idea it was to hand her that shirt needs a good kneecapping! Yeah, I said it!
Trump Addresses Congressional Baseball Crowd to Call for Unity: 'Let's Play Ball'

George Takei Calls It Karma That 'Bigoted And Homophobic' Steve Scalise Saved By 'Black Lesbian'
MR. SULU NEEDS TO STFU