http://politicalclownparade.blogspot.com/2017/06/poll-is-now-open-begin-voting-for-fifth.html
The more time I spend away from the toxic waste dump the more difficult it is to wade back into it.
My trip with RJ last Friday went really well. We caught a variety of fish, including largemouth and smallmouth bass, yellow perch, and he caught is first walleye. He wanted to keep it, but it was about 3″ too short to be legal.
His friend, Jacob

Jake and his dad with some fat bluegills


On Saturday, I watched RJs baseball game and yesterday was Big Sis' first game of her summer volleyball league.
MISS OLIVIA IS PLAYING BASEBALL THIS YEAR. TRIED TO CATCH IT WITH HER HEAD.


I enjoy my beautiful grandchildren so much, it's difficult to consider the violence, the anger, the lies and the blatant hypocrisy that is American politics today.
The one takeaway from the Comey hearings last week was that he was perfectly willing to lie for Loretta Lynch and Hillary Clinton, but NOT tell the truth for Donald Trump. There were a lot of people, including yours truly, that felt Trump should have canned him, along with every other influential member of Obama's regime.
The president got some bad advice from Priebus, among others, and he has suffered for it as the leaks and the sabotage of his agenda has gone on from day one. The latest is that he is considering firing special counsel Robert Mueller. He never should have given in to the Democrats and appointed anybody. Mueller is a close friend of Comey and his investigative team is stacked with former Obama operatives.
Comey and Mueller have a history as a Deep State tag team
According to Michael Isikoff, writing in 2006, the FBI (then headed by Mueller) and an unnamed "senior Department of Justice official" were advised in October 2003 that Armitage was the man who leaked Plame's identity – and yet two months later, upon his appointment to be deputy attorney general, James Comey appointed his friend Patrick Fitzgerald to investigate the leak. It's hard to believe he didn't at the time know full well who the leaker was.
Professor Jacobson at Legal Insurrection indicates that Comey's testimony suggests that Mueller is already going beyond the narrow mandate of Acting Attorney General Rosenstein and considering whether the president's discussion with him about General Flynn constitutes "obstruction."
http://www.americanthinker.com/blog/2017/06/comey_and_mueller_have_a_history_as_a_deep_state_tag_team_.html#ixzz4jtcR8XO2
Trump at risk from Comey/Mueller: If "they don't get you on the crime, they get you on the process"
Robert Mueller, if he is going to consider the alleged obstruction of justice asserted by James Comey,  should not be the prosecutor or investigator in this because he is friendly with a key witness, James Comey.  So that's what I meant when I said 'friends should not be investigating friends.'  And Robert Mueller, if he is considering Trump's asserted obstruction of justice, cannot and should not be the investigator on this case."
http://legalinsurrection.com/2017/06/trump-at-risk-from-comeymueller-team-if-they-dont-get-you-on-the-crime-they-get-you-on-the-process/
Members of Special Counsel Robert Mueller's Legal Team Donated To Democrats -FEC
One of the lawyers, James Quarles donated to Barack Obama and to Hillary Clinton.
Once again, nothing to see here….
Three of the five lawyers have donations in FEC records. They gave overwhelmingly to Democrats, totaling more than $53,000 since 1988.
James Quarles, whom Mueller brought over from his old firm, WilmerHale, has given nearly $33,000 to political campaigns over the years. He gave money to Democratic presidential candidates Michael Dukakis, Al Gore, John Kerry, Barack Obama and Hillary Clinton.
http://www.hapblog.com/2017/06/members-of-special-counsel-robert.html
Comey's SECOND Meeting With Loretta Lynch Reveals He Confronted Her About Political Interference
AS FBI DIRESTOR IT WAS HIS DUTY TO REPORT HER TO CONGRESS….HE NEVER DID

Ex-FBI Director James Comey has privately told members of Congress that he had a frosty exchange with Obama Attorney General Loretta Lynch last year when he confronted her about possible political interference in the Hillary Clinton email investigation after showing Lynch a sensitive document she was unaware the FBI possessed, according to sources who were directly briefed on the matter.
In multiple private sessions over the last few months, Comey has told lawmakers about a second, later confrontation with Lynch shortly before the email probe was shut down.
http://www.thegatewaypundit.com/2017/06/breaking-comeys-second-meeting-loretta-lynch-reveals-confronted-political-interference/
Trump Considering Firing Special Counsel Mueller …Update: Not Likely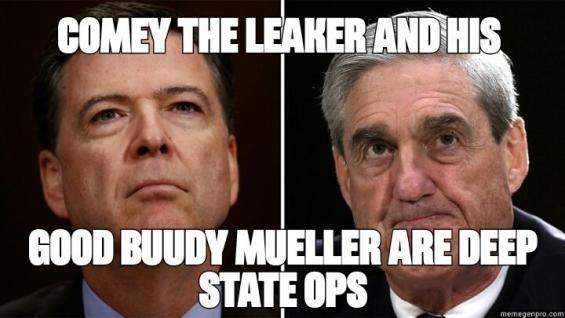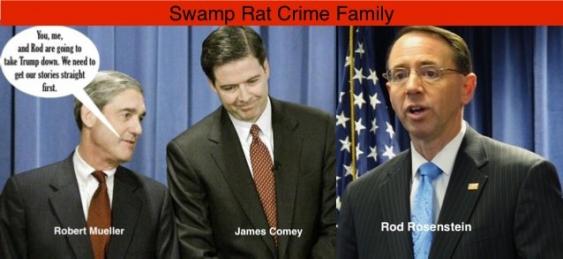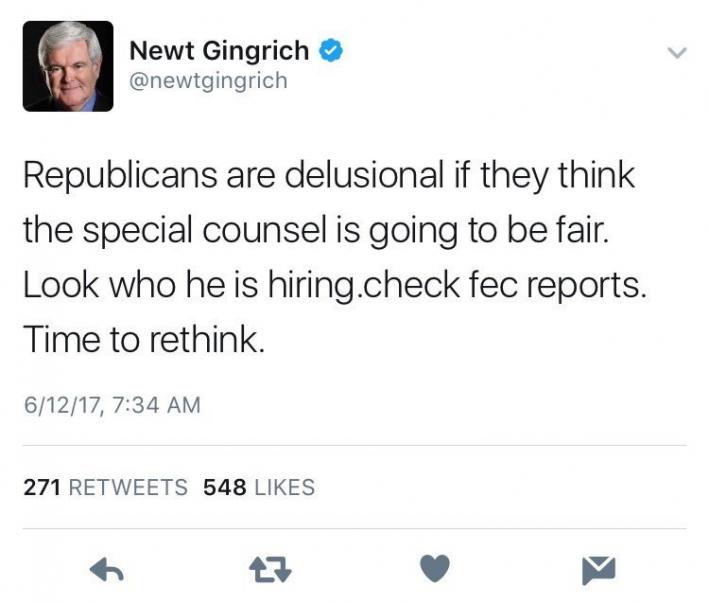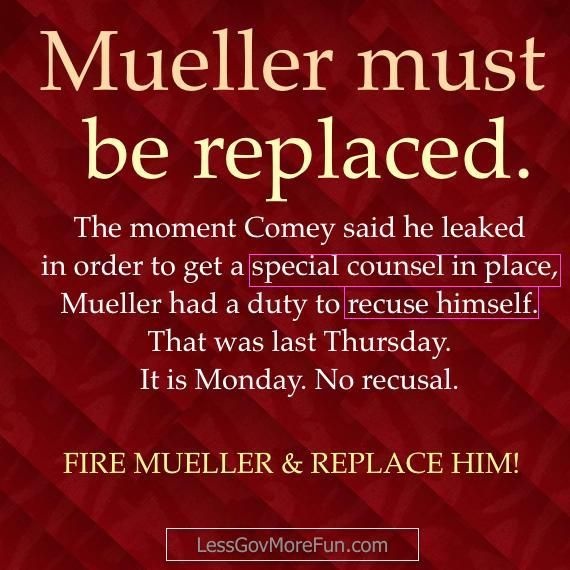 The whole purpose of the special counsel is to have a prosecutor from outside the government and outside of the normal chain of command because inherent conflicts render the Justice Department incapable of handling it. So, now the special counsel is a close friend (mentor/mentee relationship) with the star witness, who by his own admission leaked the memos at least in part to engineer the appointment of a special counsel. Only in Washington. You can't make this stuff up."
THE DEMOCRATS ARE ALREADY IN A FRENZY TO BRING DOWN TRUMP ANY WAY POSSIBLE. WERE HE TO FIRE MUELLER, A MUSHROOM CLOUD WOULD FORM OVER THE CAPITOL.
http://www.thegatewaypundit.com/2017/06/report-trump-considering-firing-special-counsel-mueller/