Rush is fond of saying 'If it's good for democrats, it's bad for America.' Such was the case yesterday when Puerto Rico voted to become the 51st state. It has to be ratified by congress, but I have faith that backstabbing scum like Ryan, Kinzinger, McCain, Collins, and Graham will join the democrats in a spirit of "bipartisanship." Only 23% of the population voted and it was 97% in favor of statehood. Hugo Chavez never got 97%. The unemployment rate is 45% and the residents live off taxpayer dollars. They just defaulted on the federal loans they got and declared bankruptcy.
Puerto Rico voters back becoming 51st state in referendum marred by boycott

SAN JUAN, Puerto Rico – Puerto Rico's governor announced that the U.S. territory has overwhelmingly chosen statehood in a nonbinding referendum Sunday held amid a deep economic crisis that has sparked an exodus of islanders to the U.S. mainland.
Many believe the island's territorial status has contributed to its 10-year economic recession, which has prompted nearly half a million Puerto Ricans to flee to the U.S. mainland and was largely sparked by decades of heavy borrowing and the elimination of federal tax incentives.
http://www.foxnews.com/world/2017/06/11/puerto-rico-voters-back-becoming-51st-state-in-referendum-marred-by-boycott.html
WHAT IT COMES DOWN TO IS THIS: WITH A POPULATION OF 3.5 MILLION, PUERTO RICO WOULD LIKELY HAVE 5 CONGRESSIONAL DISTRICTS AND TWO SENATORS. EVERY LAST ONE WOULD BE A WELFARE-SUCKING, BRIBE-TAKING DEMOCRAT. THAT'S WHAT THE DEMS ARE HOPING FOR.
Puerto Rico will now put its "Tennessee plan" into action, meaning its governor will choose two senators and five
representatives to go to Washington, D.C., to request statehood.
President Trump signaled during his presidential campaign that he is open to Puerto Rico officially becoming a state.
Puerto Rico previously voted in favor of becoming a state in 2012, but statehood opponents said the voter turnout was not high enough to accurately reflect will of the Puerto Rican people. Some fear that they will make the same case this time around.
http://thehill.com/homenews/news/337347-puerto-rico-votes-in-favor-of-statehood
At the time of reporting, over 97% of voters chose statehood. The referendum is "non-binding" and would only move forward if Congress approved of it, which most likely will not happen considering the island's debt of over $70 billion and its 45% poverty rate.
If granted statehood, Puerto Rico would be granted access to federal funds and in that same breath would be the same as any other U.S. State.
CHECK THESE VOTE TOTALS FROM THE LAST CAUCUS…TWICE AS MANY DEMOCRATS AS REPUBLICANS
/>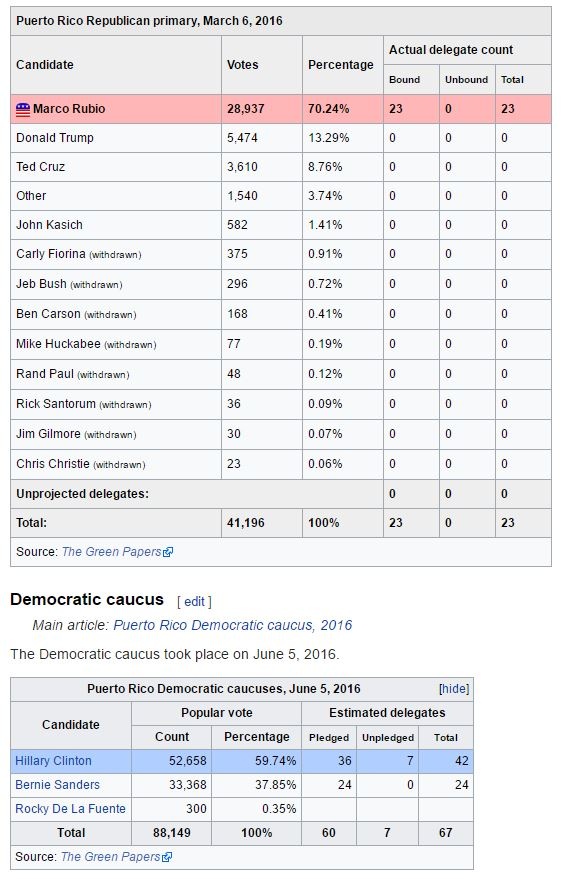 FALN Terrorist Leader Welcomed As Hero At The Puerto Rican Day Parade In NYC

Obama cut 20 years off of this scumbag's prison sentence and set him free 3 days before Donald Trump was inaugurated.
Parade organizers initially tried to honor Lopez Rivera with an official award, but a mass pull out by corporate sponsors and key regular attendees over that move caused Lopez Rivera to decline the honor. However, Lopez Rivera was highlighted just by riding on the front display that moved down 5th Avenue.
"I feel good about being here," Lopez Rivera said to reporters as he exited a van to enter the parade. He pounded his chest yelling, "Que viva Puerto Rico!"
"This parade is for the Puerto Rican public," he added.
Bottom line is that these politicians marched with and honored a sworn terrorist whose faln attacked and murdered in our city. That is unforgivable. These politicians must politically pay for their betrayals."
Puerto Rico has a poverty rate of 45 percent, 12.4 percent unemployment, and 86 percent of residents do not speak English in the home, but the island receives $22 billion in federal subsidies. The top income tax rate is 4 percent and residents are exempt from paying $2 billion in federal income taxes. That explains why 61 percent of residents voted for statehood in 2012, but nothing happened.
http://dailycaller.com/2017/06/11/faln-terrorist-leader-welcomed-as-hero-at-the-puerto-rican-day-parade/?utm_campaign=atdailycaller&utm_source=Twitter&utm_medium=Social

MY WIFE AND I WENT ON A 4 DAY VACATION IN PUERTO RICO ABOUT 9 YEARS AGO.WHEN WE GOT TO OUR RESORT THEY WARNED US NOT TO GO TO NEW SAN JUAN.IT'S AS FILTHY AND CRIME-RIDDEN AS DETROIT OR CHICAGO.