"I think that I shall never see
a skank as vile as Kathy G."
–Pistol Pete, 2017
This is my original thought for this year. Stay tuned for 2018, I may come up with another one by then.
Granny always told me, "When you find yourself in a hole, stop digging." Apparently this red-haired pig never had a granny.
Her press conference alongside Gloria Allred's kid was an unmitigated disaster. The fake apology quickly degenerated into a Hillary-like blame everybody else session.
Kathy Griffin Apologizes for Gruesome Trump Photo but Backlash Builds

The question is: What ever made Griffin and photographer Tyler Shields think that it was acceptable, or even funny, for Griffin to pose as an Islamic State terrorist would, holding what looked to be the hacked-off head of a U.S. president?
It is clear that the photo — posted Tuesday on TMZ — was not a spontaneous gaffe. Griffin and Shields produced a video about the production in which Griffin joked, "We have to go to Mexico. Because we're going to prison, federal prison."
Since Trump won in November, he has been the brunt of hostile salvos lobbed by left-leaning entertainers. At a women's march following Trump's inauguration, Madonna confessed, "Yes, I'm angry. Yes, I am outraged. Yes, I have thought an awful lot about blowing up the White House." Her remarks barely registered on cable news' registry.
But when Republicans target Democrats in less direct fashion, they can be accused of inciting violence. Griffin herself assailed former GOP vice presidential candidate Sarah Palin for releasing a map with targeted congressional districts in crosshairs. When a madman shot and critically wounded Rep. Gabby Giffords, D-Ariz., whose district was in the map, Griffin tweeted, "Happy now Sarah?"
[CtH: The Gifford shooter also proved to be a Democrat who had volunteered on Gifford's campaign.]
https://townhall.com/columnists/debrajsaunders/2017/06/02/kathy-griffin-apologizes-for-gruesome-trump-photo-but-backlash-builds-n2334995

Kathy Griffin learned a hard lesson in weaponized outrage.
Total elapsed time from severed head to "he broke me": Three. Whole. Days.
Griffin wanted the image of the severed head to go viral, and it did — along with Griffin's perpetration of the image. If Griffin's career is over, it will have ended due to her own suicidal act and not due to pressure from the Trumps. You live by the meme, you die by the meme.
http://nypost.com/2017/06/02/kathy-griffin-learned-a-hard-lesson-in-weaponized-outrage/
Kathy Griffin: Donald Trump is 'messing with the wrong redhead'

"Kathy has made a decision," Bloom said. "She is not going to stop speaking out for women, LGBT rights, vets and others. She will continue to be the fierce, brutally honest "she-ro" that millions love. She will continue to push the edges of our comfort level, to challenge us and make us think."
Plus, as Griffin reminded reporters, "I'm not good at being appropriate. I'm going to make fun of him more now."
http://www.msn.com/en-us/tv/celebrity/kathy-griffin-donald-trump-is-messing-with-the-wrong-redhead/ar-BBBPbBw?li=BBnb7Kz&ocid=UE12DHP
WHEN THE DEFIANT SCHTICK DIDN'T WORK:
Kathy Griffin: The First Family Is 'Trying to Ruin My Life Forever'
"A sitting president of the United States and his grown children and the first lady are personally—I feel—personally trying to ruin my life forever. Forever," the comic said. "You guys know him, he's never going to stop."
http://freebeacon.com/politics/comedian-kathy-griffin-first-family-trying-ruin-life-forever/
Flashback – Kathy Griffin: 'Happy to Deliver Beat Down' to Barron Trump

THAT'S IT…PICK A FIGHT WITH AN 11 YEAR OLD BOY.
"It's not about trying to be an equal-opportunity offender anymore because Hillary got such a beat down. It's his turn. So I'm happy to deliver beat down to Donald Trump — and also to Barron," Griffin told Vulture at the Equality Now Gala on December 9.
.@kathygriffin admitted in December that she was going after Barron Trump. Now she's crying misogyny at the direction of @LisaBloom. Moron.
Her attorney tried to claim that Kathy Griffin said she would go after Barron "years ago". Years ago?? She said it on December 9, 2016. It hasn't even been six months. Not "years ago", moron. If it was "years ago", Barron would have been a much younger child and it would have been that much worse.
http://www.breitbart.com/big-hollywood/2017/06/02/flashback-kathy-griffin-happy-deliver-beat-barron-trump/
Griffin Thinks Comedy Should Go All Out on 'President Piece of Shit' Donald Trump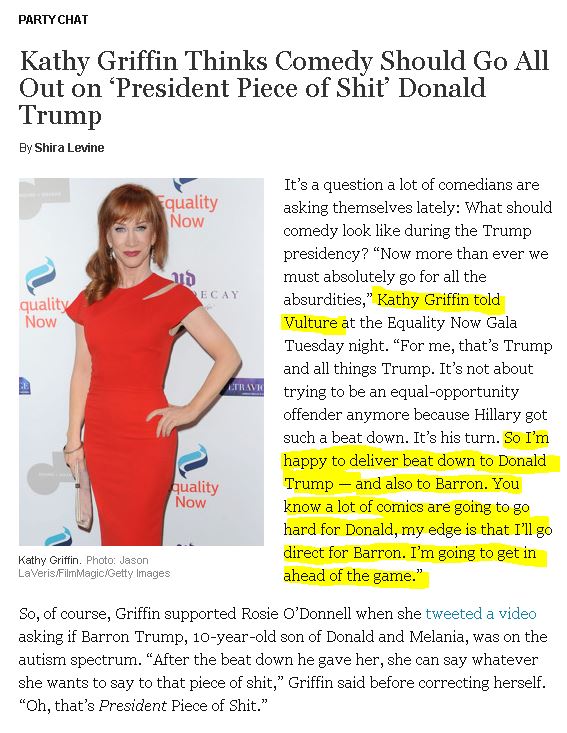 http://www.vulture.com/2016/12/kathy-griffin-comedy-should-go-hard-on-trump.html
Kathy Griffin Gets the Ax From Last Theater in Comedy Tour
HEY, KATHY… PICK UP A BIBLE, ANY BIBLE. IT'S OK, YOU WON'T BURST INTO FLAME. FIND THE PART THAT SAYS: 'WHATSOEVER YE SOW, THAT SHALL YE ALSO REAP.' GET IT YET???
Kathy Griffin's offensive against Donald Trump Friday apparently fell on deaf ears … because the only remaining venue that would allow her to perform has just pulled the plug.
We've learned Kathy's concert at the Uptown Theatre in Napa scheduled for June 17 has been canceled. This follows 6 other cancellations, including bergenPAC in New Jersey which canceled hours before Kathy's news conference.
The Uptown Theatre cancellation is especially significant because the decision was apparently made after she took the mic with her lawyer. The Uptown folks said on Wednesday the show would go on, but they clearly had a change of heart.

Kathy Griffin says she's been contacted by Secret Service

RELAX, SWEETIE — LIBERALS NEVER GET PUNISHED FOR ANYTHING.
Her criminal defense attorney, Dmitry Gorin, said the fact that Griffin is being investigated by the Secret Service over a joke is "outrageous."
"The Secret Service is going its job, I suppose," he said, adding that he expects the probe to be closed quickly and Griffin to be cleared.
Griffin also lamented that five of her scheduled shows have been canceled amid the backlash since the video was posted. CNN has also yanked her from its New Year's Eve coverage.
http://nypost.com/2017/06/02/kathy-griffin-says-shes-been-contacted-by-secret-service/
Griffin's 'Trump' beheading in PAC ad for special election: 'Liberals will go to any extreme'
A battle between Republican Karen Handel and Democrat Jon Ossoff for Georgia's 6th Congressional District heated up this week with an Islamic State-like execution photo shoot by Ms. Griffin. A Republican super PAC, Congressional Leadership Fund, released an ad Thursday tying Mr. Ossoff to his "celebrity supporter."
"These angry liberals will go to any extreme to elect Jon Ossoff," a narrator in the ad says. "There's a reason 95 percent of Ossoff's campaign donors are out-of-state liberals."
http://www.washingtontimes.com/news/2017/jun/2/kathy-griffins-trump-beheading-in-pac-ad-for-speci/
Tucker Carlson: Kathy Griffin Is the 'Perfect Embodiment of What the Modern Left Believes'
WELL WORTH THE 5 MINUTES
As performance art, it was lame, least creative stunt of the week by far. As a political statement it didn't even make any sense but it did have the effect of briefly making Griffin famous again and of course, that was likely the whole point. Today, Griffin elbowed her way back into the news cycle holding a press conference with celebrity misery chaser Lisa Bloom.
http://www.breitbart.com/video/2017/06/03/tucker-carlson-kathy-griffin-perfect-embodiment-modern-left-believes/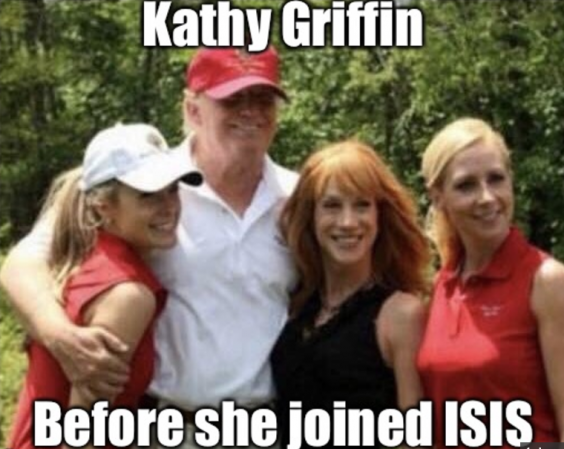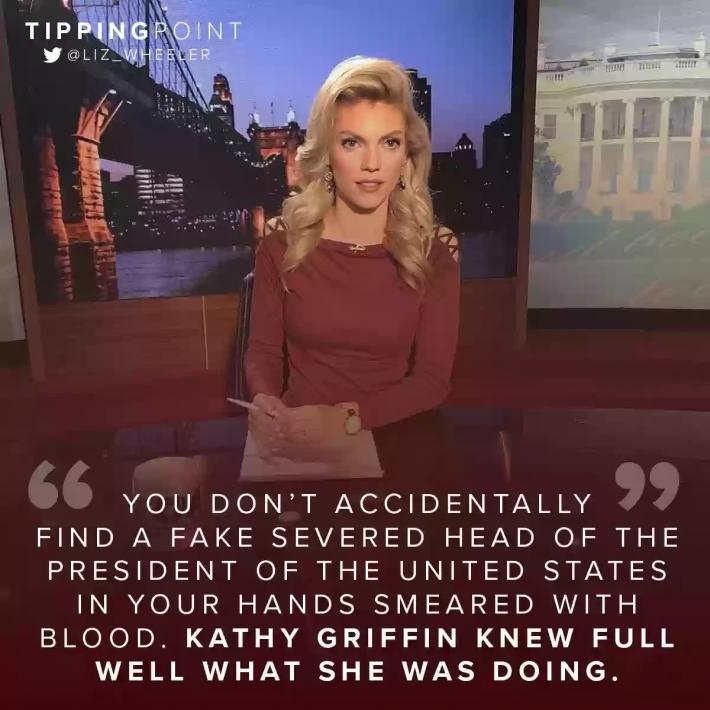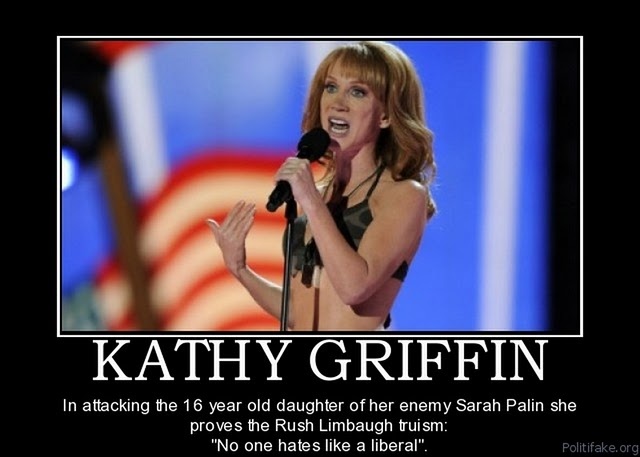 "RESPECT THE OFFICE,B***H"
SURE WAS DIFFERENT WHEN THE STREET NEGRO WAS IN OFFICE, WASN'T IT?