The day before Montana's runoff election to replace Ryan Zinke in the House, a lowlife Obama operative got into a scuffle with Greg Gianforte after he barged into the Republican's office during a private interview, shoved a microphone in his face and started shouting questions at him. Gianforte then allegedly body slammed the creep.
The media whores rushed to Bozeman, expecting the populace to be shocked and appalled at such barbaric behavior, even though they'd watched far worse happen to anyone who showed up at a rally to support candidate Trump. Lo and behold, the prevailing opinion was one of approval of his actions, with most saying they'd do the same thing.
Seventy percent of the electorate had already voted early in the election Gianforte won, so whether the incident could have have been a game changer is a matter of conjecture. Montana is a massive state with more cattle than people and there are no large urban toilets infested with welfare leeches and violent crime.
One of our dear friends here, Auntie Lib lives in Montana and if her views are indicative of the general mood, social justice warriors would end up shoveling manure on a big ranch. Still, the Democrats never pass up a chance to make asses of themselves. It's a pattern.
Montana: Rock'em Sock'em Republican KO's Nudist Resort Singing Cowboy Democrat (#MTAT)

Rock'em Sock'em Republican candidate Greg Gianforte, best known for "body-slamming" and ego-shaming a reporter for The Guardian, defeated Democratic Candidate Rob Quist, best known as a nudist resort socialist Cowboy poet and singer.
This is another *win* for Democrats because they showed up and did better than they expected, even though they lost. Losing by less than you thought you'd lose is the new Democrat definition of #winning.
There are many lessons here. The biggest one is that the mainstream media remains disconnected from most of the country.
I might be movin' to Montana soon
Just to raise me up a crop of
Dental Floss
Movin' to Montana soon
Gonna be a Dental Floss tycoon
Montana: Even With the Game Rigged, the Left Can't Win
The Obama DNC threw a ton of money into winning special elections. Special elections tend to have low turnout. And throwing a ton of money into low turnout elections backed by highly motivated leftists seemed like a good plan.
Except it has yet to work. It's rattled Republicans. And Dems have patted themselves on the back for making Congressional races closer than they should have been. But it's not enough. So far all they have to show for it are wins in some some local races.
http://www.frontpagemag.com/point/266818/montana-even-game-rigged-left-cant-win-daniel-greenfield
ON THE NEWS REPORTS THIS MORNING, THE DEMS BROKE OUT A NEW SET OF TALKING POINTS:
The Republicans could refuse to seat Gianforte and force him to resign.

Ryan says it won't happen.

Gianforte may spend 30 days in jail on a misdemeanor assault charge.
Gianforte won the all-state district by less than Trump won the state, so liberals are making progress competing in red states once again.
Gianforte released a statement about the incident, alleging that Jacobs was aggressive. But after he won, he apologized for his actions.

"When you make a mistake, you have to own up to it," Gianforte said during his victory party. "That's the Montana way. Last night I made a mistake and I took an action that I can't take back and I'm not proud of what happened. I should not have responded in the way that I did and for that I am sorry. I should not have treated that reporter that way and for that I am sorry Mr. Ben Jacobs."
NYT Reporter Caught Passing Off Local Reporter's Photo As His Scoop
Whitney Bermes with the Bozeman Daily Chronicle in Montana posted a photo of the citation Republican congressional candidate Greg Gianforte received after reportedly throwing a reporter to the ground.
Less than hour after Bermes shared the photo on Twitter, New York Times reporter Jonathan Martin tweeted the exact same picture with a caption claiming, "I've obtained a copy of the Gallatin Co summons for Gianforte's assault charge."
Yeah, right.  I guess at the New York Slime, copy/pasting another reporter's work now counts as journalism
http://dailycaller.com/2017/05/25/nyt-reporter-caught-passing-off-local-reporters-photo-as-his-scoop/
DCCC Mobilization Chair Completely Unaware of Montana Special Election
Last week, Congressman Jim Clyburn, the Democratic Congressional Campaign Committee's national mobilization chair in 2016, was asked if the DCCC planned to get more involved in the upcoming Montana special congressional election to replace new Interior Secretary Ryan Zinke.
Clyburn gave a nine-word response:  "Montana special election? Oh, I didn't know about that."
Liberals React to Dem Loss in Montana
Liberals on social media reacted to the news that Gianforte won despite being charged with assault.
A man body slams a reporter 4 asking a question. He gets 100k in donations and wins a congressional seat the next day. Have we come 2 this?
This pretty much sums up the Greg Gianforte election and the Trump 2016 election. It was never about the economy. It's about bigotry.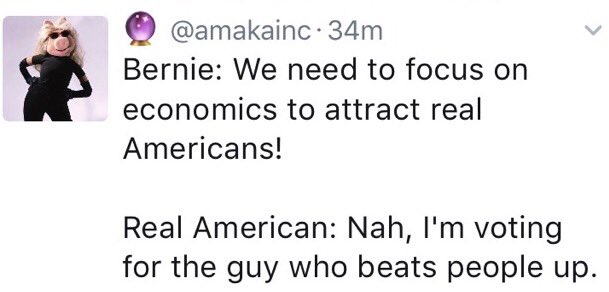 http://freebeacon.com/politics/liberals-react-dem-loss-montana/