Last night provided once again, if needed, that there is no depth the left will not stoop to in their effort to steal elections. Trump supporters still face the risk of assault from paid thugs for no apparent reason. These are no cause for concern as far as the media whores care. This case, however, will be shouted from the rooftops:
REPUBLICANS ENDORSE VIOLENCE! THUGGISH BEHAVIOR A SYMPTOM OF THE ALT-RIGHT!!
FROM POWERLINE:
GOP Montana congressional candidate accused of body-slamming reporter
Greg Gianforte is the Republican candidate in the Montana congressional district (an at-large one) formerly represented by Ryan Zinke, now the Secretary of Interior. The Democrats are running country music singer Rob Quist.
The Democrats have been cautiously optimistic about winning this race, though they face an uphill battle in a district (coextensive with a state) Donald Trump carried by about 20 percentage points. For their part, Republicans have viewed the race as closer than it should be.
The Dems are probably more optimistic now that Gianforte has been accused of body-slamming a reporter. The reporter is Ben Jacobs of the Guardian, a left-leaning paper. This evening, he tweeted: "Greg Gianforte just body slammed me and broke my glasses."
NOTE: BEN JACOBS IS A FORMER OBAMA OPERATIVE AND DIRTY TRICKS SPECIALIST.
I imagine that many Montanans will have little sympathy for Jacobs, who comes across as an overly aggressive twit who may have wanted to goad the GOP candidate and become part of the story for the benefit of the Democrats (presumably in less dramatic fashion, though). Whether they will find Gianforte's response to Jacobs appropriate behavior for a congressman is another matter.
Montanans will have to sort it out quickly. The election is tomorrow.
I just remembered that in the Alaska Senate race of 2010, a supporter of Joe Miller, the Tea Party candidate and Republican nominee, had a reporter handcuffed and detained after he asked Miller an unpleasant question. There were a number of fairly small problems and incidents that, collectively, derailed Miller and enabled Lisa Murkowski, whom he had defeated in the Republican primary, to win the general election as an independent. The "arrest" of the journalist may have been one of them
http://www.powerlineblog.com/archives/2017/05/gop-montana-congressional-candidate-accused-of-body-slamming-reporter.php
GOP Candidate Body Slams Guardian Crank — Liberals Suddenly Upset About Physical Violence
Republican Greg Gianforte was accused tonight of body slamming a far left Guardian reporter on a stage one day before the Montana US House Special Election.
Gianforte is running US House seat vacated by Rep. Ryan Zinke after his appointment to Secretary of the Interior.
There is NO VIDEO – which is strange — but audio of the confrontation was uploaded on Youtube tonight
Trump supporters attending PEACEFUL rallied have been attacked violently.
Zero media outcry.
Tomorrow's vote is easy.
Greg Gianforte, 56 yo engineer and businessman who has started several companies and selling them for millions ($10M, McAfee, 1994 and Oracle $1.5B in 2011), started a 3rd company employing 1,000
Rob Quist, 69 yo songwriter who has never had a real job or signed a paycheck.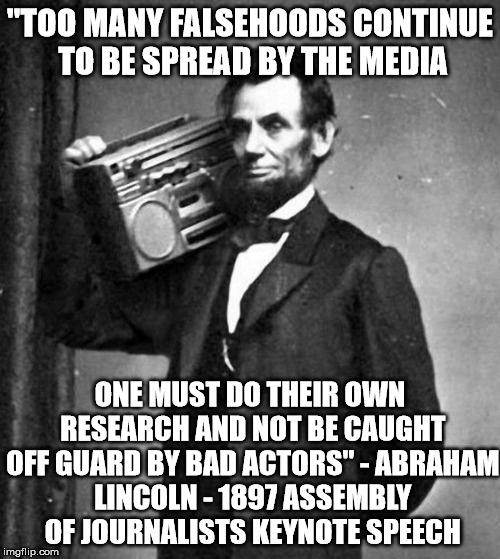 A COUPLE SNOWFLAKES IN THE COMMENT SECTION TRIED TO CORRECT THIS IMAGE, POINTING OUT LINCOLN DIED IN 1865. SUBTLE HUMOR IS TRULY LOST ON SOME PEOPLE.
http://www.thegatewaypundit.com/2017/05/gop-lawmaker-allegedly-body-slams-guardian-crank-night-special-election/
IT'S ALL A GAME TO THEM
CNN Tries to Blame Trump for Incident Between Montana Candidate and Reporter
CNN analyst Avlon accuses Trump of "consciously stoking those fires of fear and anger and resentment"
Camerota got the ball rolling by asking whether there is "some sort of larger story or message we should take away here . . . growing aggression against the press."
The panel was only too happy to run with that ball. Take CNN political analyst John Avlon, accusing President Trump of "consciously stoking those fires of fear and anger and resentment." Avlon later called on Montana voters to "send a message."
Chris Cuomo ended the segment by advising President Trump to condemn the incident.
http://legalinsurrection.com/2017/05/cnn-tries-to-blame-trump-for-incident-between-montana-candidate-and-reporter/
Hypocrite Rubin Loses It Over Montana Incident, Blames Trump; 'The Fish Rots from the Head'
Importantly, any assault of anyone (reporter or non-reporter) isn't okay. This should be common sense. That being said, the deranged reactions to the incident must be denounced too, most notably Washington Post supposedly right-leaning blogger Jennifer Rubin's tirade on MSNBC's All In.
http://www.newsbusters.org/blogs/nb/curtis-houck/2017/05/24/hypocrite-rubin-loses-it-over-montana-incident-blames-trump-fish