'I won't forget what you said!' Trump tells Pope after Francis urges him to be an 'olive tree for peace' at Vatican meeting – where he jokes with Melania about what she feeds the president
Trump was greeted by the Vatican secretary of state and whisked up an elevator to meet His Holiness in the 'little throne room'
He and Pope Francis posed for photos and sat across a desk in the private Papal study
'Thank you very much. This is such a great honor,' Trump said as he and Francis began their chat in the Pontiff's private study
Later he greeting Melania Trump, who wore a traditional black veil, and asked her in Italian: 'What do you give him to eat?'
Trump brought Francis a set of first-edition books by Martin Luther King Jr.; the Pope gave him a large medal in the shape of an olive tree – a peace emblem

http://www.dailymail.co.uk/news/article-4536468/This-great-honor-Trump-meets-Pope.html#ixzz4i1QQ1Ro8
Melania and Ivanka Trump Wore Veils to Meet the Pope

"Per Vatican protocol, women who have an audience with the Pope are required to wear long sleeves, formal black clothing, and a veil to cover the head," Stephanie Grisham, spokesperson for the first lady, said in a statement to CNN.
http://www.msn.com/en-us/news/world/melania-and-ivanka-trump-wore-veils-to-meet-the-pope/ar-BBBu33k?li=BBnb7Kz&ocid=UE12DHP
COMPARE THE DIFFERENCE HOW THE TWO FIRST LADIES SHOW RESPECT:

Pope Francis Looking Super Sad With The Trumps Is A Divine New Meme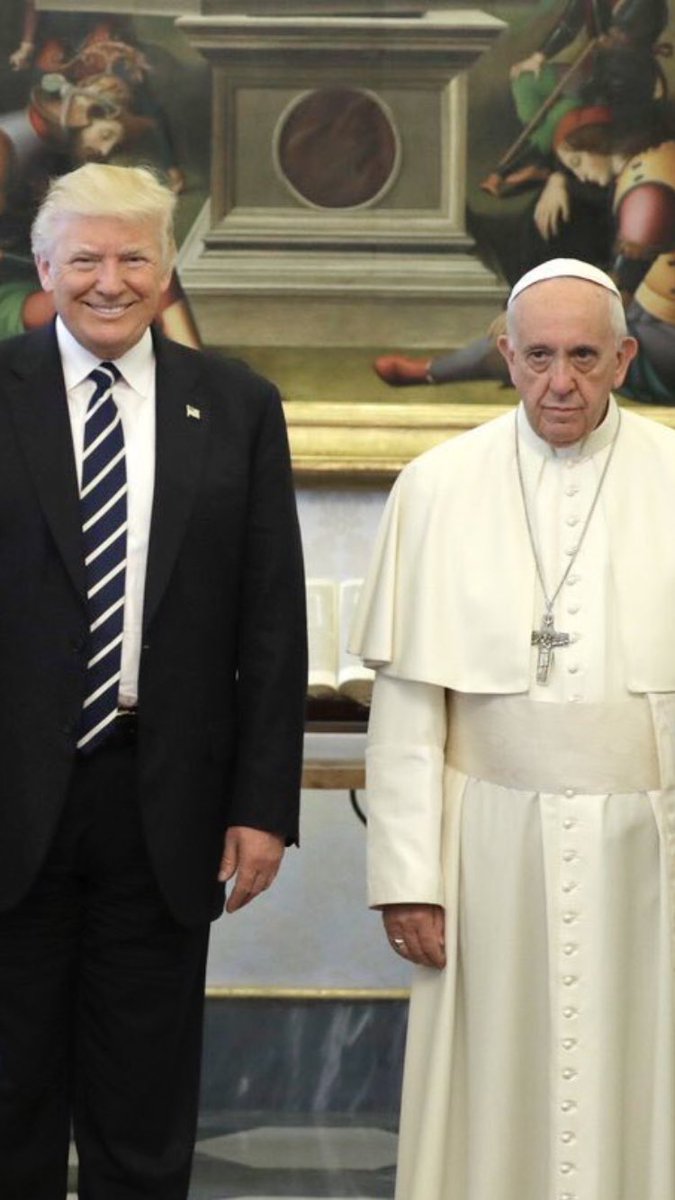 Trump's differences in opinion with the pontiff over issues such as immigration and climate change are well documented. But it would be unfair to say the pope looked completely forlorn throughout the president's visit.
Reuters news agency noted how he "smiled faintly" as he greeted Trump, but also pointed out that the pontiff was "not as gregarious as he sometimes is with visiting heads of state."