Being delusional is dangerous. Being oblivious can be fatal. For decades the whole of Europe, including the U.K., has welcomed tens of millions of Muslims with open arms. They refuse to assimilate, live by their own laws, and are responsible for most of the violent crime in the countries they infest. Muhammed is the most popular baby name in England, and London even elected a Muslim mayor who warned them that terror is coming. When you dance with the devil there is a price to be paid.
The Daily Mail U.K. has extensive coverage, as does every other organization. Of course, the jihadists are celebrating the slaughter of a bunch of children and the left is looking to somehow blame Trump and empathize with the bloody maggots. I'm going to post some of the more disgusting things in the reply section so, hopefully, it won't take so long to load.
Girl aged EIGHT is named as second victim of ISIS attack on Manchester Arena: Suicide bomber kills 22 and injures 119 by detonating ball bearing bomb at packed Ariana Grande concert
At least 22 people killed after explosions rang out at the end of an Ariana Grande gig in Manchester Arena
A teenage fan and an eight-year-old primary schoolgirl are among the dead, as well as a 26-year-old man
Video footage showed thousands fleeing in tears from the venue, many covered in blood, when gig ended
Horrifying video footage showed petrified children leaping over chairs and barriers as they tried to escape
Police confirmed the suicide bomber died at the venue after an improvised explosive device was detonated
US security sources say he traveled to the arena by public transport. Another man, 23, has also been arrested
23-year-old Grande tweeted: 'Broken. From the bottom of my heart, I am so so sorry. I don't have words'
After a Night of Panicked Pleas for Information – 8 Yr-Old Saffie Rose Roussos Found Dead in Manchester Arena

http://www.dailymail.co.uk/news/article-4531940/Emergency-services-rush-Manchester-Arena.html#ixzz4husFl1bD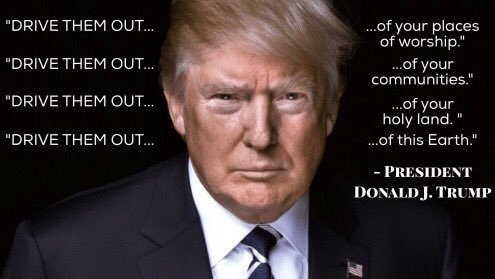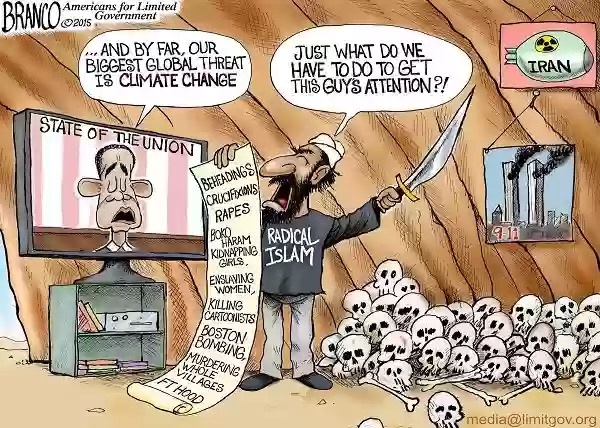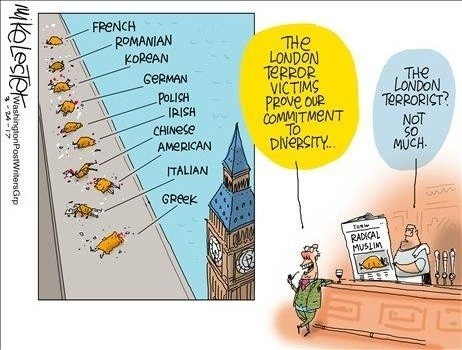 ISIS Concert Bomber Identified: Islamist Salman Abedi – Officials Say Killer Is Known to Them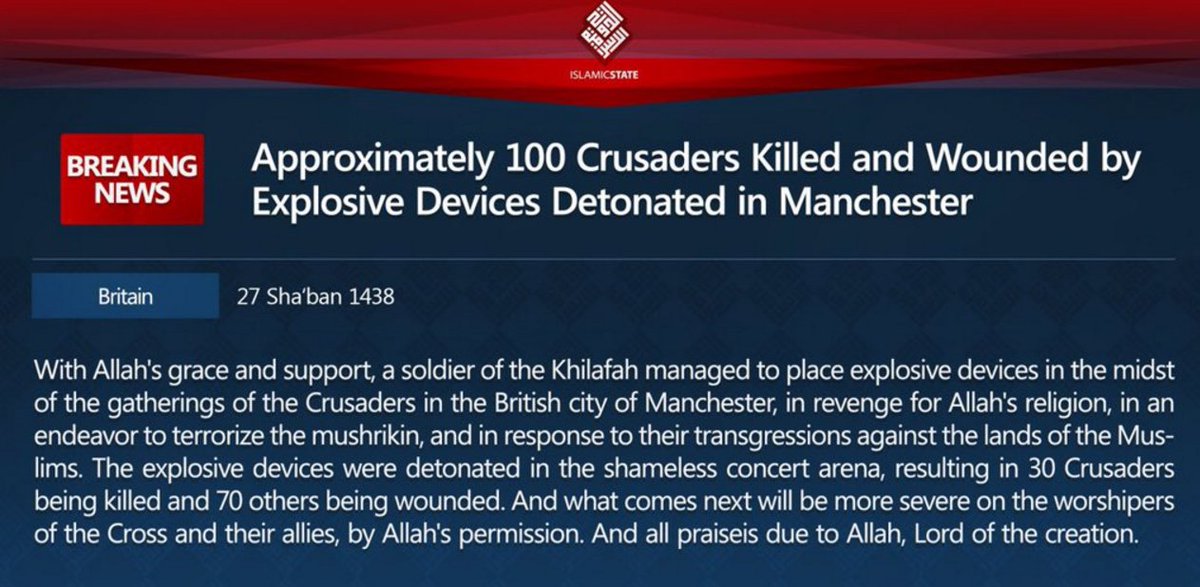 Authorities said the suspect is known to them, but wouldn't release further details.
A second 23-year-old was also arrested Tuesday in South Manchester.
Monday night's attack was carried out by a lone suspect, but officials are trying to figure out who knew about the attack before hand and if there was a network of people helping.
http://www.thegatewaypundit.com/2017/05/isis-concert-bomber-identified-29-yr-old-salman-abedi-23-dead-attack-including-8-yr-old-girl/
Twitter Liberals Worry About Muslims' Feelings After Manchester Bombing
http://dailycaller.com/2017/05/22/twitter-liberals-worry-about-muslims-feelings-after-manchester-bombing/
MORE FROM THE PREDICTABLY VICIOUS AND INSENSITIVE LEFT, INCLUDING HORSEFACE AND TINGLES, IN THE COMMENT SECTION.