OK, so it's a corny pun. Coming up with clever titles ain't always easy.
Since the day Donald Trump stunned the world and denied the left their utopian ambitions of anointing the first woman president, they have waged an unending jihad to not only defeat him, but destroy him.
97% of news reporting about him has been negative. Any compromise is out of the question. Their ultimate fantasy is to impeach him by any means necessary. They stomp their feet and demand a special prosecutor to investigate the non-existent Trump-Russian conspiracy. There is nothing there; they know it, they just don't care. Their aim is to drag an investigation into the 2018 election cycle and, hopefully, close to the next presidential contest.
Led by the charming and demure representative from the African conclave of Watts, California, Mad Maxine Waters, there has arisen a cacophony of cries to impeach the president.
Congressional Dems making early calls for Trump's impeachment
The latest call came from Rep. Al Green, D-Texas, who released a statement suggesting Comey's ouster from atop the FBI was an obstruction of the investigation "of the president's campaign ties to Russian influence in his 2016 presidential election." He said Trump has committed acts that "amount to intimidation and obstruction."
"Our mantra should be I.T.N—Impeach Trump Now," Green wrote in an email, which included a line in red pushing those who received the email to "forward this email to others who may be interested."
Others Democratic lawmakers who have brought up the topic of impeachment include Reps. John Yarmuth, D-Ky., who told a local news station last week that Democrats were "actually pretty close to considering impeachment," and Mark Pocan, D-Wis., who said on local radio that if there was an "impeachment clock," Comey's ouster would have moved it an "hour closer."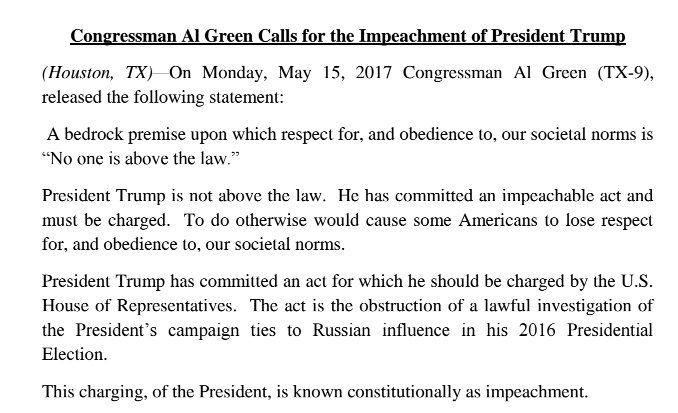 WHO IS AL GREEN?
NO, NOT HIM:
HIM:

He's another corrupt buddy of Slapsie Maxie and Sheila Jackass Lee.
http://www.foxnews.com/politics/2017/05/16/congressional-dems-making-early-calls-for-trumps-impeachment.html
CNN's Blitzer Pushes Guests on Trump Impeachment; 'Are We Getting Closer' to Impeachment?
During Tuesday's Situation Room, CNN host Wolf Blitzer repeatedly nudged guests to accept the notion of impeaching President Donald Trump following a New York Times piece claiming that Trump told then-FBI Director James Comey in February to end the Mike Flynn probe.
http://www.newsbusters.org/blogs/nb/curtis-houck/2017/05/16/cnns-blitzer-pushes-guests-trump-impeachment-are-we-getting-closer
Matthews: 'We're on the Trail' to 'Impeachment' With Comey Firing

On Tuesday's broadcast of MSNBC's "Hardball," host Chris Matthews stated that President Trump fired FBI Director James Comey "for not playing ball" and that with Comey's firing, "clearly, we're on the trail there to an impeachment."
http://www.breitbart.com/video/2017/05/16/matthews-were-on-the-trail-to-impeachment-with-comey-firing/
CNN's Gergen: 'We're In Impeachment Territory'
On Tuesday's broadcast of CNN's "AC360," Senior Political Analyst David Gergen, who served as an adviser to Presidents Nixon, Ford, Reagan, and Clinton, argued that "we're in impeachment territory" with President Trump.
http://www.breitbart.com/video/2017/05/16/cnns-gergen-were-in-impeachment-territory/
'Trump impeachment HIGHLY likely" Trump ask James Comey to end Mike Flynn Russia investigations
The Democratic Agenda: Impeach Donald Trump | SUPERcuts! #473
How to impeach a president
Waters: Trump's Disclosure of Classified Info to Russia Moves Us Closer to 'Impeachment'