It's us vs. them
Good guys vs. bad guys
Rational vs. demented
Soros-funded anarchists leading an army of violent,bullying,easily offended snowflakes,coddled their entire lives,shirking any responsibility for their actions and demanding all their wants be acceded to regardless of harm to anyone else.Opposing views are shouted down and those speaking are physically beaten.No one is ever held responsible for these criminal actions and they continue unabated.
Democrats Plan 'Sustained Protest,' Warn GOP Lawmakers 'Be Afraid'
See already some examples they're are encouraging. Man who gets physical with Congressman Kevin Kramer above and woman who allegedly tried to run Congressman David Kustoff and aides off the road. And if Trump had them investigated for encouraging this, they would accuse him of trying to 'suppress free speech' and protest. This is a case that cries RiCO if ever there was one.
Democratic party officials and other leaders of the anti-Trump "Resistance" are putting Republican House and Senate members on notice that they will step up their disruptive protest tactics this summer.
In an interview with Sinclair TV's Full Measure with Sharyl Attkisson, he added, "This spring and the summer you're going see people really get active. These guys are going to be afraid to even cross the state line to come back into Pennsylvania."
THIS IS NOT PROTEST…THIS IS AGGRAVATED ASSAULT

Woman Allegedly Tried To Run GOP Congressman Off The Road Over His Vote To Repeal Obamacare
A woman in Tennessee was accused of chasing a GOP congressman in her car and then screaming at him after she allegedly became upset over his vote to repeal and replace Obamacare, police told BuzzFeed News on Friday.
Wendi L. Wright, 35, was arrested and charged with felony reckless endangerment for the incident that occurred in Weakley County on Monday.
Wright allegedly followed a car occupied by Tennessee Rep. David Kustoff and two others on a highway and placed them "in fear of being forced off" the road, according to the Weakley County Sheriff's Department.
https://www.buzzfeed.com/tasneemnashrulla/a-woman-allegedly-tried-to-run-a-republican-congressman-off?bftw&utm_term=.wsMK3nzG9#.qwrDrZOPY
Blatant Double Standards Week in Higher Education


Free speech on campus is supposed to be for everyone but the left doesn't see it that way.
•Double Standard: Berkeley Welcomes Radical Leftist to Speak on Campus
•Betsy DeVos Booed While Giving Commencement Address at Historically Black University
•Fresno State Prof. to Pro-Life Students: "College campuses are not free speech areas"
Some things just can't be said out loud.
•Prof Faces Disciplinary Action for Calling Diversity Training a Waste of Time
•Prof Targeted for Discipline for Criticizing Diversity Training Resigns
Yale has fallen so far.
•Conference at Yale Compares Conservatives to KKK and Nazis
•Yale Students Arrested for Blocking Traffic to Protest Sexual Harassment
How is this OK?
•Butler University Offers Anti-Trump Course
•Butler University Faces Backlash Over Anti-Trump Course
All leftism, all the time.
•Art Professor: House Republicans Should be Lined up and Shot
•U. Arizona Paying Students to be 'Social Justice Advocates'
•University of Iowa Trains Students to Understand Their White Privilege
What a surprise.
•UC Santa Cruz Students Occupy Building, Shout Anti-Semitic Slurs, Admin Caves In to Demands
•Emboldened Students at UC Santa Cruz Issue More Demands
How privileged of them.
•Democrats in Congress Three Times as Likely as Republicans to be Ivy League Grads
Fresno State Students For Life confronted by faculty and wiping out their free speech

DeVos Praises BCU Aggrieved Moonbats Who Shunned Her At Commencement
The @bethunecookman class of 2017 has many remarkable students, and their strength and leadership make me optimistic for America's future.



ANY ACT OF KINDNESS TOWARD THESE PEOPLE IS PERCEIVED AS WEAKNESS
The message will be lost on the aggrieved.
DeVos was drowned out by boos throughout her speech, and at one point the graduating class collectively turned their backs on her, as shown in a livestream video of the event.
http://www.campusreform.org/?ID=9168
Liberal Student Freaks Out – Screams for Over 2 Minutes Straight After Seeing Trump Sign on Campus
According to a video of the incident obtained by Campus Reform, an unknown student reacted to a street preacher's pro-Trump sign by spiraling into a two-minute fit, at some points even splattering paint on the ground in an apparent attempt at artistic protest.
At certain points throughout the video, passers-by stop to ask the woman if she's alright, to which she seems to indicate that she's screaming as a form of protest.

http://www.thegatewaypundit.com/2017/05/wow-liberal-student-freaks-screams-2-minutes-straight-seeing-trump-sign-campus-video/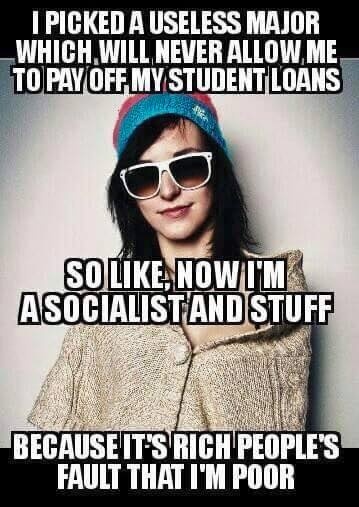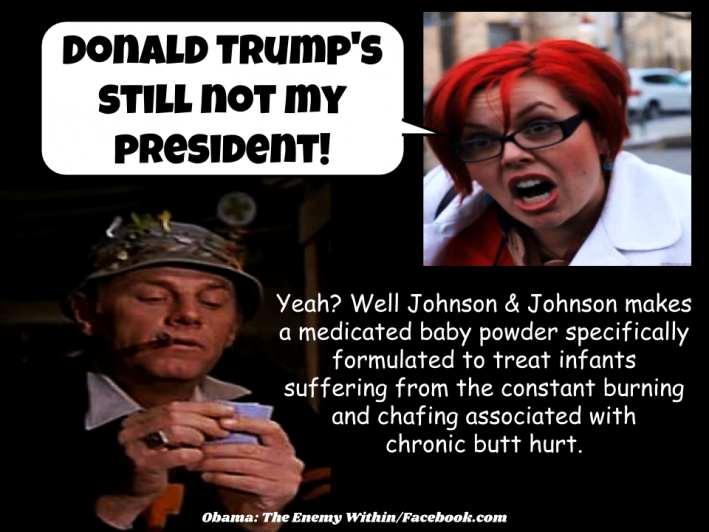 Woman intimidated after asking about Portland store's Confederate flag rug (graphic language)
GRAPHIC LANGUAGE! DO THEY USE ANY OTHER KIND???