Two days ago: Nunes: 'I will NOT recuse myself.'
Rep. Devin Nunes Steps Aside From Russia Probe
It's what the left does, yell and scream that impropriety when they are the ones being improper.


After a number of ethics complaints, Rep. Devin Nunes, R-Calif., announced today that he will step aside from leading the House Intelligence Committee's probe into alleged Russian meddling in the 2016 election.
"Several left-wing activist groups have filed accusations against me with the Office of Congressional Ethics. The charges are entirely false and politically motivated, and are being leveled just as the American people are beginning to learn the truth about the improper unmasking of the identities of U.S. citizens and other abuses of power," Nunes said in a statement released this morning.
"Despite the baselessness of the charges, I believe it is in the best interests of the House Intelligence Committee and the Congress for me to have Representative Mike Conaway, with assistance from Representatives Trey Gowdy and Tom Rooney, temporarily take charge of the Committee's Russia investigation while the House Ethics Committee looks into this matter," he said.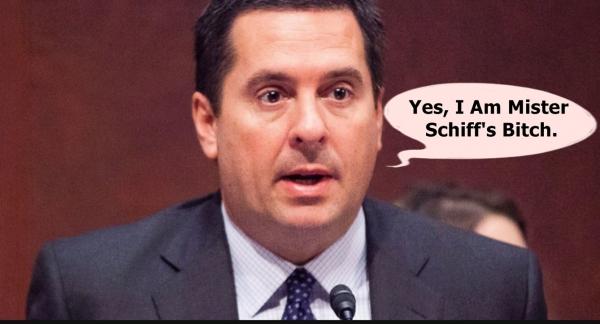 FROM THE COMMENT SECTION:
Devin
We hate Devin
And we'll shout him down so that he cannot speak
But please don't think it's in any way unique
When we stampede media from leak to leak
Devin
We hate Devin
Must remove him ere he finds that which he seeks
So we'll drown him out with all our outraged shrieks
And stampede the media from leak to leak
(JUST A LITTLE CLASS ON A THURSDAY)

Rep. Schiff: The accusation against Susan Rice by the Breitbart crowd and by people in this building that I think are tossing around slanderous accusations without evidence.
FROM BREITBART: MEDIA CLAIMS SCALP
House intelligence committee chair steps aside

The chairman of the House intelligence committee says he will temporarily step aside from the panel's probe into Russian meddling in the election.
TREY GOWDY IS STEPPING IN TO DO THE JOB NUNES IS TOO COWARDLY TO DO.
WE WIN AGAIN!!!!

I'm going back to bed now