The Trump presidency has been a success so far from a standpoint of increased optimism for the future of business. Still, the media will continue to give credit to a radical Muslim pretending to be an American. His entire tenure was mired in wasteful spending, special treatment for drag queens and fellow Muslims, and throwing hundreds of billions at climate change and hordes of illegal criminals rushing here to suck on the taxpayer teat and commit the crimes white America will not do. His crushing taxes and regulations caused a negative rate of economic growth not seen in this country before, the Great Depression included.
Obama Says "Jobs Are Just Not Coming Back" …Then Trump Adds 298,000 Jobs in First Month
Barack Obama, the worst president in modern history, was asked in June 2016 about the Carrier Corp jobs in Indiana.
Obama responded (in black dialect), "When somebody says like the person you just mentioned who I'm not going to advertise for, that he's going to bring all these jobs back. Well how exactly are you going to do that? What are you going to do? There's uh-uh no answer to it. He just says. "I'm going to negotiate a better deal." Well how? How exactly are you going to negotiate that? What magic wand do you have? And usually the answer is, he doesn't have an answer."
Trump's first full month in office brings massive employment boom as U.S. companies added whopping 298,000 new jobs in February
New job figures from ADP beat economists' estimates by more than 100,000
Need a job? Home Depot hiring 80,000 employees

STATEN ISLAND, N.Y. — At a time when many companies are decreasing staff, big box retailer Home Depot is seeking to hire 80,000 employees to fill its stores nationwide by spring.
And the national retailer is touting the shorter time — just 15 minutes — it will take to apply for a job via its website.
Applying for a job at the world's largest home improvement retailer now takes about 15 minutes using any device, thanks to a shorter application and mobile-optimized 'careers' site at careers.homedepot.com," said the company in a statement.
HUGE: Electronics GIANT Has Big News For America

Technology giant Samsung Electronics Co. has announced that they are planning to increase manufacturing in the United States by opening another production plant.
If this isn't indicative of Trump's ability to use his business savvy to convince the leaders of large corporations and businesses to expand in America and create new jobs, I don't know what is. His first two months have been spectacular for the economy, if absolutely nothing else. You have to respect that, I don't care who you are.
In First 2 Months in Office: Trump Reduced Debt by $100 Billion – Obama Increased Debt by $400 Billion
On January 20th, the day of President Trump's Inauguration, the US Debt stood at $19,947 billion. As of March 16th, the most recent date for US debt reporting, the US Debt stands at $19,846 billion. President Trump has cut the US Debt burden by over $100 billion and 0.5% in the first two months since his inauguration!

By comparison, under President Obama, the US Debt burden increased by more than $400 billion after his inauguration through March 19th 2009, his first two months in office.

POLLS ARE POLLS. DESPITE THE OPTIMISM PEOPLE HAVE ABOUT THE ECONOMY, THE MEDIA WILL CONTINUE TO HAMMER HIM FROM EVERY QUARTER.
Trump Approval Rating Drops To 40 Percent In Latest Gallup Poll

According to the recent one conducted by Gallup, only 40 percent of Americans approve of the job he has done in office so far while 55 percent disapprove. At this point in Barack Obama's presidency, his approval rating was 63 percent.
Gallup polled an estimated 1,500 people nationwide.
IT'S NO SECRET THEY CAN MAKE POLLS SAY WHATEVER THEY WANT THEM TO SAY.
Donald Trump, Rosie the Riveter, and the Revival of American Economic Nationalism

Sometimes big ideas get small coverage. Unfortunately, that was the case with President Trump's March 15 trip to Michigan, in which he raised an important idea—arguably the most important economic-policy idea in U.S. history—and yet his words received almost no attention.
Media No Longer Considers the President Leader of the Free World
When Donald Trump won the election, however, several media outlets published articles suggesting that the president of the United States could no longer be called the leader of the free world because of his worldview.
The latest example is a Politico article published Thursday, titled "The Leader of the Free World Meets Donald Trump," which describes President Trump's meeting Friday with German Chancellor Angela Merkel. The article was written by James Rubin, who served as assistant secretary of state for public affairs under former President Bill Clinton.
Rubin writes that Merkel is the "last best hope" for Western civilization, arguing the U.S. abandoned its role as a world leader to solve the Syria conflict while Germany led by taking in Syrian refugees.
Late-night shows turn mean for Trump 'jokes'

However, historically the comedic-poking zeal is always higher for Republicans like Gerald Ford, George W. Bush and Sarah Palin. Jokes about Trump's predecessor were gentler and basically ignored his malapropisms, historical ignorance and serial ObamaCare lies.
The current late-night tone seems designed more to appeal to the 50 percent of the country that convinced itself Hillary Clinton would be the 45th president. The historic Trump upset Nov. 8 made that defeat sting all the more. So divided is the country now that many Trump supporters soak up the Trump antipathy just to revel in liberals' pained discomfort.
G-20 Drops Anti-Protectionist Pledge as Price of U.S. Assent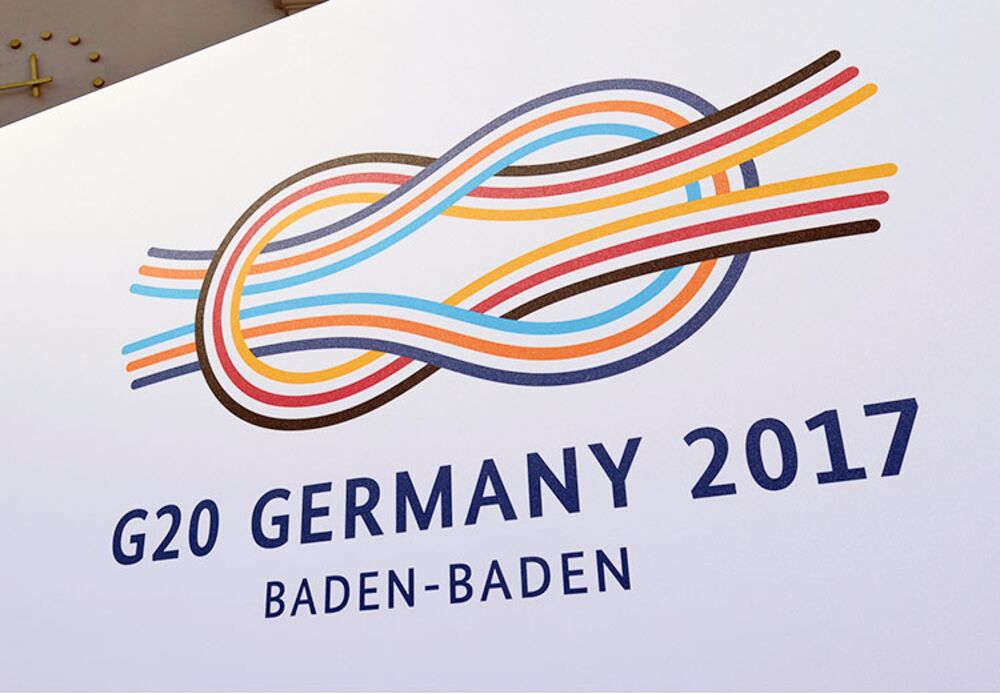 In two days of meetings in the German town of Baden-Baden, the argument by U.S. Treasury Secretary Steven Mnuchin, in his first appearance at an international forum in the role, reflects claims by President Donald Trump that his nation has had a bad deal from the current global trade setup. That attitude pitched him against most other delegates, who favored a multilateral, rules-based system as embodied in the World Trade Organization.